Investing in biotech is different than investing in most other sectors. Some hedge funds employ PhDs in biochemistry but still get it wrong as much as they get it right. How drugs/compounds actually do in actual trials is next to impossible to predict consistently. Anyone that says differently is selling something.
The sector calls for a different investing strategy. My philosophy is to take much smaller positions in a larger amount of selections than in other sectors. One must realize that there will be many misses within the biotech portion of your portfolio. However, this should be compensated for by the occasional five or ten bagger.
The small biotech sector continues to bounce back from a deep two month sell-off that started in early March and took a lot of names down 25% to 50% or more. Here are two small biotech concerns I have taken a small stake in, or added to an original position on, over the past few weeks. Both looked like they have bottomed, sell for less than $2 a share and are significantly under analysts' price targets.
Curis, Inc. (NASDAQ:CRIS) is a small biotech concern (~$150 million market capitalization) engaged in the research, development, and commercialization of cancer therapeutics. It has several compounds in early phase trials. It also has one product, "Erivedge", that is approved and in early commercialization. Erivedge is the first and only approved medicine for the treatment of advanced basal cell carcinoma. Partner Roche (OTCQX:RHHBY) is responsible for the development and worldwide commercialization of Erivedge and it has been approved in the U.S., the 28-member states of the European Union and Australia, among several other countries.
Earlier today the company announced that Roche has filed an Investigational New Drug application with the U.S. Food and Drug Administration to initiate a multicenter, Phase II clinical study of Erivedge in patients with idiopathic pulmonary fibrosis, a chronic, debilitating lung disease. The partnership with Roche allows Curis to leverage Roche's sales force and drug approval knowhow, as they are spearheading the effort to distribute Eviredge, as well as gain approval for other indications. The stock is up in trading Monday as a result.
The stock has had a very rough go of it over the past six months, but it seems like the equity is trying to form a bottom at current levels (See Chart).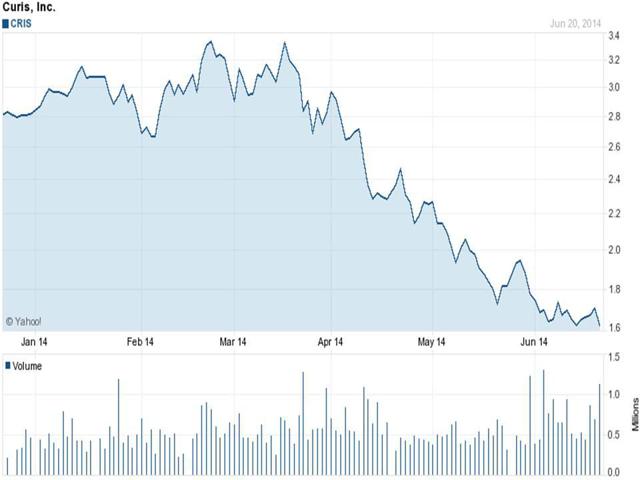 A few other things I like about this biotech, other than it already has a deep pocketed partner that is driving the commercialization of an approved product, is that some insiders bought some shares at much higher levels late last year. Curis also has about 20% of its total market capitalization in net cash on the balance sheet. The eight analysts that cover the stock have a $5 a share median price target on CRIS. Price targets range from $3 a share to $10 a share. All of these targets are significantly above the shares' current $1.70 level.
Dynavax Technologies (NASDAQ:DVAX) is a clinical-stage biopharmaceutical company that discovers and develops novel products to prevent and treat infectious and inflammatory diseases. Its main product is Heplisav, which is meant to treat Hepatitis B and is in Phase III trials.
Like Curis, Dynavax has partnerships with large pharma concerns. The company is partnering with AstraZeneca (NYSE:AZN) for the development of some of its candidates. Dynavax received a $5.4 million milestone payment in March from AstraZeneca and could potentially receive a total of $100 million should it meet success.
I added more to this position when it dropped to below $1.30 a share in the recent small biotech sell-off. The stock is now ~$1.60 a share, but I am willing to hold for results from trials on Hepislav, which is over a year off. The company has over $175mm in net cash on the books or some 40% of current market capitalization. There are three analyst price targets on the stock currently. They are at $4, $5 and $6 a share; all more than double the current stock price.
Disclosure: The author is long CRIS, DVAX. The author wrote this article themselves, and it expresses their own opinions. The author is not receiving compensation for it (other than from Seeking Alpha). The author has no business relationship with any company whose stock is mentioned in this article.