Sometimes even good merchandise simply gets marked up too much.
Primarily, investing entails 2 separate evaluations: understanding the underlying business and its performance (the fundamentals), and valuing its stock (fair value assessment). Sometimes, an investor may determine a great company, but pay too much for the shares.
In the first installment of this series, I offered my views and process as to why I believe Union Pacific Corporation (NYSE:UNP) trades above fair value. Up for review today is General Mills (NYSE:GIS); an outstanding franchise, but represented by common shares that are over-priced.
A Template for Identifying an Investable Business
Understanding and identifying great businesses involves evaluating several foundation activities. In general, I submit companies that exhibit the following characteristics are good investment candidates:
Straightforward business model
Strong management
Sound balance sheet and returns
Profits are generated in cash
Excellent franchise
Shareholder-friendly
Once a premier corporation is identified, the share price requires careful valuation. While the company may remain a premier performer, traders may have taken the stock too high; thereby placing the investor at risk of "paying up," and resulting asymmetric risk.
There are myriad ways to evaluate the fair value of most common stocks. These include Price-to-Earnings, Price-to-Sales, Price-to-Book and Price-to-Cash Flow. In the preponderance of situations, I have long held the opinion that the best way to value common equities is to compare forward operating earnings per share (GAAP earnings less one-time or extraordinary gains/losses) with the expected or assigned long-term P/E ratio.
General Mills: Premier Fundamentals
General Mills is a major manufacturer and marketer of branded consumer foods. The company also supplies unbranded food products to the commercial foodstuffs industry. General Mills operates directly and through joint interests in over 130 countries throughout the world.
"The General" is a traditional, non-cyclical slow grower. Over the past 10 years, experienced management has steered the business to consistent, mid-single-digit EPS growth. Analysts and corporate leadership forecast similar go-forward growth rates. General Mills, and its predecessor, have paid dividends for 115 years: consecutive, uninterrupted and without reduction. Currently, the shares yield 3%.
General Mills' margins and EPS growth has lagged primary competitor Kellogg Company (NYSE:K) somewhat; however, GIS has better international prospects, and an arguably superior business strategy. GIS operates with a debt-to-equity ratio two-thirds that of Kellogg, and has exhibited smarter revenue growth.
The resultant 5-year total return has been significantly better. Here's a summary comparison: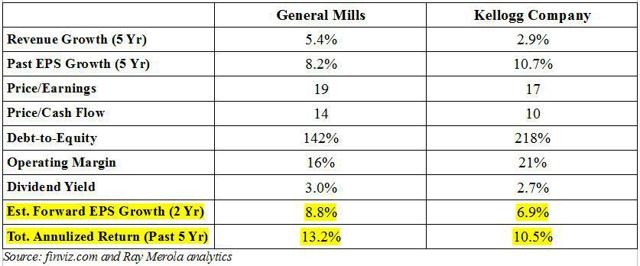 Make no mistake: Kellogg Company is a formidable peer. The rub comes insofar management has been slow to embrace the notion that the cereal-and-milk crowd is in secular decline, product diversification is paramount, and overseas markets is where future growth lies. Hence, I submit "The Big G" is category best-of-breed.
Furthermore, General Mills' operating cash generation is outstanding. The 2013 fiscal year (ends May 31) cash conversion ratio was 157%. This means that for every $1.00 of earnings, General Mills generated $1.57 of operating cash flow. Through 3 quarters of the current fiscal year, the CCR was 121%. Typically, the upcoming fiscal fourth quarter is the strongest. This is precisely the desired results when seeking companies that generate profits in cash.
GIS has an unquestionably strong franchise. By this, I mean the company has a brand strong enough to exert some pricing power. While the food manufacturing industry is highly competitive, the margins are reasonable. General Mills leverages this with its size, span and consumer loyalty. The company can compete on brand versus a low-cost strategy. While the food industry isn't a "wide moat" business like railroad Union Pacific (UNP), [examined in Part 1 of this series], market entry by new competitors is limited.
Finally, General Mills management is shareholder-friendly. This has been demonstrated by the remarkable dividend record, coupled with consistent stock repurchase programs that have reduced the number of shares outstanding over an extended period of years. A F.A.S.T. graph outlines this clearly.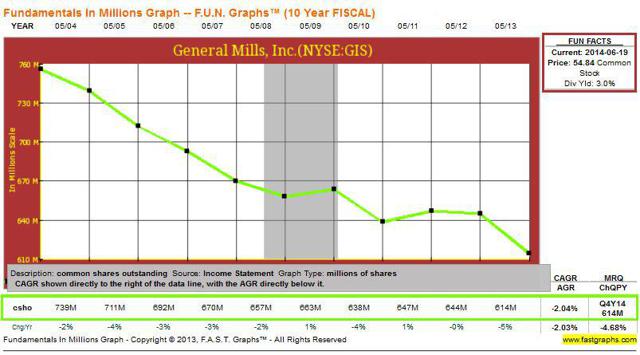 The foregoing brief outlines an outstanding business, no? Indeed, with FY 2014 earnings upcoming next week, General Mills continues to be the paragon of consistency. Given these outstanding facts and figures, isn't GIS stock a screaming buy? No, it's not... for diligent investors, another critical piece to the puzzle must be examined.
The Stock Looks Too Rich....
The valuation exercise, or back end of the investment analysis process, requires considerable evaluation and diligence. It's by no means a precise science, nor one that deals in absolutes. Investing is about probabilities; rarely certainties.
Historically, General Mills' share price have tracked operating earnings and P/E closely. Over the past 15 years, operating earnings have risen ~7% per annum. The average normalized price-to-earnings multiple has registered 17.5x. Current analyst consensus forecasts indicate long-term earnings growth rate may continue at roughly the same 7% rate.
However, the TTM P/E is 19x. Since forward operating earning growth is expected to run similarly to the past, it's looking a bit stretched versus the historic average. A picture tells a thousand words: please find another F.A.S.T. Graph that illustrates the 15-year relationship between GIS stock price, earnings, and P/E.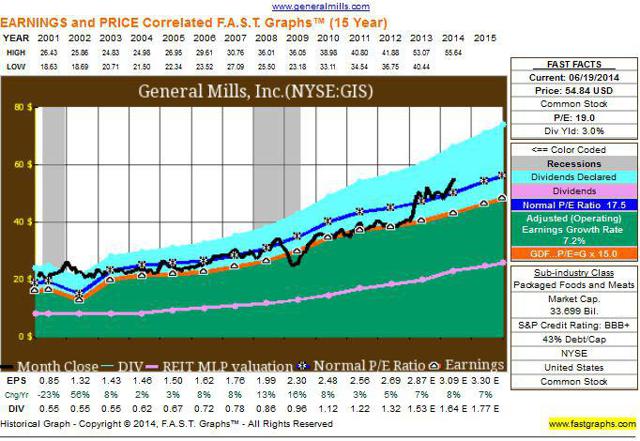 The black line is price. The blue line represents the average normalized 17.5x P/E ratio. Operating earnings are shown as the green shaded area. Dividend growth is illustrated by the aqua shaded area.
It's immediately apparent the black price line has now risen farther above the blue P/E ratio line than any time in the recent past. The only other time it ascended this far ahead was post-2001 recession (recessions are the shaded gray areas). What's more, after that advance, the stock price reversed and spent the next year in decline while it reverted back to the historical P/E.
Based upon this data, I suggest GIS shares are above fair value.
A recent trading price was $55. A 17.5x multiple on FY 2015 $3.30 estimated earnings yields a $58 stock. The approach suggests a stock with a 5% upside, plus a 3% dividend; on 2015 operating earnings. While it's possible that "The General" may over-earn, it's also probable the P/E will not expand. As a matter of fact, it's more likely the multiple will contract. That begs the question, "Is it prudent to 'pay up' for 2015 earnings when the fiscal year hasn't even started yet?"
So what's management's EPS track record versus Street expectations? See below.

courtesy of ameritrade.com
Pretty good results, as expected from a premier company. However, earnings beats were concentrated in 2013, and there's even a miss: the 2014 FY second quarter.
A bit of further research indicates that a bright future on the international product front may be offset by stagnant demand for U.S. flagship products. Nonetheless, a potential 5% share appreciation plus a 3% dividend is a reasonable expectation. That's decent for a stodgy Consumer Staples stock.
So let's look at another key metric: Price-to-Book.
Here's a 10-year F.A.S.T. graph depicting General Mills P/B ratio. Through the fiscal year 2013, the 3.8x figure is at the upper end of the range.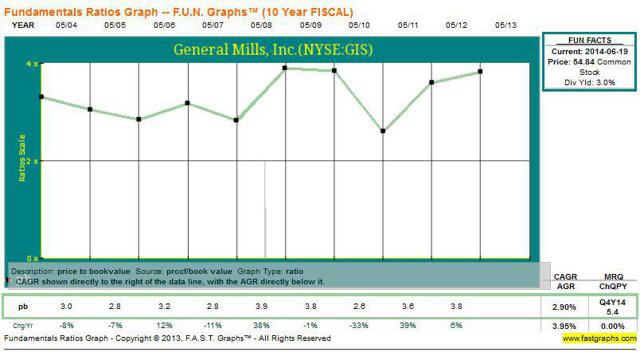 What's Price/Book looking like for FY 2014?
Well, thus far, book value has eased each quarter this fiscal year. That's no positive. Even if the fourth quarter stems the slide, it's unlikely net book will be greater than $10 a share. Therefore, a share price of $55 and a book value of $10 indicates a P/B ratio of 5.5x. Pricey?
Squarely, upside gain versus downside loss looks marginal: asymmetric risk. Purchasing shares now means paying up for 2015 earnings, and premising that the Price/Earnings and Price/Book ratios are embarking upon a "new normal." My view is that cereal companies are on the cusp of some "new normal." Therefore, it's plausible the P/B and/or P/E multiples will come down, and the share price will drift down along with it.
Conclusion and Actionable Resultant
General Mills is a premier company and a stalwart stock.
Year-to-date, the stock has appreciated 9.5%, eclipsing the S&P 500. The dividend adds gloss to the resume.
However, it's likely time to pull back a bit. I do not plan to add to my position at these prices. Indeed, I sold off a portion of the shares with the plan to buy them back at a cheaper price if the market and/or the stock corrects. I'd target a repurchase price below $50. If so, then the math looks compelling: buy at $50, with the expectation of a 2015 fair value of $58; add in a generous 3%-plus dividend we're talking a total target return of over 20%. Much better.
Having owned the stock for more than 2 years, and having enjoyed a gain greater than 25%, my general discipline is to sell ~25% of my original holding. I accomplished this by writing short calls against part of the position, and collected the premiums for a few months before eventually getting the shares called away.
Since I consider General Mills a core position, I have no intention of selling the entire position. No, my approach is to take some profits, continue to monitor the company carefully, look for a re-entry point below my sale price (via cash-secured puts - the January 2015 strike 50s could fit the bill), and enjoy the growing dividends.
Please do your own careful due diligence before making any investment. This article is not a recommendation to buy or sell any stock. Good luck with all your 2014 investments.
Disclosure: The author is long GIS. The author wrote this article themselves, and it expresses their own opinions. The author is not receiving compensation for it (other than from Seeking Alpha). The author has no business relationship with any company whose stock is mentioned in this article.