The sluggish U.S. economy, a falling dollar and a potentially weak economic recovery has investors looking outside the U.S. for possible investment opportunities as a hedge against those concerns. One way to combat the economic malaise we are currently experiencing in the states is to invest in companies traded on exchanges outside the US. One locale that has been popular are the markets in Asia Pacific. (Nikkei 225, Hang Seng, Straits Times).
Whether you are looking to hedge against the falling value of the dollar or just looking to add global exposure to your client portfolio's the Asia Pacific markets can be a good place to start. In the chart below you will see how the 3 main Asian indices have performed relative to the S&P 500 over the last 2 years. Only the Nikkei 225 has underperformed the S&P 500 over the last 2 years.
click to enlarge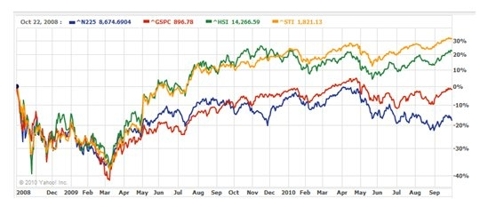 Click to enlarge
source: www.finance.yahoo.com
While many money managers look to use ETFs to gain exposure in attractive global markets (See Strategic Allocation Model), many are looking to buy individual securities to add an additional edge on their competitors outside of the traditional ADR stocks or investing in companies that have a significant global exposure as a hedge against a weak dollar. What we have found in our research is that valuation is as important in foreign markets as it is in the US.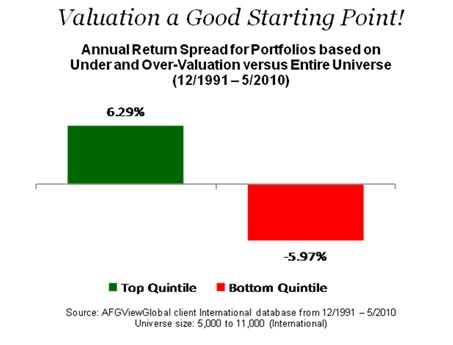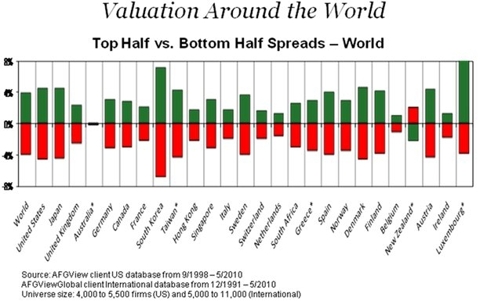 Click to enlarge
source: www.economicmargin.com
The table below contains companies from each of the major Asian indices that look most likely to outperform relative to sector peers according to AFG's valuation and Economic Margin criteria.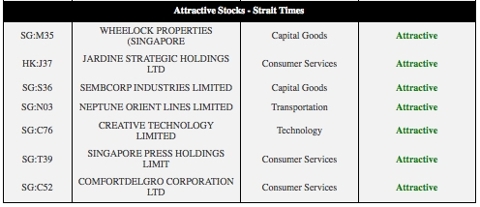 A weak dollar will likely be followed with higher inflation. Although there are some who believe that a weaker dollar will strengthen our exports, the reality is that companies will be spending more to produce their goods and investors will require higher nominal pre-tax rates of return. Furthermore, an increase in the overall cost of capital for equities will result in less business expansion as companies must pay more to source their funds.
As the U.S. economy faces many headwinds with a declining dollar, we recommend high quality, well managed, attractively-priced businesses with high foreign exposure. Companies with a significant overseas exposure will likely benefit from currency appreciation against the dollar making sales in those currencies especially valuable. Later on ValueExpectations.com we will provide a list of domestically traded companies that have a large part of their sales from outside the U.S. to provide another means to hedge against the falling dollar and sluggish economy. We will also analyze companies from foreign markets that have a significant exposure in the US, providing stock recommendation for both the bull and the bear in the currency exchange.
The Applied Finance Group (AFG) provides a consistent approach to valuing securities regardless of the size, sector, style or geography. AFG's Economic Margin framework helps professional investors, corporations, and consulting firms to better understand the true economic profitability a firm is earning. In addition to corporate performance, AFG's ability to understand intrinsic value and the embedded expectations in a stock is consistent across different companies, sectors, sizes and countries around the globe. Since 1996, AFG has excelled at identifying mispriced securities and helping our clients take advantage of such mispricings within the US markets. Over the last few years, AFG has been working on expanding our framework internationally to help our clients identify solid long-term equity investment opportunities on a global scale.
The key benefit of using AFG's Economic Margin Framework is that it provides a systematic approach to converting as-reported accounting data into a performance metric that is comparable across time, peers, industries and even countries while eliminating many of the accounting distortions inherent in GAAP. The ability to understand the true economic profitability and the underlying intrinsic value of a company using one consistent method is why AFG expanded its framework internationally. Now investors all over the globe can take advantage of the same institutional quality research and investment tools that AFG's U.S. clients have been using since 1996.
Disclosure: None