Regulatory risk is one of the most significant risks faced by the banking industry. Wells Fargo & Company (NYSE:WFC), one of the largest lenders across the US and internationally, is currently combating to meet the minimum capital thresholds that are expected to be finalized by the US regulatory authorities.
Expected Changes In Requirements
Currently, banks are required to set aside 10% of their risk-weighted assets as a buffer for bad times, where the value of loan portfolio or other investments may fall sharply. Wells Fargo is currently well capitalized, with its loss-absorbing capital standing at 15.44% as at December 31, 2013. Presently, the bank is operating in the safety zone, with a net safety margin of 5.44%. At the moment, Wells Fargo can actively manage its portfolio. In case the markets turn volatile, it can always switch to immunization.
Banks foresee that the regulatory body may enforce additional rules in the forthcoming period and necessitate them to maintain a supplementary buffer of 10% of bonds with maturities of more than a year. The logic behind the new rule is that creditors should also bear the brunt along with the shareholders if a bank crumbles. This will increase the risk of creditors, who may stand at the risk of losing all or part of their investment, should things go wrong. With the help of this rule, regulators are attempting to protect a common taxpayer from bearing the losses if a bank is closed down. Wells Fargo lags behind some other financial institutions, as it mainly depends on client deposits as a source of funding, and thus, has lower debt that has been raised inter-bank or from investors. Last year, Well Fargo issued approximately $26 billion in long-term debt. According to a statement made by Treasurer Paul Ackerman, he anticipated the bank's long-term debt "to grow a little bit" to fill any gap.
The rule aims to fortify the capital pillars of the banking industry by doubling the buffer held by banks.
Balanced Business Model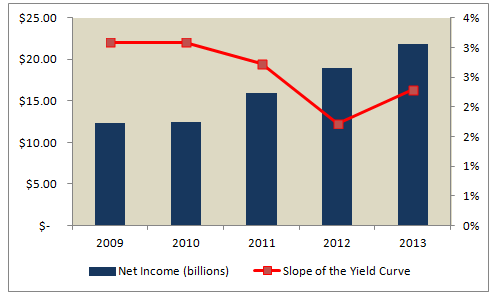 Source: Wells Fargo Investor Presentation
Diversified Revenue Sources
Wells Fargo has risen as one of the top-notch banks by delivering very strong results since the downturn. The key to the institution's successful lead has been a diversified revenue base, as it does not majorly rely on any single component's contribution.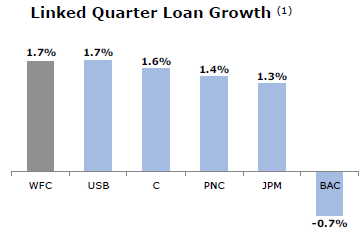 Source: Wells Fargo Investor Presentation
Despite a downward sloping yield curve, the bottom line has continued to swell as the bank focused its efforts on generating more volume and engaging in other activities. As much as 48% of the bank's income is derived from its non-interest activities. Hence, making the bank's base stronger and less susceptible to interest rate movements compared to peers.
Wells Fargo is one of the two banks to have registered the highest loan growth of 1.7%. In the prevailing record-low interest rate environment, the institution is stressing on generating higher income through higher business volume, rather than higher yield spread.
Low-Cost Deposit Base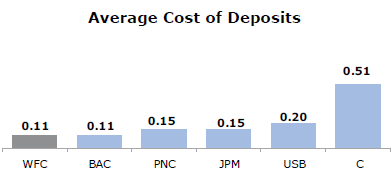 Source: Wells Fargo Investor Presentation
Where charging higher interest rates may be not in the control of Wells Fargo's management, it has taken active steps to reduce its funding cost. In fact, the bank has the lowest cost of deposits compared to other big players in the market.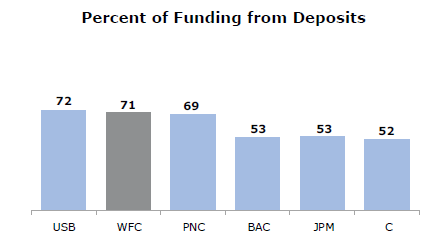 Source: Wells Fargo Investor Presentation
Since funding from deposits is available at a very low cost to the bank, Wells Fargo uses this source to the maximum extent (71%), rather than borrowing from other banks or investors.
Lower Efficiency Ratio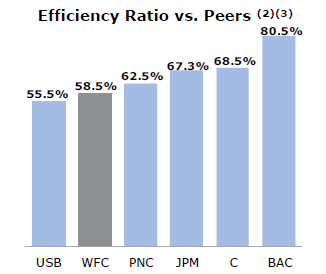 Source: Wells Fargo Investor Presentation
Efficiency ratio is a measure of a bank's overheads as a percentage of its revenue. A lower efficiency ratio for Wells Fargo can mean either increasing revenues or decreasing costs, which are both positive for its future. The bank is continuously making strenuous efforts to run its operations more efficiently and effectively, as exhibited by its lower efficiency ratio compared to other banks. Also, the bank has a target to bring this ratio down to 55% in the near term.
Bottom Line Effect
With a cap on the interest charged, large non-interest income source, maximum low-cost funding from deposits, and lower efficiency ratio has resulted in Wells Fargo being able to increase its net income on a year-on-year basis.
The Link Between Asset Quality And Asset Productivity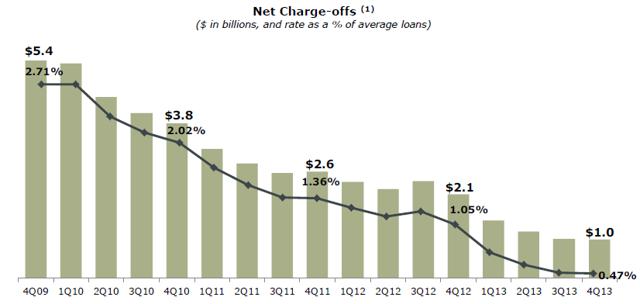 Source: Wells Fargo Investor Presentation
The credit quality of the assets posted on the balance sheet continues to improve, and may now be termed as of "high quality", as shown by the declining trend in the net charge-offs. It also explains the rising income over the years as the impaired loan expense continues to shrink to near-zero in the future.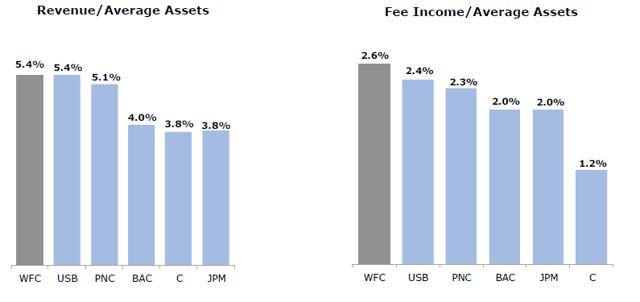 Source: Wells Fargo Investor Presentation
A descending trend in loan charge-offs means that every year, a higher percentage of total assets generate income for the bank. Higher asset productivity highlights the fact that Wells Fargo is being run more efficaciously, as it is able to generate a higher amount of revenue/fee income utilizing the same amount of assets compared to industry peers.
Final Call
With a leading position in all its key products, growing non-mortgage fee income, and a high-quality loan portfolio, Wells Fargo is not only benefiting from the prevailing credit trends, it is well positioned for the future as well.
Disclosure: The author has no positions in any stocks mentioned, and no plans to initiate any positions within the next 72 hours. The author wrote this article themselves, and it expresses their own opinions. The author is not receiving compensation for it (other than from Seeking Alpha). The author has no business relationship with any company whose stock is mentioned in this article.