Introduction
Tax-Managed Global Buy-Write Opportunities Fund (NYSE:ETW) and Tax-Managed Global Diversified Equity Income Fund (NYSE:EXG) are option income close-ended funds (CEFs) from Eaton Vance (NYSE:EV) that have a global focus, and sport 9%+ yields. Both funds seek to achieve "current income with capital appreciation through investment in global common stock and through utilizing a covered call and options strategy."
In the covered call strategy, the funds purchase common stock and write call options against the underlying indices. This provides a high level of current income, but limits the upside potential of the fund if the market moves up too rapidly (since the call options will have to be repurchased at a higher price). Hence, equity option income funds are expected to lag the index in a strong bull market, but to outperform in sideways or bear markets. Seeking Alpha contributor, Douglas Albo, writes extensively on various types of CEFs, including option income funds.
The main difference between the two CEFs is the percentage of option coverage of their stock portfolios. According to the latest information from Eaton Vance, ETW has 93% option coverage while EXG has 40% option coverage. Hence, ETW is the more defensive of the two funds.
Fund characteristics
Table below shows the top 10 holdings for EXG and ETW in descending order of portfolio size, as viewed on CEFconnect. Note that there is some degree of overlap between the two funds (common holdings italicized).
| | |
| --- | --- |
| EXG | ETW |
| Skandinaviska Enskilda Banken AB (OTCPK:SKVKY) | Apple, Inc. (NASDAQ:AAPL) |
| Chevron Corp (NYSE:CVX) | Microsoft Corporation (NASDAQ:MSFT) |
| Apple, Inc. | Nestle SA (OTCPK:NSRGY) |
| Roche Holding AG (OTCQX:RHHBY) | Roche Holding AG |
| Ericsson Telephone Company (OTC:ERIAF) | Novartis AG (NYSE:NVS) |
| Occidental Petroleum Corporation (NYSE:OXY) | Qualcomm, Inc. (NASDAQ:QCOM) |
| Emerson Electric Co. (NYSE:EMR) | Gilead Sciences Inc (NASDAQ:GILD) |
| Nestle SA | Google, Inc. (NASDAQ:GOOG) |
| Gilead Sciences Inc | Comcast Corp A (NASDAQ:CMCSA) |
| LyondellBasell Industries NV (OTCPK:LALWF) | Intel Corp (NASDAQ:INTC) |
There are some differences in the number of positions held, though their expense ratios are the same. Their low expense ratios is a definite advantage for these funds.
| | | |
| --- | --- | --- |
| | EXG | ETW |
| Number of positions | 147 | 461 |
| Weight of top 10 positions % | 14.5 | 19.3 |
| Expense ratio | 1.06 | 1.10 |
Both funds have also maintained steady payouts over the past 12 months.
Recent divergence
Until about three months ago, EXG and ETW have had very similar recent total returns. A one-year chart of the two CEFs from end-April 2013 to end-April 2014 is shown below.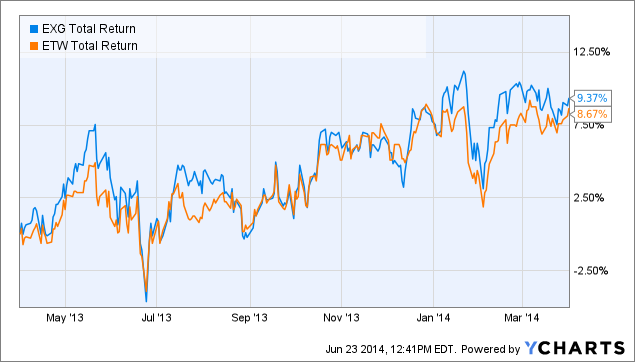 EXG Total Return Price data by YCharts
Since April 1st, however, ETW has far outpaced EXG, with a total return differential of 4.7%. This is quite significant considering that the two funds moved almost in lockstep in the 12 previous months.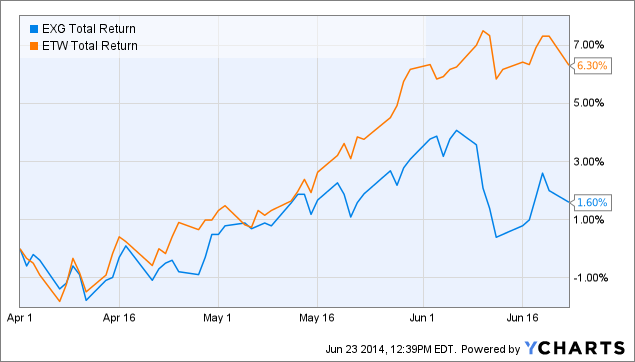 EXG Total Return Price data by YCharts
What was the reason for this divergence? The table below sheds some light on the situation.
| | | |
| --- | --- | --- |
| | EXG | ETW |
| 3-month price return % | 3.44 | 9.43 |
| 3-month NAV return % | 4.69 | 4.92 |
| 52-week historical discount % | -8.33 | -7.71 |
| Current discount % | -8.45 | -3.31 |
| Current yield % | 9.57 | 9.09 |
Notice that EXG and ETW have had similar NAV returns over the past 3 months. However, the price of ETW has raced ahead that of EXG. The discount for ETW has now narrowed from a 52-week historical discount of -7.71% to -3.31%, a +4.42% differential. On the other hand, the discount of -8.45% for EXG is slightly greater than its 52-week historical discount of -8.33% (a -0.12% differential).
This can be clearly observed from the premium/discount chart for the two funds as well (from CEFconnect).
EXG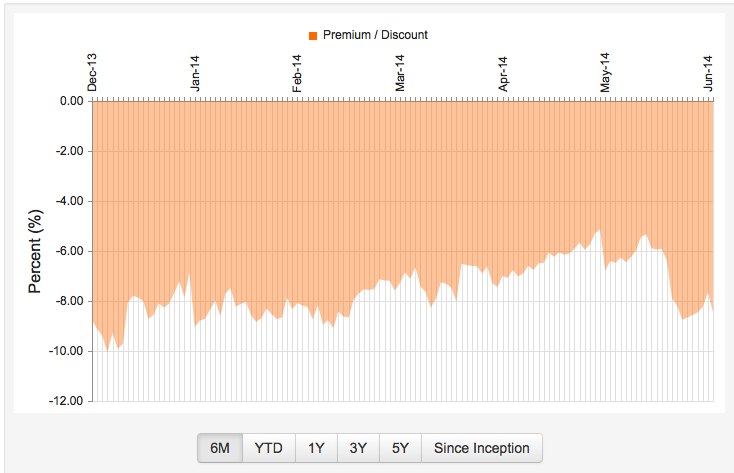 ETW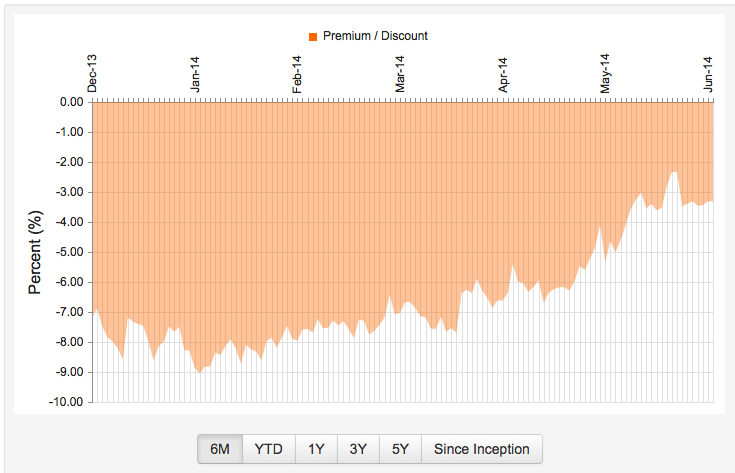 Investor implications
Closed-ended funds can trade above or below their net asset value because the number of shares in the fund are fixed. Hence, buying funds that are at a discount is a good way to get more "bang for your buck," as you are buying assets of the fund at discount (obviously). Conversely, buying funds that are priced at a premium is generally not recommended as you would be paying more for an asset than what it is actually worth.
Therefore, the recent divergence in EXG and ETW allows a savvy investor to exploit the difference in discounts. Given that both funds have very similar 5-year average discount values (-8.18 and -8.09% for EXG and ETW, respectively), ETW could be considered to be modestly overvalued, since it is currently selling at a discount of only -3.31%. I expect the difference in discounts to narrow over time. If one agrees with this hypothesis, one should sell ETW and buy EXG, given they have similar investment mandates.
The same phenomenon is observed for Eaton Vance's U.S.-based option income funds Tax-Managed Diversified Equity Income Fund (NYSE:ETY), which has about 50% option coverage, and Tax-Managed Buy-Write Income Fund (NYSE:ETB) and Tax-Managed Buy-Write Opportunities Fund (NYSE:ETV), which have about 100% option coverage. The discount for ETY is -6.95% while the discounts for ETB and ETV are much lower at -3.71% and -0.67%, respectively. In other words, the more defensive funds (the ones with higher option coverages) are getting more expensive relative to the less defensive funds.
What could one take away from this? One might infer that market participants are worried about an impending market correction, and are bidding up more defensive option income funds. This also might hinge upon whether one considers CEF investors to be "smart money" or "dumb money." Nasdaq.com shows institutional ownership of EXG to be 15.88% and ETW to be 19.72%. Most of the Eaton Vance option income funds have institutional ownership in the 15-20% range.
Personally, I have sold my holdings of ETW (which has yielded a total return of 18% since my initial purchase 13 months ago) and rotated them into EXG to take advantage of the discount discrepancy of 5% that has emerged over the past few months. I am not worried of a market correction, and even if there were to be one, I would not expect EXG (which has 50% option coverage) to fare much worse than ETW (100% option coverage).
Readers are invited to share their thoughts on the cause of the emergence of the price discrepancy between more-defensive and less-defensive option income CEFs over the past few months.
Disclosure: The author is long EXG. The author wrote this article themselves, and it expresses their own opinions. The author is not receiving compensation for it (other than from Seeking Alpha). The author has no business relationship with any company whose stock is mentioned in this article.