GNC Holdings (NYSE:GNC), the vitamin and supplement retailer with 8,500 locations here and abroad, likes to remind investors of its "commanding market position," adding in its 10-K filing that its domestic retail network is about ten times larger than the next-biggest competitor.
Does that make GNC the 800-pound gorilla, or perhaps a sitting duck?
After an April 2011 IPO, GNC shares soared like a rocket, until late last year when they began a sickening slide.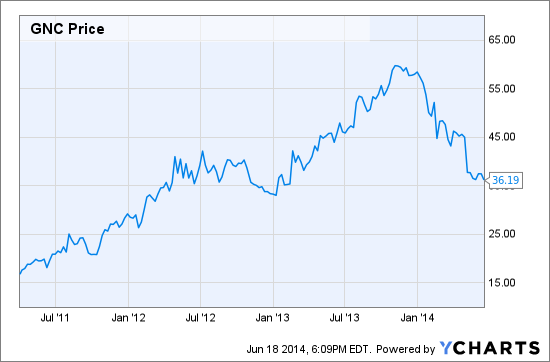 GNC is having a tough time growing just now, but remains highly profitable. If GNC is merely going through a rough patch, the stock, priced at a forward PE ratio of just 12, could be a steal. But there are a number of worrying developments around GNC. And its lush margins are a magnet for smaller competitors.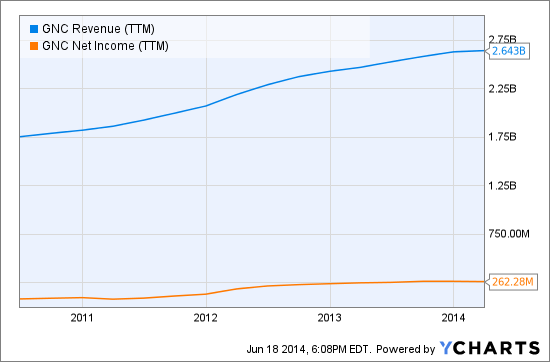 GNC Revenue (TTM) data by YCharts
Mark Miller, an analyst at William Blair & Co. in Chicago, maintains a fabulous database of online retailer data and we have mentioned him frequently in the past, especially when looking at the competitive threat posed to other retailers by Amazon (NASDAQ:AMZN), which we have dubbed the Suicide Bomber of Retail.
In recent days, Miller has pointed out some disturbing developments around GNC. There was the departure of its CFO to go to a private-equity-owned company. And then there is the apparent slow-footed discounting practices at GNC, which appear to result in it selling some stuff so cheaply on its website that small competitors can buy and then turn around and resell the stuff on Amazon. As Miller said in a recent research note:
Third-party sellers on Amazon Marketplace have indicated to us that they are buying the product directly from GNC when the company increases promotional activity, such as the buy one, get one (BOGO) offers.
GNC's heavy discounting enables this "arbitrage opportunity," Miller notes. He regularly tracks the product overlap between Amazon and other retailers to gauge vulnerability. Some 1,270 GNC SKUs are now available on Amazon, out of a total number of SKUs at GNC of 1,800; as recently as November, 2012, there were only 460 GNC SKUs available on Amazon. Explains Miller:
While GNC has downplayed the significance of its products being sold on Amazon, we believe management understands it is a victim of this arbitrage and that consumers are being conditioned to wait for deep promotions. Our point is not that Amazon is taking a large share of GNC's business today, although we believe this is a longer-term risk. Rather, our analysis of GNC product availability can be viewed as a proxy for the level of promotion at GNC.
In other words, the GNC stuff wouldn't be available on Amazon if GNC weren't selling it so darned cheaply in the first place.
YCharts wrote more than a year ago about GNC products resold on Amazon, apparently supplied by GNC franchisees. That practice, too, undermined prices at GNC.
Miller further noted that GNC had missed estimates on its last two quarterly reports and he expects another miss for the second quarter, ending June 30. He rates the stock underperform.
Another potential problem for GNC we reported on last December: an editorial in the journal Annals of Internal Medicine basically said a lot of the stuff you might buy at GNC won't do you any good. The editorial was headlined, "Enough Is Enough: Stop Wasting Money on Vitamin and Mineral Supplements."
It seems likely that few of GNC's Gold Card holders read the Annals of Internal Medicine, or perhaps for that matter the New York Times, which reported on the editorial. Gold Card members pay $15 a year. There are 8.3 million of them in the U.S. and Canada. And they account for more than 75% of sales at company-owned GNC outlets. GNC calls them "loyal," but given the long-term Gold Card deal - 20% off during the first week of every month - maybe they're just frugal. GNC has scratched the traditional Gold Card deal in favor of a more complex "everyday variable discount" plan. Anything that displeases those 8.3 million customers, it seems, would be a very bad idea.
GNC, leftover from its private equity-ownership days, has a lot of debt, $1.34 billion at March 31. Its first-quarter diluted EPS rose to 75 cents, from 73 cents a year earlier, only because of aggressive stock buybacks that have reduced shares outstanding. Actual net income declined. In addition to the $150 million of first-quarter 2014 buybacks, GNC shelled out about $733 million on buybacks combined for the years 2011, 2012 and 2013.
Cash at March 31 was $172.7 million. There's not a heck of a lot of borrowing capacity left in GNC's borrowing arrangements, either. Its operations throw off a nice amount of cash. But should the Amazon threat begin to really eat into sales, GNC's balance sheet wouldn't be the Rock of Gibraltar one might wish for.
Management reduced 2014 guidance when the first-quarter numbers came out: EPS of $3.05-to-$3.10 versus guidance issued about 90 days earlier of $3.18-to-$3.24. A "high-single digit" increase in revenue likewise became a "mid-single digit" one. A collection of worries, no single one of them enough to put you off the stock, perhaps, but together it's plenty to be a warning.
Jeff Bailey, The Editor of YCharts, is a former reporter, editor and columnist at the Wall Street Journal and New York Times.
Disclosure: None