Overview
"Wherever there is danger, there lurks opportunity, whenever there is opportunity, there lurks danger. The two are inseparable. They go together." ~ Earl Nightingale
The telecommunications industry is in a state of a dramatic expansion and AT&T (NYSE:T) is smack dab in the middle of it all. There are several catalysts on the horizon for the company that could very well make or break AT&T's future. In the following article I will analyze the current fundamentals of the company and do my best to discern reality from non-reality regarding AT&T's future.
AT&T's ambition knows no bounds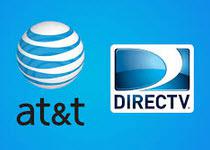 There has been an extreme level of consolidation in the communications industry. One major example is the Comcast (NASDAQ:CMCSA) (CMCSK) and Time Warner Cable (TWC) merger. AT&T's proposed purchase of DirecTV (DTV) may be a preemptive strike by the company to defend against this merger of cable giants. There is no doubt the communications sector is rapidly consolidating and only those who are thinking several moves ahead will survive.
The DirecTV acquisition would be somewhat accretive regarding free cash flow and earnings. There are several other positives as well. The lift in free cash flow may support future dividend payments and growth. Several cost saving synergies could be capitalized on reducing customer care and programming costs significantly. AT&T may be able to leverage DirecTV's 20 million US subscriber base to increase subscribers for the company's U-Verse network. Furthermore, with a combined 27 million subscriber base, AT&T's subscriber count would rival Comcast's 30 million subscriber base.
The deal would basically be a form of vertical integration immediately getting AT&T into the content provider business. DirecTV has some prized programming deals and streaming rights. Moreover, AT&T may be able to divert video traffic from U-Verse to DirecTV's satellite network, freeing up network capacity. Finally, according to a recent WSJ piece, AT&T is the third largest advertiser in the country and the proposed merger with DirecTV will give the company an even wider reach.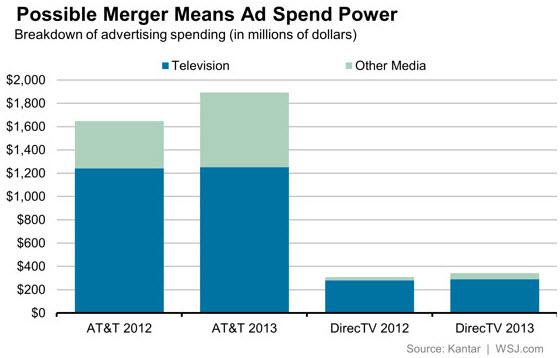 (Source: WSJ.com)
According to Cantor Fitzgerald, in 2013, the telecommunications industry was the third largest ad spending category in the U.S. Only the retail and automotive industries spent more. There are several potential downside risks as well. I will discuss these in detail in the downside risk section of this article. Now let's turn to the fundamentals and see where AT&T stands.
Fundamental Statistics
AT&T's management has done an amazing job over the last couple of years and shareholders may be on the cusp of reaping the benefits. The highlights of the fundamental positives follow.
Solid revenue growth
Total revenue of 128.8 billion was up 1.9% year-over-year in 2013. The solid revenue growth was driven by several key segments. Wireless, wireline data and managed IT services were all up over 5%.
A healthy dividend yield
AT&T pays a dividend with a yield of 5.2%. Couple this with the fact the stock has significant upside potential and you have a recipe for outstanding returns. What's more, dividend paying stocks have historically outperformed non-dividend paying stocks over time.
Strong EPS growth
After adjustments, full-year 2013 EPS was up 8.2% which marks the second straight year of growth above 8%. The earnings per share of a company, or EPS, is conceivably the most important statistic to understand before investing in a company's stock. Each time you consider starting a position in a stock, you should prudently scrutinize its earnings information. The reason earnings are so vital to investors is because they tell you about the relative profitability of a company.
Strong free cash flow
Strong free cash flow provides opportunity for increased return of capital to shareholders. Cash flow from operations was $8.8 billion. Free cash flow was $3 billion after backing out capital expenditures of $5.8 billion.
Robust share buybacks
This strong free cash flow allowed the company to buy back 37 million shares recently for $1.2 billion. Cash flow is an extremely important factor in determining the value of a stock. There seems to be a shift in market sentiment recently toward solid dividend paying stocks with strong capital return programs. I believe this shift in focus to more conservative low beta stocks such as AT&T will drive the stock higher as well.
Solid technical status
6 month performance review
The stock has broken through all three major resistance levels and fulfilled the golden cross. These are positive developments from a technical perspective.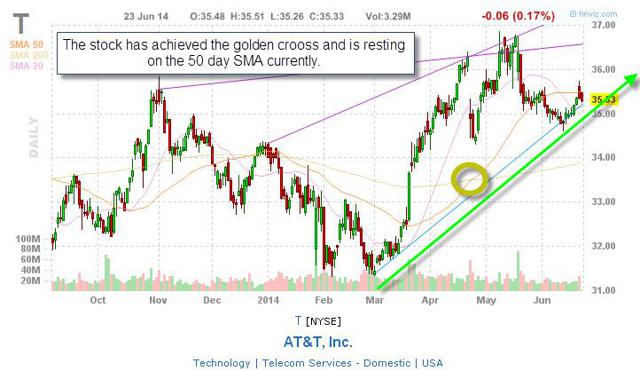 Click to enlarge
(Source: Finviz.com)
I can tell you from years of personal experience, the fulfillment of the golden cross is a very good indicator a rally is underway.
Short-term view
The upward trend in the stock since the beginning of February is a telltale sign of accumulation.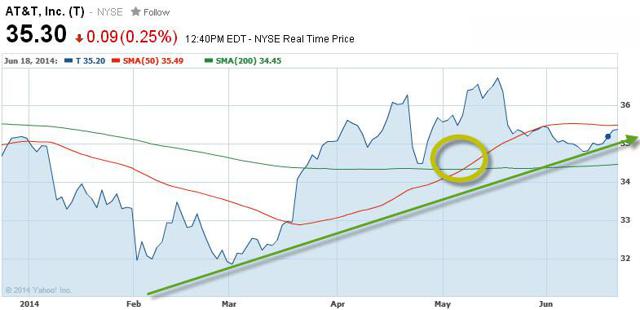 Click to enlarge
(Source: Yahoo.com)
Long-term view
Sometimes it's good to step back and check things out from the 30,000 foot level. When you do this with AT&T's stock you see that the stock has been a relatively solid performer for a very long time.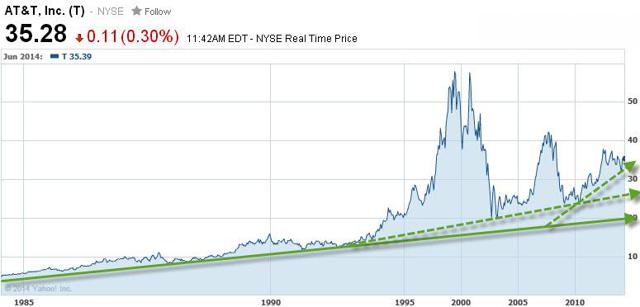 Click to enlarge
(Source: Yahoo.com)
AT&T had been a solid investment for shareholders over the long haul.
Downside risks
Nonetheless, it would be remiss of me not to cover the potential downside risks. These are the dangers that create the opportunity.
Cash flow could be pressured in the near term due to the company's Next program where revenue is booked on devices customers have not paid for yet.
The DirecTV acquisition does not come without major risks and uncertainty. Many have questioned management's judgment with regard to this potential acquisition.
The DirecTV purchase may pressure dividend distribution and growth.
AT&T continues to add approximately $3 billion in debt each year.
AT&T is in an escalating price war with T-Mobile (NASDAQ:TMUS) which could pressure earnings.
AT&T is expected to spend about $20 billion in capital expenditures on projects with questionable growth.
Free cash flow is expected to drop precipitously in 2014.
There are potentially large wireless spectrum purchase costs looming.
The Bottom Line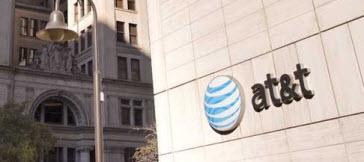 AT&T is a solid blue chip company that has stood the test of time. AT&T's network is best in class and reaches hundreds of millions of people each day. The company is making bold moves to ensure it continues to lead the way forward. As the telecommunications industry continues to evolve and consolidate the DirecTV deal seems quite apropos at this juncture for AT&T. I believe the positives of the DirecTV deal far outweigh the negatives. On top of all this, AT&T has a solid long-term growth story and pays a hefty dividend of more than 5%. The company has increased its dividend each year since 2008. The company has strong free cash flow, positive EPS growth, and just raised full year guidance. Taking all these facts into consideration, it's hard to deny you have an outstanding total return play on your hands. Nevertheless, always layer into positions over time to reduce risk.
Disclosure: The author has no positions in any stocks mentioned, and no plans to initiate any positions within the next 72 hours. The author wrote this article themselves, and it expresses their own opinions. The author is not receiving compensation for it (other than from Seeking Alpha). The author has no business relationship with any company whose stock is mentioned in this article.