By Jeff Bailey
The funniest and most self-deprecating activist investor I've met during more than 30 years of financial reporting is without a doubt Ralph Whitworth, a principal at Relational Investors, a firm with a strong reputation for investing in undervalued stocks and coaxing management to make needed improvements.
Sometimes, Whitworth joins corporate boards. But what most distinguishes his firm's approach is a combination of strong advice and a friendly delivery, meaning CEOs often learn to like Whitworth. Relational has taken a stake in Hewlett-Packard (NYSE:HPQ) and other turnaround situations in recent years.
About six weeks ago, I was surprised to see Whitworth and Relational pop up as major holders of Clean Harbors (NYSE:CLH), a big hazardous waste handler. The company, founded by its CEO, Alan McKim, in 1980, has over the long haul been a spectacular performer.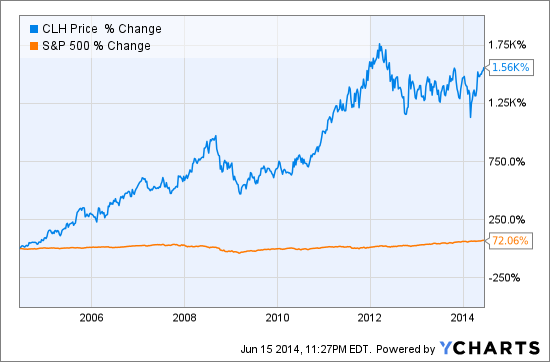 CLH data by YCharts
But after acquiring another big waste handler, Safety-Kleen, for $1.26 billion in December 2012, Clean Harbors early this year reported disappointing results for 2013's fourth quarter, sending its shares tumbling. They've since recovered, as McKim announced a broad effort to improve operations and also won board approvel for the company's first-ever stock buyback program. Relational Investors endorsed the moves and, Bloomberg reported in April, said that investors "severely underappreciated" Clean Harbors' strong market share, returns on capital and the barriers to entry that exist within the hazardous waste industry.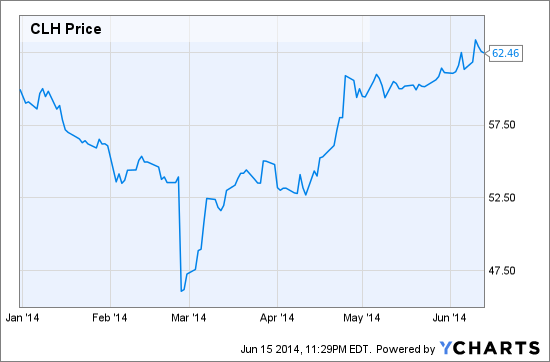 CLH data by YCharts
Whitworth should know, of course, because he briefly served, some 14 years ago, as chairman of Waste Management (NYSE:WM) after an accounting scandal prompted him and other board members to throw out management. Whitworth was embarrassed by the episode, which I covered for The Wall Street Journal. Seen below, the stock plunge just prior to 2000 came after an earnings disappointment and as the accounting scandal began to unfold. The company's stock has never returned to those heights and its earnings per share, internally predicted to hit $3 annually after a merger that preceded the scandal, never got there, either.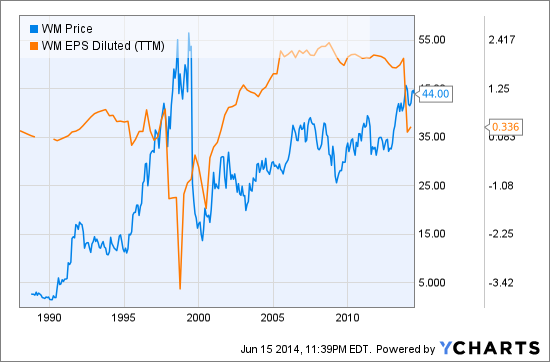 WM data by YCharts
The 1999 plunge in Waste Management shares was caused by the scandal -– and by excessive expectations that came before it. But the long-term failure of Waste Management and others in the business to thrive was caused by more fundamental problems: namely, a glut of dump space, contrary to public belief of a shortage, that built up and has never gone away.
That's what makes Whitworth's return to the waste industry -– his firm's stake in Clean Harbors -– so interesting. The company discloses in its 10-K that it controls 24% of the hazardous waste dump capacity in North America, meaning it has large competitors and nothing approaching unilateral pricing power. And its own capacity, relative to actual waste volumes it buries, is enormous. Last year, Clean Harbors used up about 1.5 million cubic yards of dump space and ended the year with 29.3 million cubic yards remaining.
That leaves Clean Harbors with about 20 years of remaining capacity. It's hard to boost prices when the commodity you're selling is in such oversupply. Barriers to entry in terms of building new dumps certainly exist, but that doesn't cure a glut.
Clean Harbors has a far stronger position in hazardous waste incineration, with 68% of North American capacity, it says.
Despite Clean Harbors' fabulous returns for investors, overall the hazardous waste industry has been a disastrous one. Waste Management, in the 1980s and 1990s, and other companies that have since disappeared or been acquired, combined invested billions of dollars in building permitted hazardous waste dumps and incinerators and then were disappointed when volumes of waste were weak and pricing was lower than hoped for.
What happened? Well, the companies made investments based on Environmental Protection Agency laws that seemed certain to result in huge cleanup business from toxic Superfund sites and from factory operations. But after a handful of large settlements to burn PCB-laden dirt, for instance, major companies decided to litigate rather than settle and Superfund settlements were few and far between. Operating factories, meanwhile, learned to reduce the wastes they produced on-site, and required far less help from waste handlers than expected. The industry was largely a bust.
McKim, who'd kept Clean Harbors relatively small during much of this upheaval, was able to pick up assets cheaply.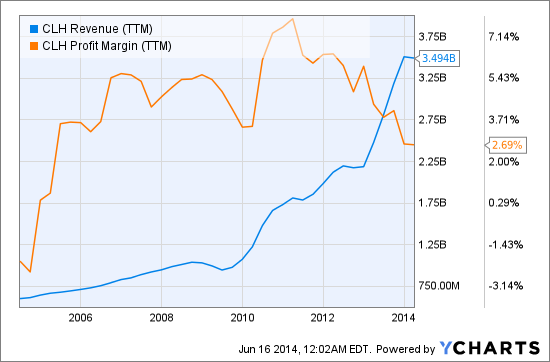 CLH Revenue (TTM) data by YCharts
Scale has not brought lush profit margins, however. Last year, Clean Harbors had revenue of $3.5 billion but managed net income of just $95.6 million, or $1.57 a diluted share. Considering all the environmental liabilities and long-term uncertainties that go with owning hazardous waste dumps and such, the returns aren't very impressive.
With $1.4 billion in debt after the Safety-Kleen acquisition, it's little wonder the stock buyback program is small, just $150 million. Clean Harbors has never paid a dividend. The payoff, if there's going to be one, will come from some decent revenue growth and cost control to boost margins. Clean Harbors talks of cross selling between its traditional operations and those of Safety-Kleen, and I suppose there's some potential there. But the handful of vendors who compete in these markets are well known to customers; price cutting might help win some business but that won't bolster margins.
Safety-Kleen has 200,000 parts washers -– a drum of solvent with a sink on top and a foot pedal that pumps the solvent up and out of a spigot to allow a mechanic to wash a greasy auto part or other component -– installed. And it removed the solvent and replaced it with fresh stuff 900,000 times last year, so 4.5 rounds of solvent per year, on average. It also takes dirty used oil from auto service establishments and recycles the stuff and sells it. It's a labor-intensive business, as seen in the steep rise in payroll from the Safety-Kleen acquisition.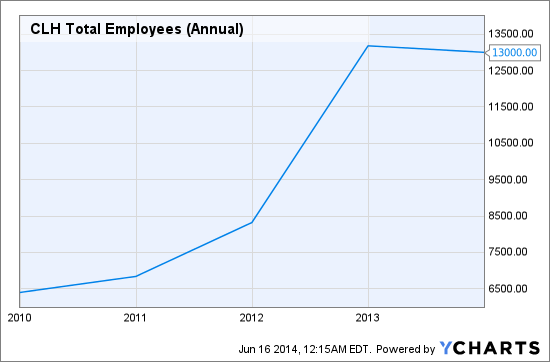 CLH Total Employees (Annual) data by YCharts
It's hard not to root for Whitworth and his Clean Harbors investment. He acted honorably at Waste Management, sticking around to try to fix the mess and freely accepting his portion of the blame.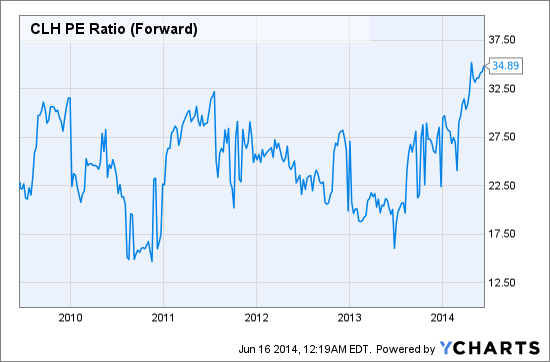 CLH P/E Ratio (Forward) data by YCharts
Clean Harbors is not a growth company and it's not in a growth industry, however. And to live up to the stock's price –- its forward P/E ratio is nearly 35 -– Clean Harbors is going to have to perform better than waste companies typically do.
Disclosure: None