Micron Technology, Inc (NASDAQ:MU) announced its third quarter earnings after the market closed on Monday and they totally shot the lights out. Here are the highlights:
Micron delivered revenue of $4.0 billion, three percent lower than revenue for 2Q 2014, and 72 percent higher than revenue for 3Q 2013.
Non-GAAP net income attributable to Micron shareholders was $913 million, or $0.79 per diluted share, compared to net income of $989 million, or $0.85 per diluted share for 2Q 2014.
Analysts were expecting $0.70 per share; Micron totally blew past those expectations.
GAAP net income attributable to Micron shareholders was $806 million, or $0.68 per diluted share, compared to net income of $731 million or $0.61 per diluted share for 2Q 2014. For 3Q 2013 GAAP net income was $43 million or $0.04 diluted share.
Below are the company's financial results quarter-over-quarter and for the last twelve months through May 2014 ("LTM0514").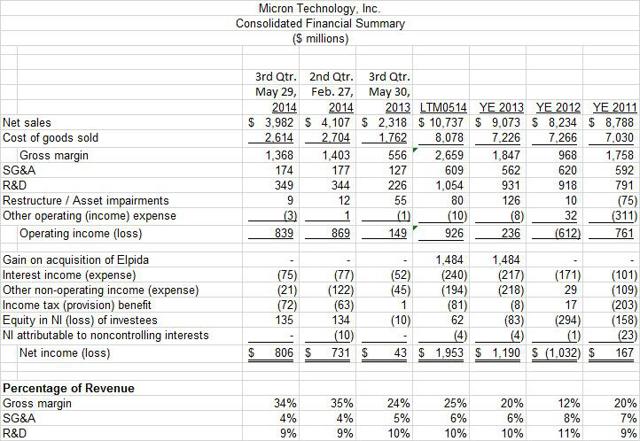 Micron's revenue and operating income for 3Q 2014 were impressive in comparison to the same period last year. 3Q 2014 performance included the benefits of the company's acquisition of Elpida Memory, Inc., which was completed in 4Q 2013.
However, both revenue and operating income declined in comparison to 2Q 2014.
Gross margin was 34%, 35% and 24% for 3Q 2014, 2Q 2014 and 3Q 2013, respectively. Gross margin was negatively affected by the mix of business sold and declines in average sales prices.
SG&A and R&D as a percentage of revenue improved over 3Q 2013 results, but were flat in comparison to Q2 2014. Management believes it can achieve synergies between the R&D efforts at Micron and Elpida, respectively.
Valuation
The shares were down in after-hours trading after the management conference call. I will firm up my valuation of the company over the next handful of days. As of now, with a market capitalization of $33.5 billion (June 23, 2014), Micron trades at about 17x LTM0514 earnings. I currently rate the stock a hold.
Disclosure: The author is long MU. The author wrote this article themselves, and it expresses their own opinions. The author is not receiving compensation for it (other than from Seeking Alpha). The author has no business relationship with any company whose stock is mentioned in this article.
Additional disclosure: I have a straddle on Micron