Thanks to the 15% stock correction and the 22% underperformance versus the S&P 500 since the January pick, Citigroup's (NYSE:C) investors have been feeling pretty down. Additionally, and maybe more dramatically, investors now are being battered down by one-two punch of fraud in Citi's Mexican and Chinese units before being hit by the Federal Reserve.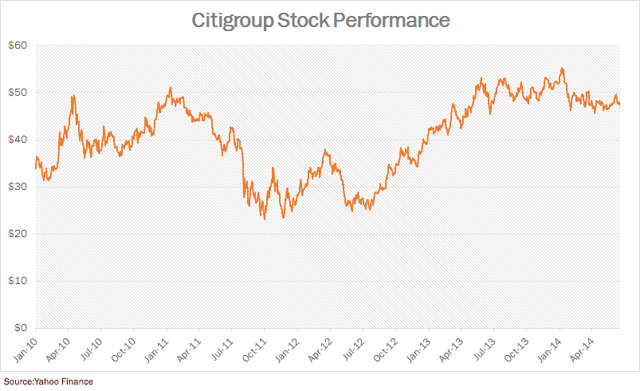 In the previous days it was heard that the U.S. Department of Justice was preparing to sue Citigroup on charges that the bank defrauded investors on billions of dollars worth of mortgage securities in the run-up to the financial crisis. This definitely came as no surprise as the largest lenders in the country have faced billions of dollars in litigation costs for the last couple of years. It is reported that the Justice Department had asked the bank to pay more than $10 billion, and that the bank had offered less than $4 billion. Citigroup may have to pay $6-8 billion to reach a deal with Justice Department, which could exceed the bank's legal reserves. The bank will likely be requires to record additional expenses this year. This will tortuously cut earnings per share by $0.95.
Apart from its domestic issues, Citi also has an emerging markets headache. For the last nine quarters, emerging markets have fueled roughly two-thirds of the bank's revenue growth. Two types of risk arises at this point: First, concerns around the growth in emerging markets may start to show in the bank's results with rising credit losses and slowing revenue. Second, but maybe more importantly, in the business environment of emerging markets managing legal risks effectively and comprehensively is very hard. Mexico, the country that Citi has its biggest emerging market exposure, has been a dramatic scene. The bank was forced to revise down its already-reported 2013 earnings by a $400 million charge after finding fraudulent dealings by a client in Mexico. As a result, operating in emerging markets may not be as profitable going forward as they have been so far.
Like any other Wall Street bank, Citi is facing a slump in trading revenues this year. At the Deutsche conference, CFO John Gerspach, said that Q2 trading revenue could drop up to 25% year over year. This would mean a drop of nearly $1 billion in fixed income, currency and commodities trading revenues.
Beside all these catalysts, the bank has made progress on cutting expenses. We will probably see core expenses brought down from $11 billion reported in the first quarter as compensation costs at the bank decreases. The bank also made deeper cuts in its investment banking side in April, axing around 200 to 300 staff in its global sales and trading businesses as the bank prioritizes cost-cutting and meeting its efficiency targets.
Another positive catalyst may be the bank's high yielding asset mix. The reported net interest margin of 2.90% in the first quarter is substantially higher than the ones reported by its peers. However, I do not expect an important net interest margin development to build a better case.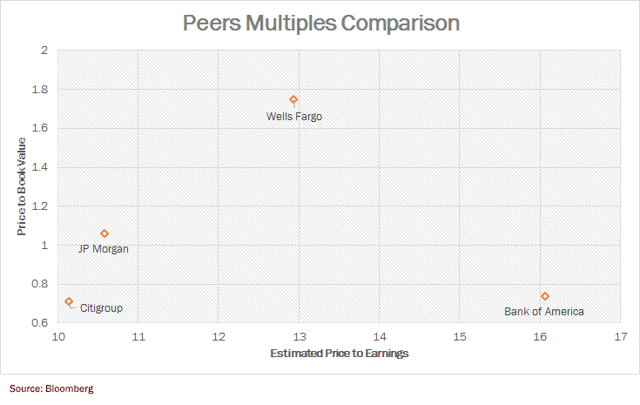 Trading at ten times its earnings and with roughly a discount of 30% its book value, Citigroup may fundamentally seem like a great buying opportunity compared to its peers. On the other hand, pessimistic revenue growth prospects based on the risks mentioned above will continue to be the primary factor in poor stock price performance.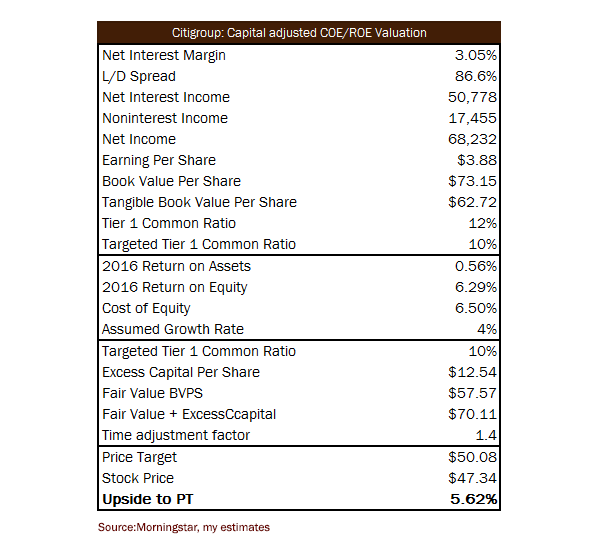 Above I valued the company with a ROE/COE methodology with a 3-year horizon, and derive a price target of $50 per share, implying 5.6% potential upside. The model is a very useful measure where tangible assets are the source of value generation. Because of its close linkage to return on equity (price to book is price to earnings multiplied by return of equity), it is useful to view price to book value together with return on equity. The model is widely used in valuing financials, especially banks, which squeeze a small spread from a large base of assets (loans) and multiply that spread by utilizing high levels of arbitrage (deposits). RoE is therefore an important criteria. I used a cost of equity of 6.5% and return on equity of 6.29%. I derive the CoE using 2.62% risk-free rate, 2% equity premium, and 1.75x beta. I also applied a consistent growth rate of 4%, derived from 2.5% sustainable long-term GDP growth and 1.5% inflation. The potential upside is mostly due to the low valuation of the company but still signals that the stock is not worth adding to the portfolio within a 12-month horizon. Citi is a bad play for the current trends that are exacerbating the earnings outlook.
Disclosure: The author has no positions in any stocks mentioned, and no plans to initiate any positions within the next 72 hours. The author wrote this article themselves, and it expresses their own opinions. The author is not receiving compensation for it (other than from Seeking Alpha). The author has no business relationship with any company whose stock is mentioned in this article.