A couple of weeks ago, I detailed how it was time for the turnaround at BlackBerry (NASDAQ:BBRY) to gain some traction. The year over year revenue losses were expected to be large at the upcoming earnings report, but operating expenses were also expected to be reduced. Last week, the company reported a decent quarter. The good news sent shares of BlackBerry spiking, and on Monday, they cracked $10 for the first time since March 10th. Today, I'll cover the latest BlackBerry quarter, and then detail how the next stage of the turnaround is starting.
Q1 results:
Last week, the company released its fiscal Q1 results for the May ending quarter. Remember, BlackBerry uses a fiscal year that ends in February, and we are currently in fiscal 2015. On the top line, the company reported revenues of $966 million, which beat analyst estimates by about $3 million.
On the bottom line, results get a bit complex. The company reported a GAAP profit of $0.04 per share. This includes two adjustments, one regarding the company's debentures, and the other regarding the ongoing restructuring plan CORE. Please see the above press release for all of the details. When you look at the adjusted EPS number, the company lost $0.11 per share. Analysts were looking for an adjusted loss of $0.26 per share, so BlackBerry did beat estimates on both the top and bottom line.
Progression of the turnaround:
As part of the turnaround, BlackBerry is becoming less of a hardware company and more of a service one. In the chart below, you can see how this quarter's segment revenue percentages compared to those of the prior year period. This is a big change.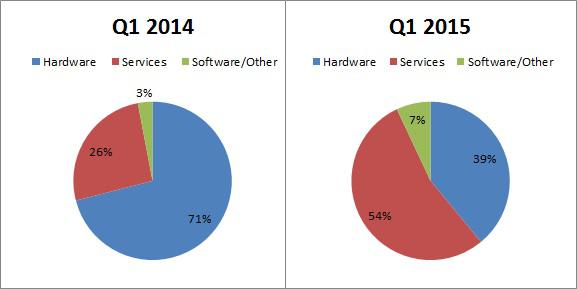 The other major part of this turnaround was the cutting of expenses. BlackBerry's GAAP cost of sales was just $515 million in the Q1 period, compared to about $2.03 billion in the year ago period. On a GAAP gross margin front, the company reported gross margins of 46.7%, up from 33.9% in the year ago period. GAAP gross margins were down sequentially from 56.7%. The company reported adjusted gross margins of 48%, up sequentially from 43%.
The company also is working on reducing its GAAP operating expenses, as detailed below:
R&D expenses were $237 million in the quarter, compared to $246 million in Q4 2014 and $358 million in Q1 2014.
Selling and marketing costs were $400 million in the quarter, compared to $355 million in Q4 2014 and $673 million in Q1 2014.
Amortization expenses totaled $81 million in the period, compared to $107 million in Q4 2014 and $180 million in Q1 2014.
The company reported a GAAP operating profit because of that debentures change, which ended up being a positive $287 million in the period, compared to a negative $382 million in Q4 2014. The company also expects to recover some taxes going forward. BlackBerry will continue to work towards getting back to profitability and cash flow breakeven.
Where estimates stand now:
BlackBerry is still showing huge drops in revenues when looking at prior year periods, although the sequential changes are much better. With the company beating on both the top and bottom line, we've seen some slight adjustments to analyst estimates since the earnings report. The following table summarizes where analysts were going into the report, and are now, for both the Q2 period as well as the current and next fiscal year.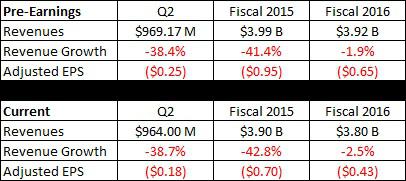 We've seen mixed results in terms of estimates. All three periods have seen revenue estimates decrease, but adjusted EPS losses improve. The company certainly needed to cut expenses, and BlackBerry has done that quite nicely in recent years.
Now, it is time for revenues to start improving. Analysts are expecting a slight sequential decrease in revenues for Q2, although the current Q3 estimate is for $1.01 billion. That would be a sequential increase, and hopefully it comes. The year over year revenue decline for Q1 was 68.5%, while the Q2 drop is only expected to be 38.7%, and the Q3 drop 15.4%.
BlackBerry recently launched the Z3 phone in Indonesia, the first phone coming from the Foxconn partnership. On the conference call, the company noted that a launch in Vietnam has followed, with more countries coming a week later. India will be one of those countries, where interest appears to be fairly strong. BlackBerry is making a number of other efforts to drive revenues, and you can read about them in the conference call. This is the next stage of the turnaround, which analysts still see as a bit of a challenge.
Since the earnings report, we've also seen a couple of price target hikes. First, we had Citron, which upped its $15 price target to $20 after this report. The firm called BlackBerry CEO John Chen "one of the strongest and most credible leaders on Wall Street". The firm also believes in the company's "potential to provide software and services to help enable the proverbial Internet of Things". Citron even thinks a tech giant could be interested in making a bid for the company. On Monday, we also saw Evercore up its price target by $4 to $10, and upgrade its rating to Equal Weight. Evercore likes the stabilizing cash burn and ability to hold on to its core base.
An update on the balance sheet:
In the earnings press release, the company provided the following statement in regards to its cash position:
The total of cash, cash equivalents, short-term and long-term investments was $3.1 billion as of May 31, 2014,
compared to $2.7 billion at the end of the previous quarter - a net increase of $429 million. Excluding receipt of a tax
refund of $397 million and proceeds on the sale of real estate of $287 million, the Company used $255 million in the first quarter. This represents a decrease from $784 million used last quarter, after excluding proceeds of $250 million related to convertible debt issuance. Purchase obligations and other commitments amounted to approximately $1.8 billion as at May 31, 2014, with purchase orders with contract manufacturers representing approximately $317 million of the total.
We knew that the cash position would be bolstered by some real estate transactions. BlackBerry's balance sheet has undergone significant change in the last year. A year ago, the asset base was more than $13.07 billion. At the end of the latest quarter, the company had just $6.82 billion in assets. The company has also taken on more than a billion in debt to help as it continues to burn through cash, when excluding one-time items. Don't expect too many more asset sales, however. A year ago, the company had $2.2 billion of property, plant, and equipment. At the end of the latest quarter, that balance was down to $626 million.
BlackBerry's balance sheet has worsened in some respects over the last year. Primarily, the debt (liabilities to assets) ratio has increased from 28.13% to 46.11%. The company still has a decent amount of cash on hand, although net cash is down because of the debt added. BlackBerry is targeting break even cash flow results by the end of fiscal 2015, which is the current fiscal year ending February 2015.
Final thoughts:
BlackBerry announced a decent first quarter, showing that the turnaround continues to pick up steam. The company beat analyst estimates on both the top and bottom line. The balance sheet remains in decent shape, and should be able to withstand a few more quarters of cash burn. With the Z3 launching, BlackBerry's revenues should improve a little, and this company could return to profitability within the next year or two. Cash flow breakeven results are expected during the current fiscal year. The company has trimmed its fat, and now it is time to start increasing revenues and get results back to breakeven.
In my previous BlackBerry article, I discussed how long investors might have wanted to hedge through earnings. Even if you did, you still made a nice profit with shares spiking, as you can see in the chart below. I still believe in the turnaround at BlackBerry, and the latest results were positive. However, I would caution investors to wait for a pullback before buying shares. We've seen a huge run recently, and this stock will probably come back down a bit at some point.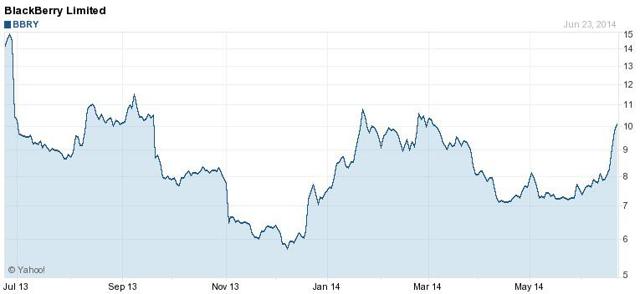 (Source: Yahoo! Finance)
Disclosure: The author has no positions in any stocks mentioned, and no plans to initiate any positions within the next 72 hours. The author wrote this article themselves, and it expresses their own opinions. The author is not receiving compensation for it (other than from Seeking Alpha). The author has no business relationship with any company whose stock is mentioned in this article.
Additional disclosure: Investors are always reminded that before making any investment, you should do your own proper due diligence on any name directly or indirectly mentioned in this article. Investors should also consider seeking advice from a broker or financial adviser before making any investment decisions. Any material in this article should be considered general information, and not relied on as a formal investment recommendation.