As the legendary investor Howard Marks wrote in The Most Important Thing:
Risk is the most interesting, challenging, and essential aspects of investing.
Marks goes on to explain risk:
Risk is the potential for loss if things go wrong.
As intelligent investors, nobody likes to experience loss and that's why it's critical to understand the potential for loss and acquire that "necessary trace of wisdom" that Ben Graham calls for. Marks makes it clear that "the most important thing" about investing is "dealing with the future".
This Small-Cap REIT Is Prepared for Risk
Recently I was researching an article on one of my largest REIT holdings, Ventas, Inc. (NYSE:VTR) and I ran across a small-cap Health Care REIT called LTC Properties (NYSE:LTC). After comparing a few operating metrics it became clear to me that LTC is one of the best managed companies in REIT-dom. With a market cap of around $1.35 billion, LTC is far from the largest, but it has some horses under the hood.

Click to enlarge
The horses, or horse power, consists of $1.1 billion of gross investments, mainly 101 skilled nursing properties and 106 assisted living properties. LTC has a revenue stream of around $115.5 million.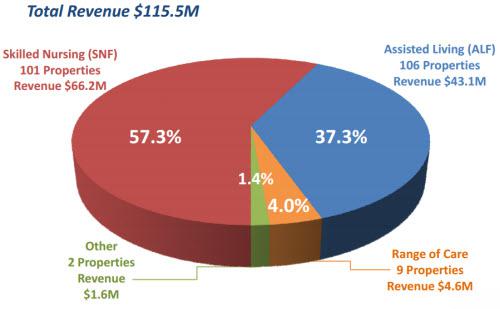 Although LTC isn't nearly the size of the bigger diversified peers, the company enjoys a diverse geographic footprint - Texas (21.3%), Michigan (11.2%), and Ohio (8.8%) are the largest markets.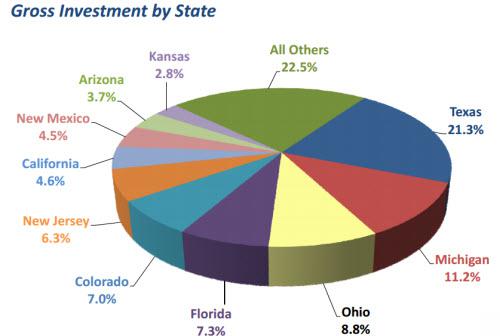 LTC also has a diverse stable of tenants including Prestige Healthcare (12.3%), Senior Care Centers (10.2%), Brookdale (8.1%), and others.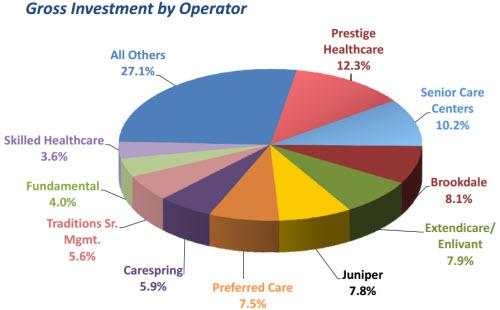 Unlike Omega Healthcare Investors (NYSE:OHI), an assisted living REIT dependent on a majority of government reimbursement exposure, LTC is better prepared for reimbursement risks as the company has aggregate government reimbursement exposure less than 45%. Here is a snapshot of the same property portfolio quality mix: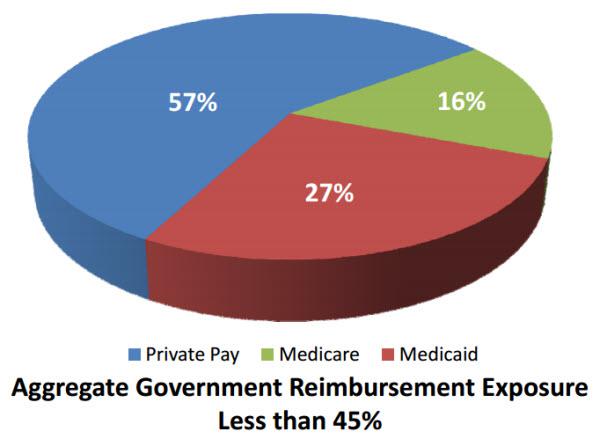 This Small-Cap REIT Has Some Attractive Ingredients
LTC was incorporated on May 12, 1992 in the State of Maryland and commenced operations on August 25, 1992. Over the last few years LTC has evolved into a larger REIT with assets topping $1 billion in 2013.

Click to enlarge
As illustrated below, LTC has doubled in size from 2008 through 2013 and by doing so, the company has widened its diversification while reducing overall leverage.

Here is a snapshot of the growth strategy - LTC has invested in over $637 million since 2008: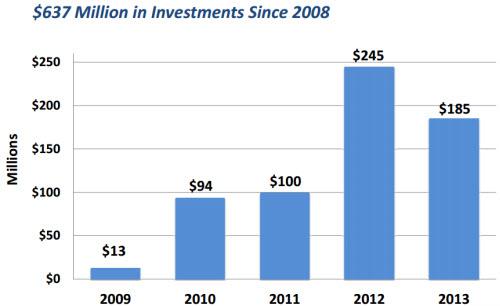 By prudently managing risk, LTC has selectively targeted investments in the Top 100 MSAs.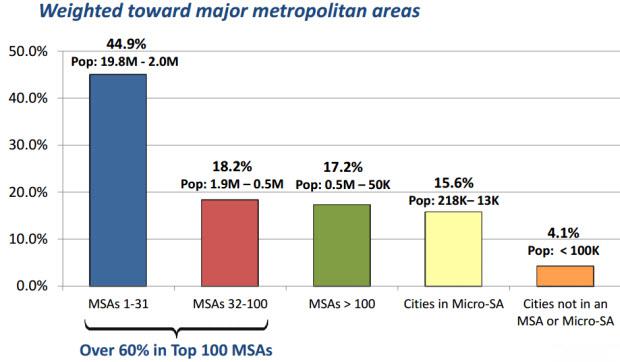 Within the last 12 months LTC has opened 4 development projects and the company is continuing to have success with its development program. The pipeline is strong consisting of sale leaseback and development opportunities as well as expansion and replacement projects within the portfolio. Here is a snapshot of the strong development lease-up results: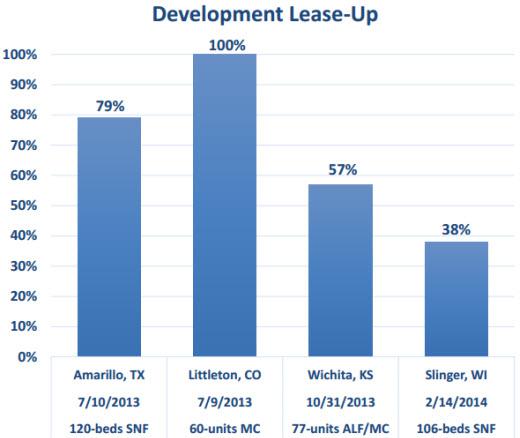 A Balance Sheet Prepared for Interest Rate Risk
One of the things that I quickly noticed with LTC is its healthy balance sheet. Here is a snapshot of the company's capital structure in 2008 and today. As illustrated below, LTC has only 17% in debt as a percentage of total capitalization:

Click to enlarge
As compared with the peer group, LTC has the lowest percentage of debt (compared to total cap) of all health care REITs:

Click to enlarge
More striking, LTC has just .48% in secured debt, again the lowest in the peer group:

Click to enlarge
At the end of the latest quarter, LTC's investment grade metrics remained one of the best in the healthcare REIT universe, with GAAP to normalized EBITDA of 3x, a normal fixed charge coverage ratio of 6.7x and debt to total market value of just under 18%.

Click to enlarge
For LTC's skilled nursing portfolio, EBITDA on coverage is 2.28 times.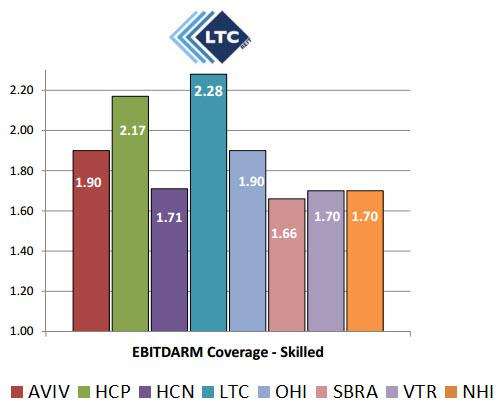 LTC's Assisted Living portfolio (excluding the properties leased to Extendicare and Enlivant) is 1.65x and 1.39x including these properties.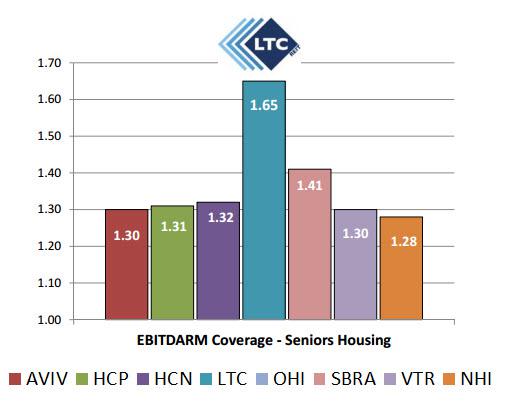 Trailing-12-months EBITDA including an allocated management fee of 5% of revenues is 1.68 times for skilled nursing and 1.39 times for Assisted Living excluding Extendicare and Enlivant and 1.16 times including them.
86% of LTC's debt is fixed long-term with a weighted average interest rate of 4.8%. 14% of debt is short-term floating rate debt under unsecured lines of credit with pricing at LIBOR+125. The company's debt maturities appear manageable.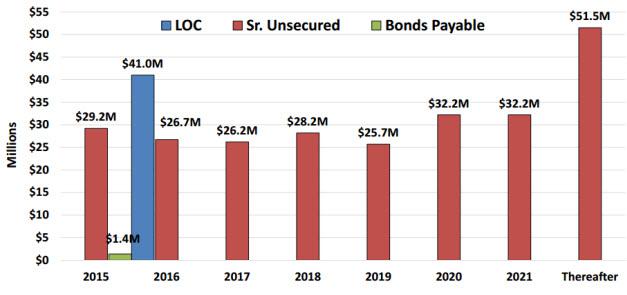 Measuring Risk Based on Past Performance
LTC's latest results reflect a very stable and predictable platform. The company's normalized Funds from Operations (or FFO) increased 18% in Q1-14 to $22.4 million from $19 million in the first quarter of last year. Normalized fully diluted FFO per share with $0.63 (in Q1-14) compared to $0.61 a year ago.
Revenues increased 15% or $3.8 million year-over-year primarily due to the investments made during 2013 and completed development projects partially offset by property disposals in 2013. Cash flow from operations increased 13% to $19.8 million from $17.6 million. During the quarter, LTC invested $16.1 million in properties under development and capital improvement projects. LTC issued 2014 guidance for $2.56 to $2.58 per share.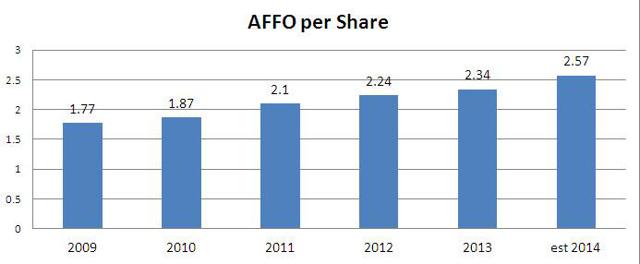 Click to enlarge
In 2001 LTC had a significant dividend cut and the mailbox money all but dried up; however, in 2003 LTC rebounded nicely and in fact, the company started paying monthly dividends in 2005 (the company was paying quarterly before that).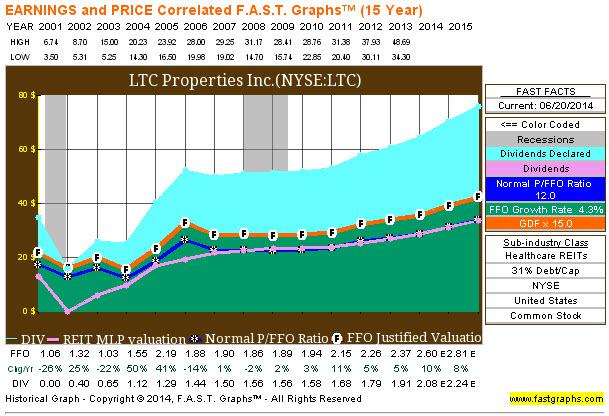 Since 2003 LTC has grown its annual dividend to $2.04 per share from $.65. The company currently pays a monthly dividend of $.17 per share.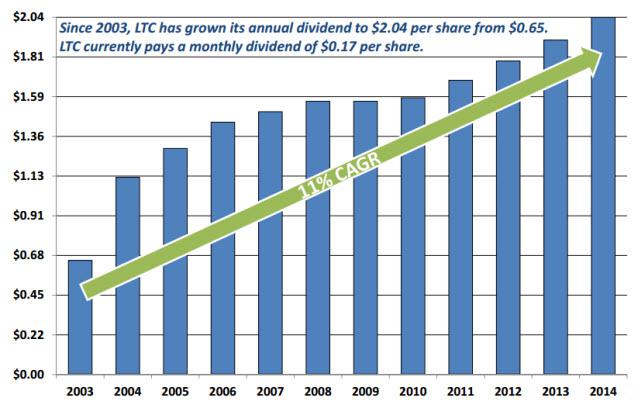 Here is a snapshot of the more recent dividend history:

Click to enlarge
LTC has maintained a very consistent and reliable FAD Dividend Ratio of around 80%.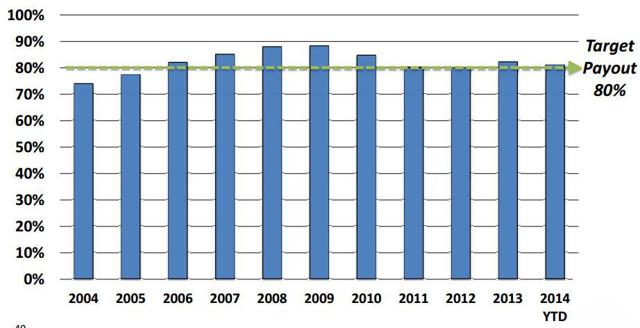 Click to enlarge
Here is a snapshot comparing LTC's dividend growth with several peers:

As you can see below, LTC's average 5-year dividend growth was around 5.5%.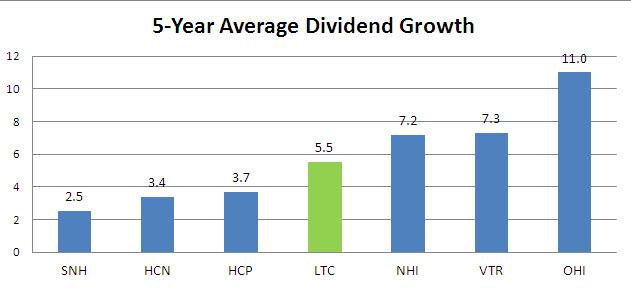 LTC's 3-year dividend growth was around 6.7%.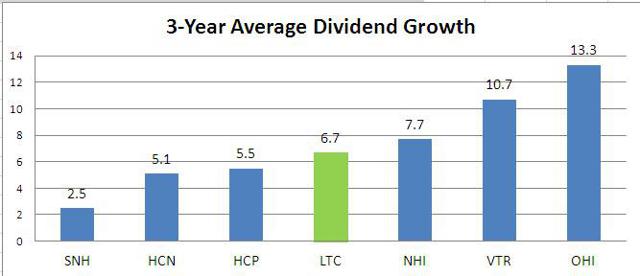 Click to enlarge
LTC's current dividend yield is 5.25%.

Click to enlarge
LTC's P/FFO multiple is 14.9x.

Click to enlarge
As I consider LTC today, the FAST Graph below confirms that there were no surprises and this small-cap REIT has been nothing but a stable and reliable REIT (that pays monthly dividends).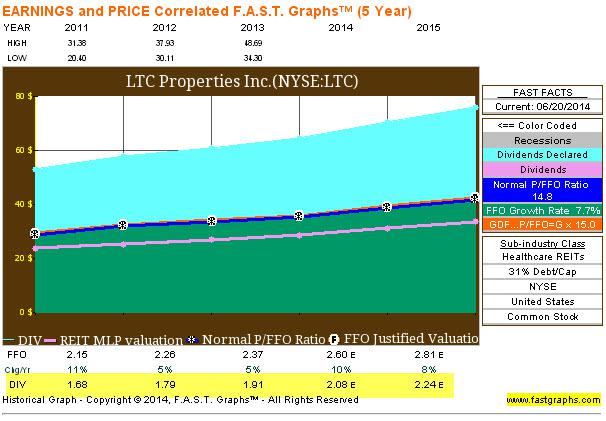 Now, when I add the black (price) line I see that LTC is trading at fair value. I would have liked to buy the shares below $30; however, that may not happen any time soon. Instead, I will target an entry price of $34.00 as that will produce a 6% dividend yield. My rationale is simple: LTC is compensating much like Realty Income (NYSE:O) - I get a 5.5% dividend yield with modest growth (remember I bought my shares a few months ago as O is yielding 4.9% now). I consider LTC a higher risk alternative and therefore I believe that a 6% dividend yield is justified.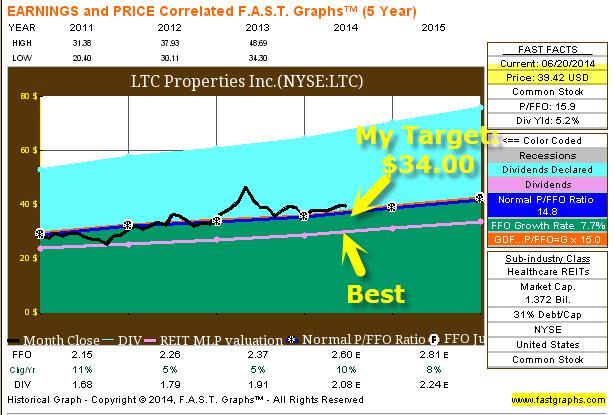 However, I now have LTC on my radar. I like the value proposition of owning defensive shares in a REIT that knows how to manage risk. I'll patiently wait on Mr. Market to become less attracted while recognizing the fact that LTC has adequately prepared for the potential for loss or what Howard Marks describes as the time "when risk meets adversity". I'll conclude with few remarks from Wendy Simpson, CEO of LTC (on the recent earnings call):
My glass is currently half full instead of being half empty. I really do believe that interest rates are going to stay low for most of this year. So, as cap rates compress and as our cost to capital stays down, I think we have an opportunity at least within this year to put some additional accretive assets in our balance sheet and finance them on a permanent basis at relatively low interest rates.

So, I think now is the time to strike in those types of transactions. So while my background is accounting and finance and has been trained for many, many years to mostly look at the downsides and the upsides, I think I'm finally convinced that interest rates are going to stay down for a significant amount of time in the future.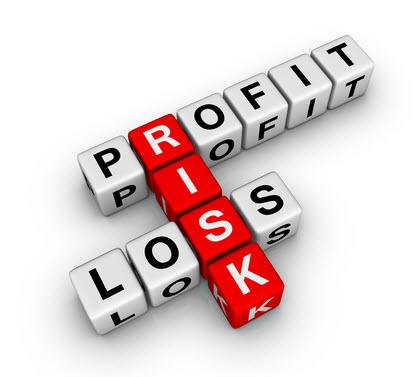 For more information on my REIT portfolio, check out my monthly REIT newsletter HERE.
Sources: SNL Financial, FAST Graphs, and LTC Presentation.
REITs mentioned: (NYSE:NHI), (NASDAQ:SBRA), (NYSE:HR), (NYSE:HTA), (NYSE:HCP), (NYSE:HCN), (NYSE:UHT), (NYSE:AVIV), (NYSE:MPW), (NYSE:DOC), (NYSE:SNH), and (NASDAQ:HCT).
Disclaimer: This article is intended to provide information to interested parties. As I have no knowledge of individual investor circumstances, goals, and/or portfolio concentration or diversification, readers are expected to complete their own due diligence before purchasing any stocks mentioned or recommended.
Disclosure: The author is long O, DLR, VTR, HTA, STAG, UMH, CSG, GPT, ARCP, ROIC, HCN, OHI, LXP, KIM, WPC, DOC, UDF. The author wrote this article themselves, and it expresses their own opinions. The author is not receiving compensation for it (other than from Seeking Alpha). The author has no business relationship with any company whose stock is mentioned in this article.