Coach has seen better days. From a peak of high 70's in 2012, COH has been in a prolong decline, and recently it had hit a new low of ~$34.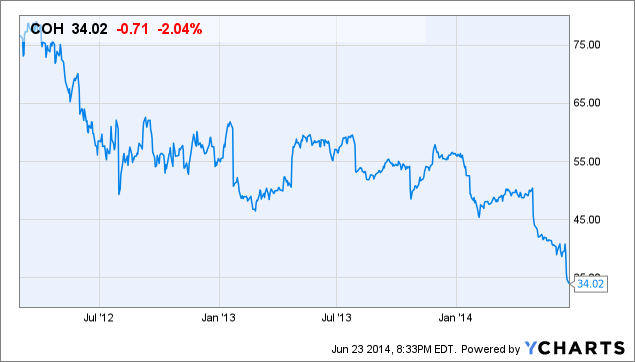 COH data by YCharts
Investors who have been following the news should be fully aware of Coach Inc.'s woes. In earlier years, Coach has resorted to discounting and outlet sales to fuel revenue growth. While this worked out for Coach in the short run (and pushed its stock to all-time high in 2012), on the long run, this damages the brand's image, and the effects of the damage are beginning to show.
Faced with stagnating/declining sales, Coach has recently tried to change its approach. Long story short, on June 19th, during its investor day (details of which can be found here), Coach announced that it is going to increase capital spending and cut back on discounting and sales, in an effort to improve its brand image. But there are a few dangers that I perceived in this strategy. At ~$34 per share, COH has dropped to a very alluring price, but there might be still more downside risks ahead.
Problem #1: Once a brand loses its cache, it would take a long time to rebuild that image back.
From investor day, Coach announced that it expected revenue growth to return to positive by 2017. However, I believe that three years might not be enough for a full turnaround to happen. The negative effects of cutting back on discounting could linger for a long time, and for Coach, this is especially true since it had been relying heavily on outlet sales/discount to fuel growth. As an affordable luxury brand that had relied heavily on price to compete, it could alienate many longtime customers through its new policies.
There is also the question of whether Coach is premium enough to justify the higher prices that it would charge in the future. As a declining brand, I suspected that many consumers already had a less than stellar perception of the Coach brand. Unless Coach is able to elevate the perceived quality of its products significantly (e.g. if its upcoming Stuart Vevers line proved to be wildly successful), I believe that Coach might not be able to justify the price increases in its products to consumers. In that case, it would be a rough road ahead for a turnaround.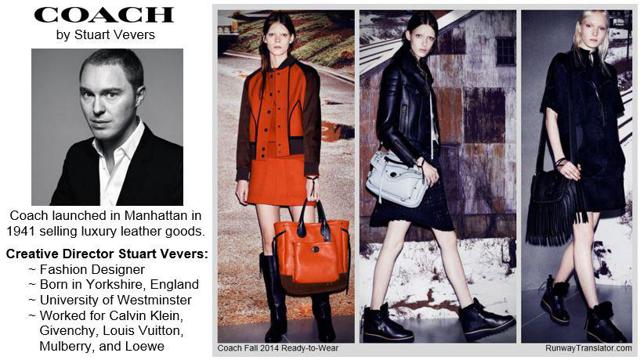 Stuart Vevers's Fall 2014 line might be Coach's lifeline in its turnaround strategy.
Problem #2: If a recession hits within the next few years, Coach would be in a world of pain.
In its turnaround strategy, Coach has emphasized on (1) an increase in capital spending, as well as (2) a decrease in product sales and discounts. Now, note that both of these actions will adversely affect the company's bottom line. While this strategy could work if the economy continues to do well, it could also backfire if the economy suddenly took a turn for the worse. I cannot imagine what its bottom line would look like if a recession hit while Coach is in the midst of executing its strategy. Even a small recession could spell disaster for the company. Remember, during the Great Recession, COH has declined by more than 75% from a high of ~$53 (2007) to a low of ~$12 (2009). Coach may not be able to follow through with their turnaround strategy on the event of an economic recession.
COH data by YCharts
For investors who believed that there is a possibility that the economy may make a turn for the worse in the next few years, think twice before investing in Coach's turnaround strategy.
Conclusion
While Coach is at very attractive pricing levels, I believe that there might be still downside risks ahead. First, there is the question of whether a brand could regain its cache when it has lost its appeal to its consumers. As a brand which previously relied heavily on price to compete with its competitors, the transition to become a quality-first company may prove to be a rough road ahead.
Additionally, there is also a hidden danger to Coach's turnaround strategy. What if a recession were to hit while Coach is in the midst of its turnaround strategy? An increase in capital spending and product prices would leave the company ill-prepared for any economic downturns ahead. For certain, if a recession were to happen, it would not be pretty for the stock price.
Disclosure: The author has no positions in any stocks mentioned, and no plans to initiate any positions within the next 72 hours. The author wrote this article themselves, and it expresses their own opinions. The author is not receiving compensation for it (other than from Seeking Alpha). The author has no business relationship with any company whose stock is mentioned in this article.