Oilfield services companies have been gaining momentum over the past three years with the increased investments from the entire energy sector. Some of the big companies like Halliburton (NYSE:HAL), Schlumberger (NYSE:SLB), National Oilwell Varco (NYSE:NOV), and Baker Hughes (NYSE:BHI) are launching innovative technologies and are providing well-organized services to grab onto the demand and extend their market share. Thus, these companies have been generating strong growth in revenue and earnings over the past three years. Last year remains the strongest year for these companies because they generated record growth and most have been able to produce double-digit growth in earnings. By generating a double-digit growth in earnings, their cash-generating potential also enhanced, and thus, most of them have announced massive increases in dividends and have extended their buyback programs.
Halliburton is one of the strongest companies that is operating in the oilfield services industry. It is operating in two segments: completion and production and drilling and evaluation. Both of its business segments are generating record growth for the company. On a consolidated basis, HAL has generated 17% revenue growth over the past three years. A strong demand for its products like perforating and testing, completion tools, Multi-Chem service, and wireline technology led to record revenues. Its Multi-Chem service, perforating, and testing product lines; Boots & Coots activity; and software sales set new landmarks for its sales and operating income. In 2013, HAL produced record results in 6 out of 13 products. It has experienced very strong growth in the international regions, particularly in the Asian region and the Middle East. Its business strategy is simple; it is to expand its share within the deepwater market, leading in global unconventional development and helping its customers maximize recovery from mature fields.
| | | | |
| --- | --- | --- | --- |
| | 2013 | 2012 | 2011 |
| Revenue | $29,402 | $28,503 | $24,829 |
| Operating Income | $3,138 | $4,159 | $4,737 |
| Net Income | $2,125 | $2,635 | $2,839 |
| Earnings Per Share | $2.36 | $2.84 | $3.08 |
Source: Morningstar.com
However, one red flag for the company is its ability to convert record revenue growth to big profits. Over the past three years, it has been consistently generating growth in revenues, but their earnings per share is decreasing. This is due to the charges related to the Macondo incident. In the last year, it paid $1.0 billion to the Macondo-related loss, which contingency impacted its operating income. Nevertheless, the company has generated 11% growth in operating margins, excluding Macondo-related losses. Furthermore, HAL is looking to sustain its momentum this year. Recently, it announced its first-quarter results of 2014, which illustrates that it is right on track. HAL has again posted a record revenue of $7.3 billion, and its operating income increased by 8% compared to the first quarter of 2013. Going forward, HAL is expecting to increase its growth in earnings per share by 25% in the second quarter of this year in comparison to the first quarter, specifically in North America.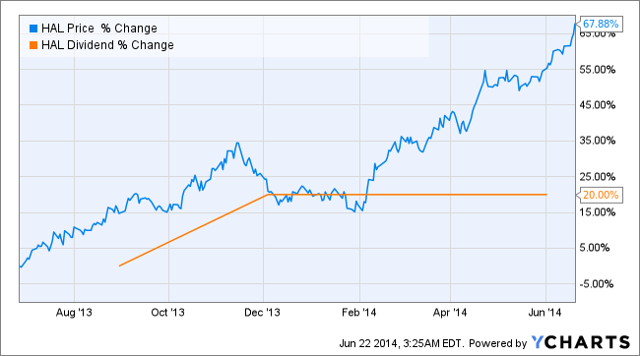 All the positive developments have increased investors' confidence in HAL. Consequently, its share price surged more than 67% in the past year alone. Its share price gained more the 11% in the past month, which moved its share price to an all-time high of $70.62 per share. In addition to the strong financial performance, the company has also increased investors' confidence by returning a significant amount of cash to shareholders in the form of dividends and buybacks. The company has recently announced a dividend increase of 20%, which is the second dividend increase in 2013, representing a collective 67%, and I am expecting a similar increase in dividends at the end of this year. It has very strong cash-generating potential. In the last quarter, its cash flow from operations was $954 million and its capital expenditure was $643 million, resulting in free cash flow of $311 million, which is two times their dividend payment of $127 million. It is also working on reducing outstanding shares, and since the past year, it has reduced its outstanding share by 11%.
Where Do the Other Player Stand?
Schlumberger is one of the closest peers of HAL. Schlumberger is the biggest giant in the oilfield services industry based on market capitalization and sales. Schlumberger, with its innovative product and technologies, has been generating strong growth in both revenues and earnings. In the past year and in the last quarter, it has generated double-digit growth in earnings. Its SIS software and WesternGeco multiclient sales have been adding considerable growth to the revenue. Furthermore, the company is looking to generate a double-digit growth in earnings again this year. In addition, Schlumberger's cash-generating potential is stronger than HAL as the company has been generating massive free cash flows. In 2013, Schlumberger generated free cash flows of $5.8 billion when dividend payments were only at $1.6 billion. Thus, it has also been aggressively working on buybacks and making huge increases in dividends. Since July of 2013, it has repurchased $2.6 billion in shares. With an ability to generate a massive amount of free cash flows, the company is now expecting to complete the buyback program of $10 billion in two and half years, which was initially planned to be completed in five years. On the back of strong financial performance, hefty order backlog, ability to win new contracts for its innovative technologies, and massive returns for investors, its stock gained 50.86% in the past year alone and reached a 52-week high $109.75 per share within the last week.
In Conclusion
| | | | |
| --- | --- | --- | --- |
| | SLB | HAL | Industry Average |
| Price/Earnings TTM | 20.1 | 22.6 | 26 |
| Price/Book | 3.4 | 4.3 | 2.5 |
| Price/Sales TTM | 2.9 | 2.1 | 1.8 |
| Forward P/E | 15.2 | 13.0 | |
| Rev Growth (3 Yr Avg) | 17.4 | 17.8 | 15.8 |
| Net Income Growth (3 Yr Avg) | 16.4 | 5.0 | 14.6 |
| ROE TTM | 18.7 | 18.8 | 10.6 |
| Dividend Yield | 1.54% | 0.91% | 1.0% |
Source:Morningstar.com
HAL is heading in the right direction. The company has made footprints for future growth. Its margins are expected to rebound in North America in the second half of the year while generating very strong growth in international regions. I believe it will make a double-digit growth in earnings this year. Moreover, HAL will also increase dividends as they have in the past year. However, it looks more expensive than Schlumberger. Its high price to earnings and sales ratio and low forward price to earnings ratio make it a bit pricy compared to Schlumberger. Furthermore, Schlumberger offers high dividend yield compared to HAL. Schlumberger is also set to generate double-digit growth in earnings. I think having both Schlumberger and Halliburton in one's portfolio wouldn't be a bad idea. Amid this, I think it would be wise to wait for market correction before making a position in Halliburton. On the other hand, analysts have recently upgraded their price targets to $119 per share. At the moment, both companies' share price reached their 52-week high, and overall, both companies are long-term investments for defensive investors.
Disclosure: The author has no positions in any stocks mentioned, and no plans to initiate any positions within the next 72 hours. The author wrote this article themselves, and it expresses their own opinions. The author is not receiving compensation for it (other than from Seeking Alpha). The author has no business relationship with any company whose stock is mentioned in this article.