What an irritating day yesterday was. Much-loved Micron Technology (NASDAQ:MU) delivered great third quarter results, beat analysts' estimates healthily and gave a solid outlook for the fourth quarter. What does Micron's stock do? Falling approximately 2% with almost no impulses in after-hours trading.
But let's look at Micron's third quarter achievements first. Q3 2014 has been a great success for the memory chip maker and the company fairly easily beat analysts' revenue and earnings estimates.
For the third quarter 2014 Micron reported:
Net sales of $3,982 million compared against net sales of $2,318 million in the year ago quarter. Revenues beat the consensus revenue estimate by $90 million.
Adjusted diluted earnings of $0.79 per share which compares against $0.15 last year. Analysts were expecting an adjusted EPS of $0.70.
A gross margin of $1,368 million (34%) vs. a gross margin of $556 million (24%) in last year's third quarter.
Operating income of $839 million compared against $149 million last year.
$9 million in restructuring and asset impairment expenses.
Net income of $806 million vs. $43 million in Q3 2013.
Micron's year-over-year improvements from sales to operating income to adjusted earnings per share are really staggering. Micron's adjusted EPS literally exploded from $0.04 last year to $0.68 in the most recent quarter, thanks to higher demand for personal computers, the acquisition of Elpida and a better operating environment.
Guidance
In addition to already solid financial results, Micron gave a revenue guidance for the fourth quarter of $4.0-4.2 billion compared to a consensus estimate of $4.06 billion.
Micron's guidance ranges for a variety of items ranging from selling, general and administrative expenses to capital expenditures are presented below: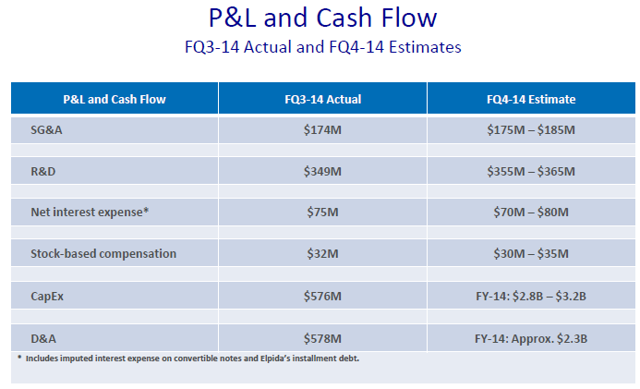 (Source: Micron Technology Third Quarter 2014 Investor Presentation)
Much of Micron's Q4 2014 forecasts are in line with actual Q3 figures which suggests that Micron will be able to sustain its current high growth.
Looking at Micron's Q4 DRAM and NAND forecast, the company guided for flat DRAM prices in the fourth quarter and slightly worsening prices for NAND. However, Micron expects higher bit growth in both DRAM and NAND in the fourth quarter.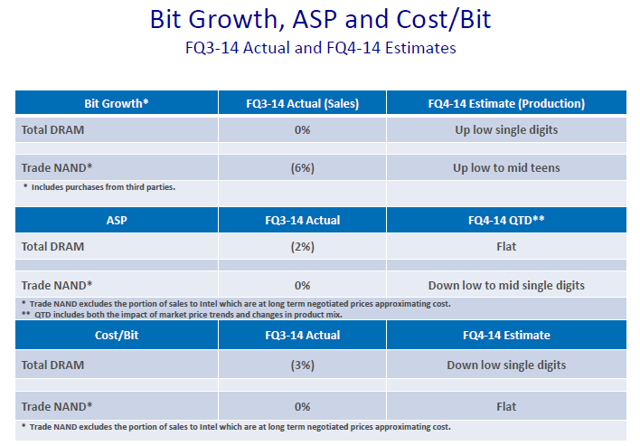 (Source: Micron Technology Third Quarter 2014 Investor Presentation)
Considering these fantastic third quarter results, why didn't Micron's share price react to this blowout quarter?
No doubt, Micron's third quarter results were fantastic and a lot of investors might wonder why Micron's share price didn't react after earnings results were released. A lot of option traders are also likely disappointed by Micron's share price reaction yesterday as they went into the earnings release with a bag full of call options.
As far as I can remember, this isn't the first time that Micron traded weakly after great earnings results. However, Micron has always convinced over time, especially over the last two years, but its stock price sometimes needs a little longer to catch up.
Investors shouldn't sweat the poor initial market reaction and they are probably well advised not to take the lack of after-hours action as a negative sign for Micron's stock.
Remember, Micron has returned a whopping 459% over the last two years, and, I hate to say it, but investors need to prepare themselves for slower growth rates going forward: No company can sustain this level of price appreciation and underlying business growth for too long. For all its worth, Micron's stock is up 44% year-to-date and the stock deserves a breather once in a while.
Chart picture
According to the Relative Strength Index, Micron Technology was overbought just days ago and the current consolidation is clearly in the best interests of long-term shareholders.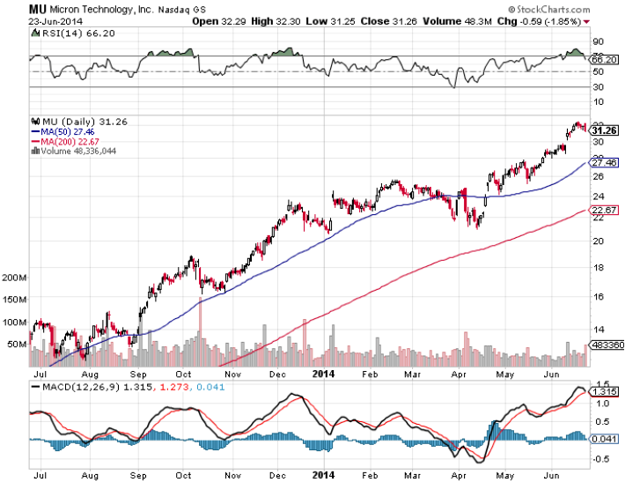 (Source: StockCharts.com)
Final assessment
Micron's third quarter results have shown, once again, that the memory chipmaker is solidly profitable and are a fantastic reminder, that successful turnarounds in the highly volatile, fast-moving tech business do happen.
In any case, investors also need to adopt a more realistic view about Micron: The company did already materially outperform over the last two years and has become somewhat of a crowded trade attracting a lot of speculators during earnings release time.
Considering Micron's upbeat outlook, I think long-term investors still face further upside potential and at a forward earnings multiple of less than ten, Micron is hardly expensive. Micron continues to make an attractive value proposition for long-term investors and near term revisions of analysts' earnings estimates could provide further tailwinds in 2014. Short-term traders and option players, however, shouldn't be too surprised if their bets don't pay off immediately. Long Micron.
Disclosure: The author is long MU. The author wrote this article themselves, and it expresses their own opinions. The author is not receiving compensation for it (other than from Seeking Alpha). The author has no business relationship with any company whose stock is mentioned in this article.