Chesapeake Energy (NYSE:CHK) is witnessing an unusually large set of advantageous circumstances come together in 2014. Rising production volumes, falling operating costs, declining capital expenditures, and sharply rising selling prices for oil and gas are factors IN COMBINATION propelling the stock price higher and higher. Deservedly so, in my opinion, the rise in the share quote is following a large jump in the underlying intrinsic value of the business.
The company is one of the largest independent natural gas and crude oil producers in America. The business underwent a tough patch of management controversy and a near depression in natural gas pricing (compared to other energy and commodity quotes) during 2011-13. The stock price fell from $36 a share in 2011 to $13 in 2012 from all the turmoil. However, new management, rising natural gas and crude oil prices, lower capital spending, and a focus on reducing costs and debt levels are paying big dividends to both new and faithful owners since early 2013! Chesapeake is planning a large spin-off of non-core operations and is selling other assets to pay down debt into the end of the year.
Here is a link to the company's superb and elaborate May 16, Analyst Day report on all the ways Chesapeake is increasing shareholder value in 2014. Prominent in my thinking is the 8%-9% annual growth rate in production projected into 2019, with falling capital expenditure needs. It appears the organization is hitting the sweet spot of shareholder returns and value creation for an energy business in 2014-16.
Some of the best analysis regarding the positive developments at Chesapeake is being written by fellow Seeking Alpha author David White. He has posted several excellent articles this year explaining why Chesapeake is rising quickly in value and should continue to do so throughout 2014. I highly recommend investors read his latest article from a week ago here.
Chesapeake has bounced into and out of my Top 10 Victory Formation list for several months, and is currently ranked #9 out of all the stocks I follow in the large and mid-cap universe for strong price momentum combined with honest fundamental business valuation. The Victory Formation has highlighted a number of oil/gas winners this year. You can review many of my oil/gas favorites in other Seeking Alpha articles I have penned during 2014.
Ultra-low PEG valuations (Price to Earnings Growth), highlighted in another great Seeking Alpha article by Arie Goren during May 2014, point to Chesapeake being a strong buy and hold candidate, not just a play on rising energy prices this year. While hiccups will surely take place during 2014 and 2015, it is quite probable short-term declines in the Chesapeake share price may prove great buying opportunities for investors with a long-term holding horizon.
Chesapeake is priced at 15x mostly "hedged" oil/gas selling prices for 2014, and 14x Wall Street consensus estimated EPS for 2015. The company is today priced at less than 5x cash flow, a little less than 3x sales, and 1.2x book value estimated for 2014. While not a spectacular value when compared to trailing 5-year or 10-year averages of company specific fundamental ratios, Chesapeake is somewhat below its historical norms. The two kickers are comparing Chesapeake to the clear relative overvaluation situation of S&P 500 companies against their trailing multi-year norms in June 2014, plus the confluence of factors for the operating business generating a nice bump up in production, free cash flow and earnings the next 2-5 years.
Conclusion
I personally bought shares a month ago, and may increase my ownership on any big sell-offs in Chesapeake, especially if caused by an overall stock market meltdown. The stock and company look to be headed in the right direction, and that's the kind of situation I want to buy into with my long-term growth capital. Of course, a stock market collapse in the U.S., a global recession which torpedoes oil/gas demand, and/or an explosion in interest rates affecting the company's high debt load carrying cost would halt the stock rise or send it into reverse. Please do your own due diligence and research before investing, and understand any stock investment could fall 50% in price without a real change in the underlying operating business. The stock market is a risky game, especially after a relentless 5-year advance from 2009, with only a few 20% setbacks. Events like the 40% 1987 stock market crash or 60% 2007-2009 bear market are recent examples of big stock market busts, affecting all equities. They do happen, and they can wipe out both your investment portfolio and hope for the future. My work suggests we could begin a 10%-25% stock market decline without any notice or fanfare, so caution and diversification continue to be prudent objectives in your portfolio design right now.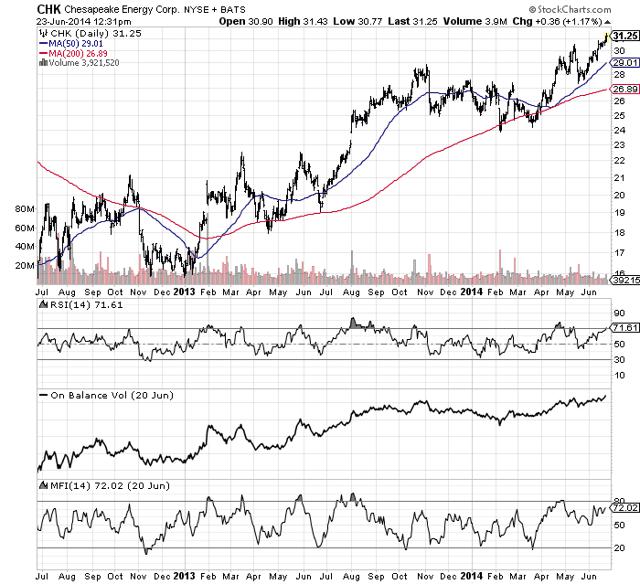 Chart courtesy of StockCharts.com
Disclosure: The author is long CHK. The author wrote this article themselves, and it expresses their own opinions. The author is not receiving compensation for it (other than from Seeking Alpha). The author has no business relationship with any company whose stock is mentioned in this article.