If you think value investing is easy, just go slowly through the names you're likely to see in a list produced by any reasonable value-oriented protocol. You'll see some that strike you right away as impossible to resist, but others may prompt a very different sort of reaction.
A pure examination of valuation metrics is always a no-no since that could easily lead to stocks that are cheap because they deserve to be cheap, i.e. because the companies are dogs. That's why valuation analysis needs to be supplemented by something else, something that helps you assess company merit and stay away from bona fide market dregs.
In this regard, I've often found myself scratching my head over the Magic Formula presented by Joel Greenblatt in The Little Book That Beats The Market. Many have found it appealing given its apparent simplicity – just focus on Return On Capital and EBIT-to-Enterprise Value, both of which are very useful metrics. Actually, though, a full reading of the book suggests a bit more complexity than is apparent from the book jacket and I have some additional concerns of my own. These, and an Enhanced Greenblatt model created by me, are explained in the Appendix below. Also included there are backtest results from 3/31/01 through 9/23/10, which show that the basic Greenblatt model and my enhanced version. Both beat the market (as suggested by the title to Greenblatt's book), but that my version does so much more handily.
That said, the recent past has been one in which macro factors, rather than stock-specific fundamentals were watched much more closely. So both versions of the model, struggled performance-wise in the past year (both pretty-much matched the S&P 500), as was the case with many other fundamental approaches. This does not discourage me, however. No model is hot all the time and if, for a particular strategy, a cold period means market-matching performance, as opposed to hefty under-performance, I'll take it! Also, as the market showed some late-summer and early-autumn strength, my model did especially well, consistent with test results showing that it usually did best when the market was healthy.
When we look at the stocks, life gets really interesting as we start to appreciate the great value-investing dichotomy, the agony and the ecstasy.
click to enlarge images
Table 1 – Based on my adaptation of the Greenblatt strategy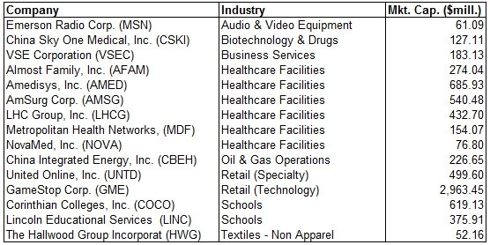 Let's fasten our seatbelts, grab some Zantac, and look at some challenges.
For-Profit Colleges
Corinthian Colleges (NASDAQ:COCO) and Lincoln Education Services (NASDAQ:LINC)
Fundamentally speaking, both firms have long been powerhouses. COCO in particular is something of an old friend. Back when I was at Multex in the early 2000s and just starting to publish idea lists based on fundamental screening, it was one of my earlier big winners. The return-on-capital characteristics with which COCO impressed back then are still present, and LHCG is likewise strong. Growth rates have been pretty good, too, until recently. Some of that undoubtedly stems from economic weakness, but we may also be seeing some impact from what lately has become the big challenge, not just for COCO and LHCG, but for for-profit colleges as a whole: criticisms of low graduation rates and high default rates on student loans as well as overly aggressive sales practices.
For many investors, it makes perfect sense to adopt a where-there's-smoke-there's-fire stance and avoid the group. But in this day and age, with the market "herd" not always being nearly as dumb as some of the more flamboyant commentators like to suggest, the market is not often going to offer something for nothing. That means value investors need to work hard for their money and that, in turn, suggest that it may often become necessary to cope with corporate baggage, or sift through some smoke.
Baggage that takes on a legal-regulatory-ethical flavor is the hardest to deal with because we simply cannot know one way or the other how things will turn out, notwithstanding the occasional pretenses of journalists and the sources who feed them the quotes they pass on. (Even the attorneys who work for both sides don't really know the answer ahead of time.) I tend to be most leery of these situations when I'm most in the dark. But at times like this, when you can look at the situation and make some common sense albeit admittedly non-expert assumptions (analogous to how a juror might think), I'm more open to taking a shot.
With for-profit schools, we do definitely have loan-default problems, but that's so throughout our economy, which had become too leveraged across the board. We also have higher dropout rates than at conventional colleges, but the response offered by the companies, the fact that their students tend to be older and, hence, less committed to completing their programs, is credible. We can look for ourselves online at their courses and see that while they aren't likely to churn out scholars capable of going toe-to-toe with Ivy Leaguers, the schools I've examined strike me as credible at what they try to accomplish: offering highly-practical (as opposed to theoretical) job-oriented education in specific fields. Meanwhile, to date, the opposition has talked a lot but not really demonstrated widespread wrongdoing at anywhere near the level we've seen in some other industries. Also, the level of business does not appear to be collapsing.
This is still not by any means a slam dunk, but considering that the stocks have already fallen in response to the ethical concerns, they may be worth a shot by hardier value investors.
Home Health Care
Almost Family (NASDAQ:AFAM), Amedisys (NASDAQ:AMED) and LHC Group (NASDAQ:LHCG)
On paper, this may be one of the most exciting business opportunities offered up by the market. We know the U.S. population is aging. We know older people are ill more often and more seriously. We know that as we age, death approaches, whole new sets of healthcare issues arise. And we know that economically and emotionally speaking, home settings are far preferable to hospitals where clinically feasible.
This means the business opportunity for home health care firms, such as those that offer visiting nurses, home-based rehabilitation and hospice services, is unmistakable. So, too, are the excellent fundamentals being logged by these firms. But then, there's the dreaded "M" word: Medicare, more specifically, allegations that firms in this industry have been rendering more higher-margin services than are clinically appropriate, presumably, in order to do more profitable billing.
That's a scary set of allegations and the stocks have been hit hard as a result. At this early stage of the game, I'm not yet able to put together the same sort of "defense argument" as I was with the schools, so investment assessment here is much more challenging.
In approaching these stocks, I think we need to borrow an analytic technique from the legal profession, wherein a judge will temporarily pretend one version of a contested set of facts is true in order to evaluate what the legal outcome would be under that scenario (if anyone here is familiar with the litigation process, I'm referring to motions for summary judgment and the like). In that spirit, I'm going to pretend for now (and I do emphasize the word "pretend") that there has been some wrongdoing and consider what such a scenario might mean for the stocks.
The businesses we're dealing with here are real; very, very real. So, too, are the needs for the roster of services needed, and so, too, are the demographically-inevitable growth prospects. Consider that LHCG has a PE of about 9 and a revenue growth rate well into the 20s. There's also little debt and strong liquidity. We have similar dynamics at AFAM. At AMED, which seems out front in attracting regulatory challenge, the P/E is already below 5.
Suppose there's guilt. Note, again, I'm not saying there is guilt; I'm just pretending there is in order to think about how a negative scenario might impact the stocks. Suppose there are fines and that reformation of business practices causes earnings to fall by, say, two-thirds, on a sustainable basis. The stocks, after some emotional reactions, could still conceivably settle around present levels. They'd no longer be value plays. They'd just be normal stocks. But as potential scandal-based downside, that's not the end of the world. If there's less damage to earnings, so much the better. If it turns out that the companies have done no wrong at all or that wrongdoing is minor (it's entirely possible; it wouldn't be the first time regulators have proven more effective at generating headlines than malfeasance), then these stocks could turn out incredibly undervalued at today's levels.
This sort of approach isn't for everyone. I would not dare argue with anyone who preferred to pass these stocks by. But for those who are open to rolling up their sleeves and digging for some serious value, this is a sense of the logic behind the fact that there is still buying interest in these stocks, which are trading well above distress (i.e. single-digit) levels and an indication of how things might go right.
Medical Services
AmSurg (NASDAQ:AMSG), Metropolitan Health Networks (MDF) and NovaMed (NASDAQ:NOVA)
AMSG and NOVA run ambulatory surgical centers. MDF is a South-Florida based physician network serving Medicare Advantage patients. All have pretty good fundamentals and pretty good track records for growth albeit with less buoyancy as the economy weakened and less-urgent types of medical needs were left unaddressed, at least so far. All benefit from the favorable big-picture healthcare trends: demographics and increasing demand for cost-effective treatment settings. MDF has actually shown up in the past in the model I use for my low-priced stocks newsletter but with a price above $3, it's no longer in the eligible universe.
The baggage face in all three instances is uncertainty as to how healthcare will be paid for, or more to the point, how much will be paid, as Obamacare takes further shape.
The situation for a value investor here is simple. Either we assume we'll find a way, somehow or other, to pay for our enormous and growing healthcare needs at a level that continues to attract reasonable supply, or we don't. While politicians and commentators love to make dire pronouncements, the real question is whether, at the end of the day, anyone expect Washington, whether Democrats or Republicans, to just say "forget it." With these stocks, you just have to assume the reasonable valuations give us the luxury of assuming things will work out, even if we can't presently say exactly how that will happen.
Some Less-Scary Situations
The stocks discussed above can be challenging, which is something with which serious value investors must often deal. That said, not every value idea has to involve agony. Here are a couple of easier-to-swallow situations.
GameStop (NYSE:GME): There will be good quarters and there will be bad quarters depending on the economy and the ebb and flow of product launch but ultimately, it looks like gaming is here to stay. It's even reached the point where, according to an article in the September 18 edition of The Economist, scientific studies have shown that game-play enhances decision-making skills. (Sorry parent, don't blame me; I didn't make this up!) That's obviously good for GME. It's possible that downloads may take more share from sales of physical CDs, but GME does that, too. As to competition from big-box retailers, that's all well and good for an occasional cut-rate purchase, but when it comes to trading used games, talking to game-knowledgeable people, getting gamer-oriented rewards programs, and having deep selections, GME seems to have the edge. The ever-evolving nature of all things consumer electronics including, obviously, gaming, undoubtedly cuts into the PE, but as value situations go, this seems like a reasonable choice.
Emerson Radio (NYSEMKT:MSN): I love finding oddball situations like this and mentioned it in the August edition of my low-priced stocks newsletter. When it comes to consumer electronics and appliances, we've become habituated to super brands; iEverything. Believe it or not, though, there are people in this world who just want the basics and want to buy on the cheap. Emerson is a master at this sort of thing, selling all sorts of ordinary electronics through the likes of Wal Mart (NYSE:WMT) and Target (NYSE:TGT). It's not much of a growth play, but it does sometimes find it challenging to find ways to use as much cash as it generates. That led to a $1.10 a share special dividend (not bad for a stock selling below $3) last March. There's no assurance it will repeat; the company did mention a desire to push more into appliances and that, presumably, would require more investment. Even so, this is a situation that should make a value investor sit up and take notice.
APPENDIX
Greenblatt measures company quality through return on capital, defined by him as EBIT (Earnings Before Interest and Taxes) divided by Tangible Capital (net working capital plus fixed assets). He measures value by looking at EBIT divided by Enterprise Value.
I can implement those formulas on StockScreen123, but I do have a concern with EBIT, one that is not addressed by Greenblatt or other commentators I've seen. Given the way corporations today format and label income-statement items, and the way the numbers are inputted into modern databases EBIT typically includes one-time non-operating gains and losses, something many investors do not want or expect to see in a number labeled EBIT. My version of the strategy eliminates these items.
Another problem I have with the published version of Greenblatt's strategy is that he bases everything on last year's earnings. That's not necessarily the end of the world, but it's certainly not as good as one might hope since the latest particular year may be atypical in which case, the model could produce inappropriate selections. Greenblatt agrees that this is a problem. He and his partners deviate from the published version of his strategy by using their own projections. I address it by adding several items based on five-year averages (see page 103 of his book).
Finally, I'm not thrilled with the idea of locking in on any single formula for return on capital and value. Suppose a stock is just OK based on last year's EBIT divided by Tangible Capital, but stupendous when it comes to Return on Equity both last year and over the past five years. Is the latter really a less-good company than the former? Greenblatt's book suggests the answer is "yes." I disagree.
Here is the model I use; what I call the Enhanced Greenblatt strategy.
It starts with the following screen, most of which matches up with the basic Greenblatt approach:
No OTC Stocks

Market Cap greater than or equal to $50 million

Eliminate Finance, Utility and Real Estate

stocks, and no ADRs

5-year average Return on Investment ranks in top 35% (a filter I added)
I sort the passing companies based on my Enhanced Greenblatt ranking system and select the top 15 stocks:
Company Quality – 50% of total:
EBIT adjusted to eliminate unusual items divided by tangible capital (based on the Greenblatt book) – 60% of this category

Returns based on Trailing 12 month data – 30% of this category
o Return on Assets – 1/3 of this subcategory

o Return on Investment– 1/3 of this subcategory

o Return on Equity– 1/3 of this subcategory
Returns based on 5-year averages– 10% of this category
o Return on Assets – 1/3 of this subcategory

o Return on Investment– 1/3 of this subcategory

o Return on Equity– 1/3 of this subcategory
Stock Valuation – 50% of total:
EBIT adjusted to eliminate unusual items divided by Enterprise Value (based on the Greenblatt book) – 60% of this category

Earnings–Based Metrics – 20% of this category
o PE based on trailing 12 month EPS – 50% of this subcategory

o PEG ratio with PE computed based on current-year consensus estimate and growth rate computed based on consensus 3- 5-year growth rate projection – 50% of this subcategory
Other metrics

– 20% of this category
o Price to trailing 12 month sales per share

o Price to Book Value
Figure 1 shows the results of a 3/31/01 – 9/23/10 backtest of the Greenblatt strategy as described in The Little Book That Beats The Market. The model is rerun and the list is refreshed every four weeks.
Figure 1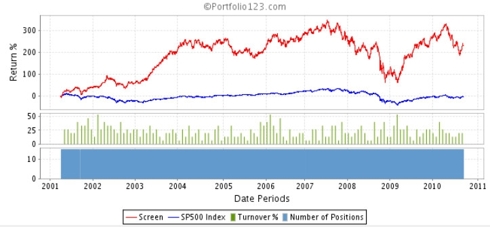 Figure 2 shows the results of a similar test conducted on the strategy after incorporating all my modifications, the Enhanced Greenblatt approach.
Figure 2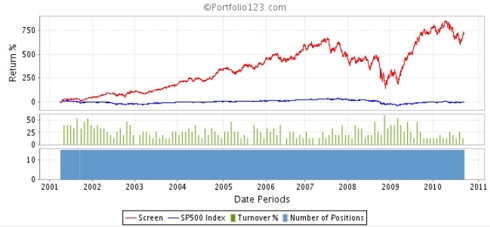 For further details on my modifications, click here.
Disclosure: No positions