Facebook (NASDAQ:FB) has been benefiting lately from the strong growth of its business. It was primarily due to explosive growth of its mobile segment. Now, that the second half of the year approaches, there are some concerns that the growth might slow down, and we see that in the analyst estimates for the rest of the year. We already have a case for the growth slowdown to compare Facebook to, as LinkedIn's (NYSE:LNKD) revenue growth has come down significantly in the last couple of quarters. I will use LinkedIn as an example in this article in order to get a sense of where Facebook might be headed if revenue growth slows down as expected.
LinkedIn's growth story
LinkedIn was the top growth story in social media until the end of 2013. The company has been growing revenue in triple digits in 2011 and above 80% in 2012. Revenue growth has subsequently slowed down from those high levels to 57.2% in 2013, and is expected to slow down to 39% in 2014, with further deceleration in the future. Margins have also suffered in 2013, as the adjusted earnings are expected to grow just 2.4% in 2014, as opposed to revenue growth of 39%. This is all normal, as no company can grow its revenue at a very high rate for a long time. And what has happened to LinkedIn's valuation along the way? Take a look at the forward P/S and EV/EBITDA ratio charts. LinkedIn's forward valuation was cut in half since the summer of 2013. That is what essentially happened to LinkedIn's reported and expected growth, it was essentially cut in half. So, the effects of the growth slowdown on a company's valuation is evident here, but LinkedIn might also have a long way down in terms of valuation contraction going forward, especially if we compare it to Facebook.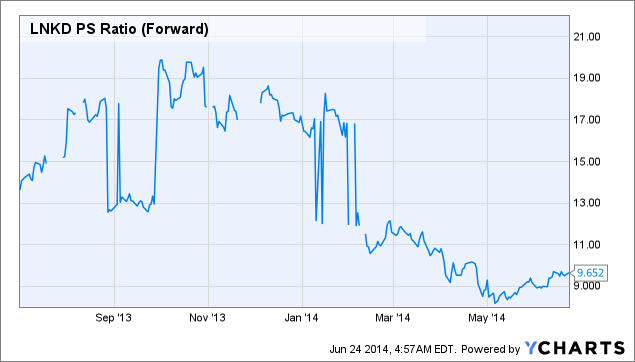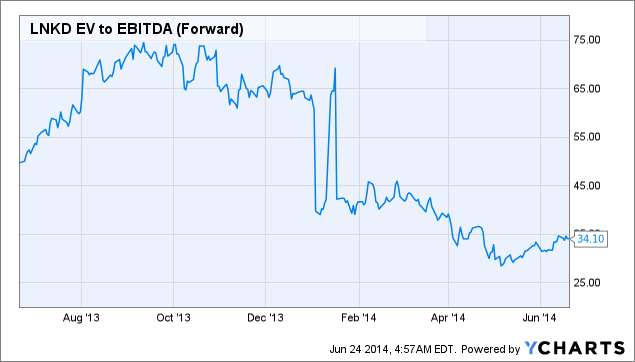 Source: YCharts.com
Facebook's growth story
Facebook's growth story was quite different. The company struggled since going public, and its share price declined. When Facebook pursued its mobile strategy and started to monetize it, revenue growth accelerated significantly in the last couple of quarters: from 37.8% in Q1 2013 to 71.6% in Q1 of 2013. And now, let's take a look at FB's valuation charts (see the charts below). Facebook's forward P/S and EV/EBITDA ratio went on to almost double since the lows in summer of 2013. If the growth slows down as it is expected to in the rest of 2014 and going forward, we should expect that Facebook valuation should return to its range prior to summer of 2013, which translates into a forward EV/EBITDA ratio range of 11 to 18, and a forward P/S ratio range of 7 to 12. I believe that this is a reasonable assumption, since Facebook's growth is expected to be roughly in the range it has been prior to Q2 2013. However, since the potential growth slowdown is one year away from today, we should look at 2015 ratios to get a grasp on Facebook's potential share price in this case. This means that the potential downside for Facebook should be around 30% at the low of the valuation range (for both ratios approximately), around 10% at mid-range, and Facebook actually has 10% upside at the top of the range. I believe that the low of the range is the worst-case scenario for Facebook going forward, since the forward valuation at those levels would be very low for a company that is expected to grow earnings at a compounded rate of 35% in the next five years.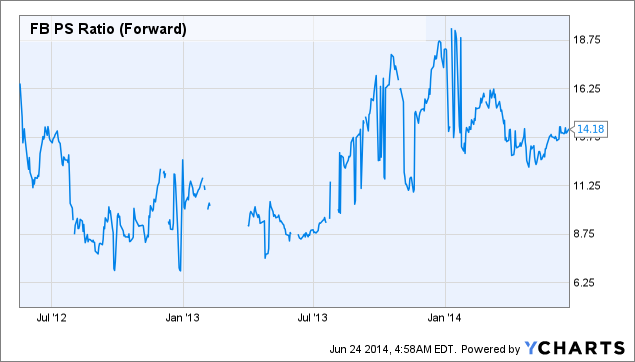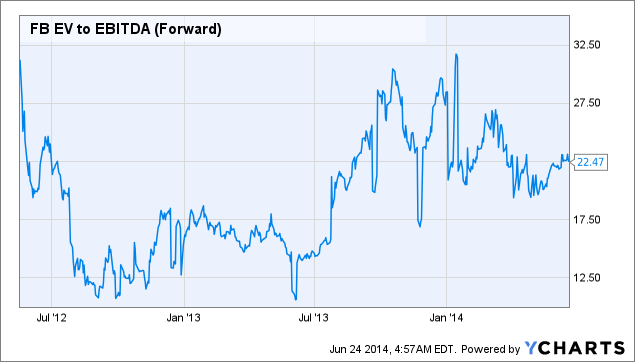 Source: YCharts.com
Why the worst-case scenario should not happen
I believe that the growth slowdown is already discounted by the market, especially if we compare Facebook's valuation to LinkedIn. A look at the current numbers and valuation metrics reveals that LinkedIn is severely overvalued when compared to Facebook, or that Facebook is severely undervalued when compared to LinkedIn. Both companies have very similar growth trajectories going forward, but LinkedIn has a substantial premium over Facebook. The basis for my $90 price target is that Facebook should keep its current valuation in the next nine to twelve months (it is actually discounted by 10%, since Facebook's current TTM EV/EBITDA ratio is around 33, as opposed to my target ratio of 30). And if the company continues to deliver above expectations in the next three quarters, the EV/EBITDA ratio should contract severely if the share price stays the same. A forward 2014 EV/EBITDA ratio of 30 would still be below LinkedIn's ratio of 37, which means that LinkedIn would need to go down 20% and Facebook to go up 40% to get to the same forward 2014 EV/EBITDA ratio. This would be an interesting pair trade, and I believe that Facebook should easily outperform LinkedIn going forward.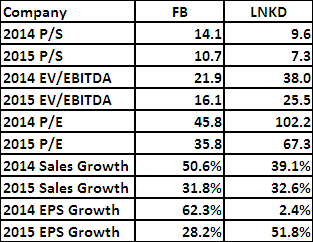 Source: Sentieo.com
Conclusion
A growth slowdown is a serious issue for every growth investor, as it most often causes a serious contraction in a company's valuation. The LinkedIn example serves a purpose here, as we can compare its past performance to get a grasp on Facebook's potential valuation in the next couple of years. Facebook's share price should continue to grow despite the potential growth slowdown, and I have laid out my reasons for why the growth should not slow down significantly in my early May article on Facebook. The company has additional engines that could keep its growth very high in the next couple of years (Instagram, WhatsApp, and Creative Labs, among others). Therefore, I believe that the $90 price target is realistic, and we should see Facebook around my price target in the next six to nine months.
Disclosure: The author is long FB. The author wrote this article themselves, and it expresses their own opinions. The author is not receiving compensation for it (other than from Seeking Alpha). The author has no business relationship with any company whose stock is mentioned in this article.