Bed Bath & Beyond, Inc (NASDAQ:BBBY) is set to announce earnings today. The stock has declined to $60 yesterday from a 52-week high of $81 in early January. According to Yahoo! the stock has a p/e ratio of 12.7x, and the company is expected to earn $0.95/share for the current quarter. Below is the historical performance for the company: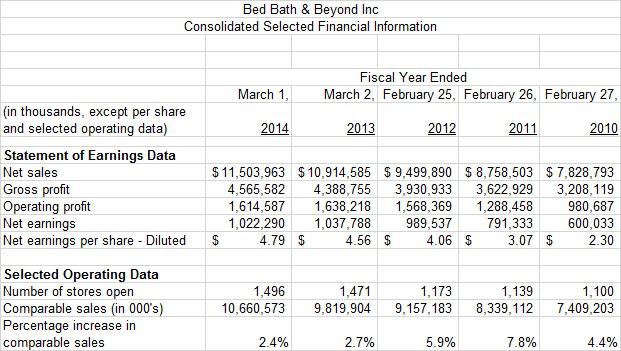 Earnings
Comparable sales grew 2.4% and 2.7% for fiscal years ended March 1, 2014 and March 2, 2013, respectively.
Operating profit as a percentage of net sales was 17%, 15% and 14% for fiscal years ended February 2012, March 2, 2013 and March 1, 2014, respectively.
Earnings have been flat each of the past three fiscal years; earnings actually declined in fiscal year ended March 1, 2014. However, earnings per share have grown due to the company's share buyback program.
As Housing Goes, So Goes Bed Bath & Beyond
The revenue, earnings and business prospects of Bed Bath & Beyond are tied to the housing market. The more houses built or bought should be highly correlated to the sale of domestic home furnishings. Personally, I think housing stocks and companies tied to the housing market are a sell. Besides, with millennials' buying power soaked up in student loans tied to the rising cost of college, who has money for a house, or home furnishings for that matter? That said, below is the most recent data on housing starts.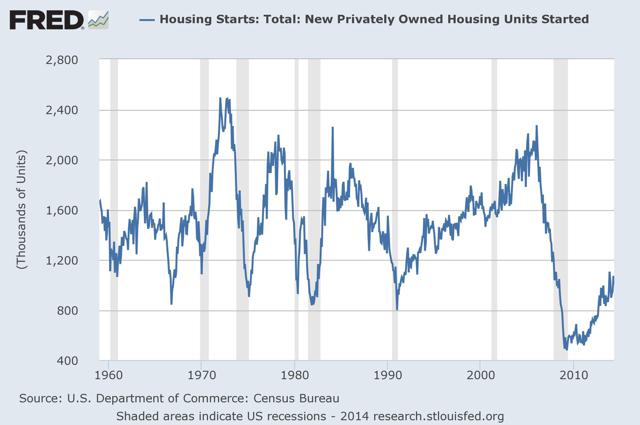 Housing starts bottomed in 2009, yet have never reached the levels seen prior to the financial crisis of 2008.
These levels of starts have occurred amid record low interest rates which implies that it is as good as it gets for housing, and company's tied to housing. After all, rates can't fall from the floor and when they rise, it could dampen housing even further.
It's The Economy Stupid
Home furnishings is a cyclical business; as the economy declines one would expect Bed Bath & Beyond's revenues and earnings to also decline. My article, Why Fed President Lacker Is Wrong About QE3, illustrates how bearish I have been on the U.S. economy's long-term prospects:
The economy's dismal vital signs, and no improvements from Bernanke's stimulus efforts, do not bode well for long-term unemployment, homebuilders like PulteGroup (NYSE:PHM), Toll Brothers (NYSE:TOL), D.R. Horton (NYSE:DHI), KB Home (NYSE:KBH), and Lennar (NYSE:LEN), or auto companies like Ford (NYSE:F) and General Motors (NYSE:GM). Furthermore, until two of the largest components of GDP - housing and autos - improve, inflationary expectations will remain in check.
After GDP shrank at a 1% annual rate in the first quarter of 2014, it appears my prognostications on the economy are being realized.
Conclusion
The economy's vital signs are slowing and the fallout is a contraction in GDP. That does not bode well for cyclical stocks like Bed Bath & Beyond. I rate the company a hold until management gives more visibility on the company's earnings outlook.
Disclosure: The author has no positions in any stocks mentioned, and no plans to initiate any positions within the next 72 hours. The author wrote this article themselves, and it expresses their own opinions. The author is not receiving compensation for it (other than from Seeking Alpha). The author has no business relationship with any company whose stock is mentioned in this article.