This is a series of articles that discusses dividend coverage for most of the 26 BDCs that I cover in an effort to uncover companies that have the potential to sustain or increase current dividends. I will also be using this information to update my latest "BDC Rankings: May 2014". For more details regarding this series and for the dividend coverage results for Apollo Investment (NASDAQ:AINV), TICC Capital (NASDAQ:TICC), Triangle Capital (NYSE:TCAP), Fidus Investment (NASDAQ:FDUS), PennantPark Floating Rate Capital (NASDAQ:PFLT), Gladstone Capital (NASDAQ:GLAD), Golub Capital BDC (NASDAQ:GBDC), PennantPark Investment (NASDAQ:PNNT), Hercules Technology Growth Capital (NASDAQ:HTGC), FS Investment Corp. (NYSE:FSIC), Ares Capital (NASDAQ:ARCC), TCP Capital (NASDAQ:TCPC), THL Credit (NASDAQ:TCRD), New Mountain Finance (NYSE:NMFC) and Medley Capital (NYSE:MCC), please see:
Over the last five quarters, Fifth Street Finance (NYSE:FSC) has consistently increased the amount senior secured debt investments in its portfolio that now accounts for 83% of total investments, compared to the average BDC with around 66%. These "safer" senior loans carry lower yields on average, and as FSC has shifted the portfolio, its overall yield has recently fallen from 11.4% to 10.8%, and was one of the key reasons for its dividend cut at the end of last year.
This series of articles is to help investors identify which BDCs are likely to cut dividends in the future, and the following statement from the CEO of FSC discusses its reduction in dividends:
"The Board's decision to re-align the dividend with net investment income reflects the higher quality and lower overall risk of the portfolio in an environment where investment yields continue to compress. Fifth Street's leading direct origination platform continues to generate assets with attractive risk-adjusted returns, but at lower yields and reduced levels of risk than in the past."
As discussed in my "FSC Articles", the company has announced its "multi-point plan" to increase returns to shareholders over the coming quarters. Part of this plan is to increase the amount of leverage that the company uses, and over the last two quarters, FSC has grown its portfolio by almost $800 million, or around 42%, which is a large amount, especially for a BDC of its size. The company accomplished this growth mostly through the use of debt capital and increased origination efforts. Currently, FSC is operating with much higher amounts of leverage than in the past, with a debt-to-equity ratio of 1.01, but after excluding its SBA debentures, is 0.84.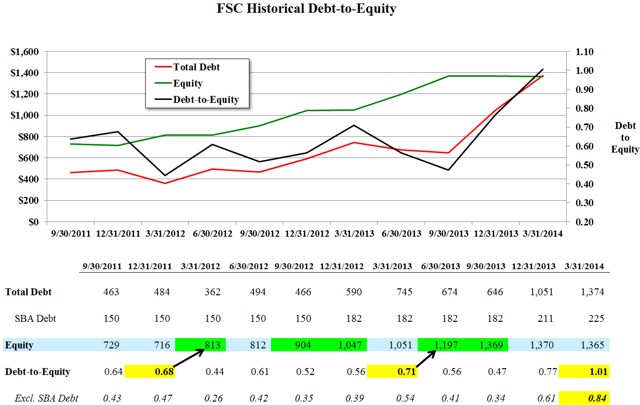 FSC has been syndicating some its larger deals and generating liquidity through selling assets. Both of these could lead to incremental fee income, and is another part of the multi-point plan, but I have assumed average amounts of quarterly fee income for this analysis. The base management fees are driven by the amount of gross assets at 2.00% a year paid quarterly, but excluding idle cash, which is investor-friendly. The incentive fees are par for the industry, at 20% of pre-incentive net investment income ("NII") and gains, but for projection purposes, I use core NII that excludes both income and incentive fees related to capital gains.
The following table shows the most recent quarter financial results, along with projections at various levels of leverage and a stable portfolio yield of 10.8% to determine the impacts on dividend coverage. Each of these scenarios assumes a full quarter of benefit from interest income, but also a full quarter of interest expense, base management and income incentive fees. Keep in mind that FSC has recently increased the size of its portfolio and borrowings, so the recent March quarter does not reflect the full amount of interest income or expenses.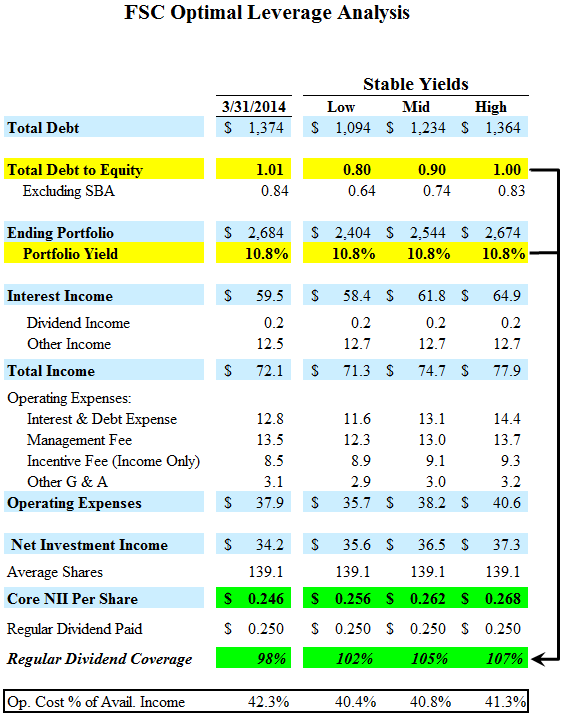 These scenarios assume the highest level of efficiency, and actual results could be lower, because there will always be some turnover in the portfolio that could drive higher fee income. This analysis implies that FSC has a sustainable dividend, even with lower amounts of leverage.
Side-by-Side Comparison:
The following side-by-side comparison shows an "apples to apples" view of each BDC with a stable portfolio yield, current cost structure and capital expenses with a portfolio that uses the same amount of leverage to increase return on equity investments. I will be using the amount of equity as of March 31, 2014 (or most recent), along with a debt-to-equity ratio of 0.80 and the current portfolio yield to project income and expenses, tracking the following metrics:
Dividend coverage (using a debt-to-equity 0.80)
BDC expenses (as a % of available income)
"Available income" is total interest and fee income less interest expense from borrowings, and is the amount of income that is available to pay management expenses and shareholder distributions. BDCs with lower expenses can pay higher amounts to shareholders without investing in riskier assets.
The following table compares the results for FSC to the other BDCs (so far in this series). As you can see FSC has a slightly higher-than-average "operating cost as a percentage of available income", giving it slightly lower-than-average dividend coverage. This would imply that FSC has a stable dividend relative to other BDCs, but not much room for growth.
One of the most important factors shown in the table below is the debt-to-equity ratios excluding SBA debt. The companies with lower amounts of leverage after excluding these loans (that are not included in the leverage requirements for BDCs) have the ability to borrow higher amounts. However, this does not take into account which BDCs have available SBA debt capacity, including TCPC that was recently approved for an SBIC license with the ability to borrow an extra $150 million.
I still believe TCPC, HTGC and FSIC have a much higher potential for dividend increases than the average BDC. I will continue to add more companies in the following articles.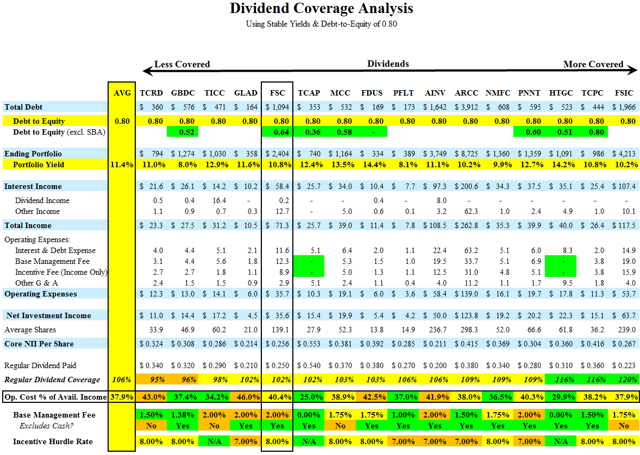 For more details, including some of the potential variances to this methodology for assessing dividend coverage, please see "Part 1" of this series.
Disclosure: The author is long ARCC, MAIN, FSIC, HTGC, TCPC, NMFC. The author wrote this article themselves, and it expresses their own opinions. The author is not receiving compensation for it (other than from Seeking Alpha). The author has no business relationship with any company whose stock is mentioned in this article.