This article is a follow up to the articles listed below and discusses which BDCs have continued to rebound from the suggested price floors in Part 7. This is the final week for BDCs to reflect the pricing impacts from being removed from the Russell indices this coming Friday and hopefully investors can benefit from the short term volatility. I believe BDCs will rebound in the following months and this should be seen as an opportunity.
Previous Russell related articles:
BDCs have continued to rebound since May 15th which was the deadline for the SEC to remove the fee reporting requirements for BDCs.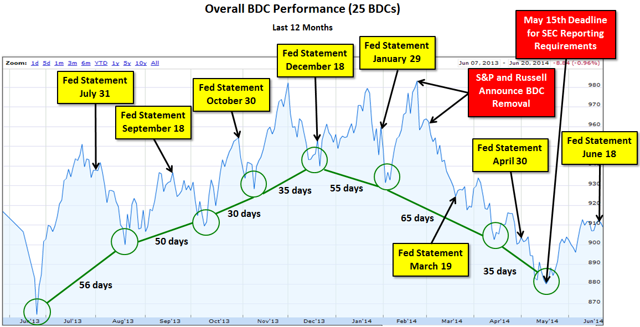 The following table shows my long-term recommendations and suggested portfolios along with recent price points to indicate which BDCs have rebounded from recent lows and by how much. There is a chance that these companies could revisit these lows during intraday trading this week and investors may want to take advantage.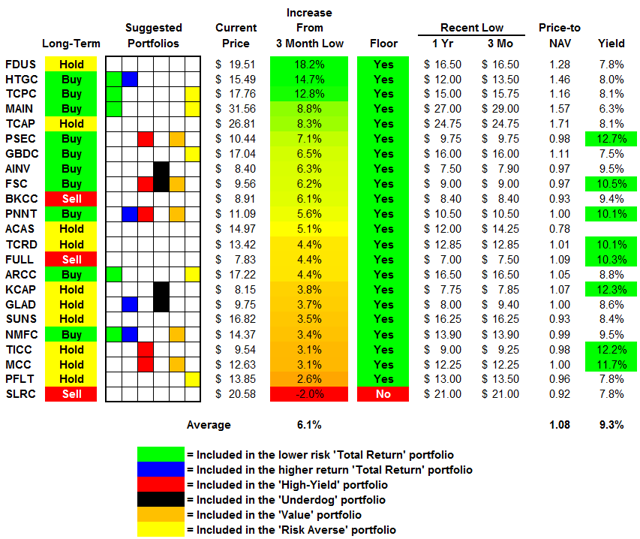 Obviously I am pleased to see many of my top ranked BDCs from "BDC Rankings: May 2014" near the top of this chart ranked by the amount rebounded since the recent low including Hercules Technology Growth Capital (NASDAQ:HTGC), TCP Capital (NASDAQ:TCPC) and Main Street Capital (NYSE:MAIN) that were three of the top four ranked BDCs last month. I have not included the other highly ranked BDC, FS Investment Corp (NYSE:FSIC) in the previous table because it is a newly public company without much trading history and not part of the Russell indices. Prospect Capital (NASDAQ:PSEC) has recently rebounded due to the recent announcement that it will not have to restate its financials to consolidate certain wholly-owned or substantially wholly-owned holding company subsidiaries as discussed in "Prospect Capital Is Ready For A Rebound". PennantPark Investment (NASDAQ:PNNT) is a component in my suggested 'Higher Total Return' portfolio and last month I upgraded it to a 'Buy' and added to my 'High-Yield' and 'Value & Growth' portfolios due to increased dividend coverage potential discussed in "PennantPark Investment: Part 8".
BDCs that are the most likely to test recent lows:
I believe that this week will ultimately be a non-event for BDCs and that most of the price declines were earlier in the quarter, but there are a handful of companies that could test recent lows. Solar Capital (NASDAQ:SLRC) is the only BDC that has not rebounded and seems to continue to fall most likely because it is overvalued as suggested in my weekly newsletter. I consider BlackRock Kelso Capital (NASDAQ:BKCC) and Full Circle Capital (FULL) to be suggested 'Sells' mostly due to dividend coverage and higher amounts of risk. I believe FULL will be testing its recent low of $7.50 since most of the recent pricing has been reliant on the performance of a single portfolio company, Advanced Cannabis Solutions (OTCQB:CANN). FULL has recently announced an offering of 1.3 million shares for gross proceeds of $10 million placed directly with certain investors including the CEO that purchased 116,352 shares. I still believe FULL is high risk microcap stock. KCAP Financial (NASDAQ:KCAP) recently announced that a meeting of the shareholders had been called for approval of a proposal allowing KCAP permission to issue stock below net asset value ("NAV"). The meeting was adjourned until July 8 to give management additional times to solicit votes in favor of the proposal. I believe that issuing shares below NAV is a negative to shareholders for many reasons. Some BDCs already have this ability but do not exercise and have publicly stated that they would not unless absolutely necessary. I have difficulties discussing MCG Capital (NASDAQ:MCGC) without using the words 'train wreck' and it has been ranked near the bottom of my lists for over a year now. It is not included in the table above because it has fallen almost 60% from its recent high as well as cut dividends this quarter by over 40% and has had the largest declines in NAV compared to all other BDCs.
The BDCs that I would expect to test the recent lows from the first table are most likely the ones with higher fees and higher amounts of risk. This is because I believe there will be fewer institutional buyers ready to purchase shares during the increased volatility. In a recent series of articles I have been tracking the fees paid by BDCs to external management companies with the most recent article discussing Apollo Investment (NASDAQ:AINV) in "Part 15" and its much higher 'operating cost as a percentage of available income' but with average dividend coverage. Later today in an article that discusses dividend coverage for Fifth Street Finance (NYSE:FSC) I use the following table to show a side by side comparison of the coverage potential for each BDC assuming that it is capitalized using a debt-to-equity ratio of 0.80 to grow (or shrink) the portfolio and the resulting net investment income ("NII") available to cover the current dividend. I believe that there will be other investors (especially institutional) looking to purchase BDCs that have higher dividend coverage potential.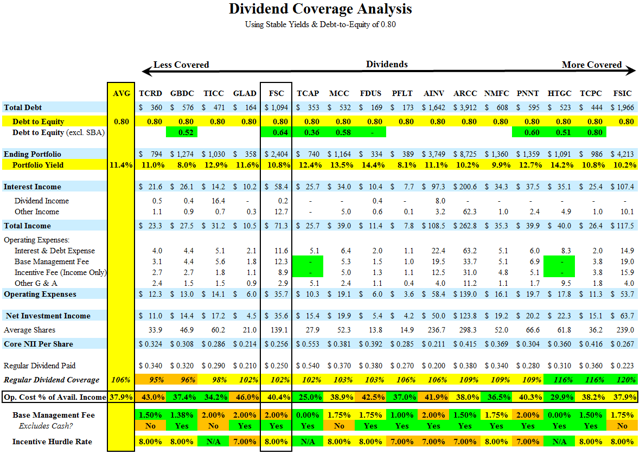 As discussed in many of the Russell articles linked above, both American Capital (NASDAQ:ACAS) and Ares Capital (NASDAQ:ARCC) have much less shares as a percentage of total due to being in the Russell 1000 with only 3% of shares compared to the others in the Russell 2000 with 8% exposure and I would expect less volatility on Friday.
I have recently downgraded TICC Capital (NASDAQ:TICC) for the reasons discussed in my "TICC Articles" including the potential for much lower portfolio yields in the coming quarters as the yield from its CLO equity investments continue to decline. TICC was able to offset these declines historically only because it was able to increase the amount of CLO investments as a percentage of its portfolio but has now reached the 30% maximum limit set for BDCs on 'unqualified' assets. I believe this will become a larger issue in the quarters to come and there will be dividend coverage concerns down the road. Triangle Capital (NYSE:TCAP) has also had issues with declining portfolio yield due to high amounts of prepayment activity that I believe will continue over the coming quarters as discussed in my "TCAP Articles". Two other recent downgrades were THL Credit (NASDAQ:TCRD) and Medley Capital (NYSE:MCC) to a suggested 'Hold'. TCRD has historically been a favorite of mine but has not covered dividends in the last two quarters due to falling portfolio yield and the reasons discussed in "THL Credit: Part 4". MCC is still ranked higher than many BDCs and has higher dividend than most BDCs but the company could have issues covering dividends in a lower yield scenario.
The question that most BDC investors have for this coming week is what to expect when the index funds that are currently invested in BDCs are forced to sell shares at the close of June 27, 2014. I have researched how certain stocks were impacted from being removed from Russell indices last year and have concluded the following:
Most of the companies had reduced stock prices during the month of June.
On the actual day of being deleted from the index the trading volumes were high but the actual prices were only impacted by 5% to 10%. However many of these companies tested recent lows during the day.
Some companies actually saw price increases during the heavy volume.
Almost every company had positive stock price growth during the following month of July and around 10% on average (usually making up for the June declines).
Personally I will be actively buying 'Top Tier' BDCs this week that have higher amounts of projected dividend coverage even if yields continue to decline.
Russell Deletions from 2013
Investors should do their own analysis of stock prices for companies that were deleted from the Russell 2000 last year. This was a 'preliminary' list and there might be a few that were not actually deleted. Many of them were trading at prices around $1 and are not proper comparisons for BDCs. My takeaways after looking at the stock performance of many of these companies were meaningful declines during the month of June leading up to being removed followed by meaningful increases in July. As for the actual price movement on the actual day of being removed each stock reacted differently and investors should be ready just in case.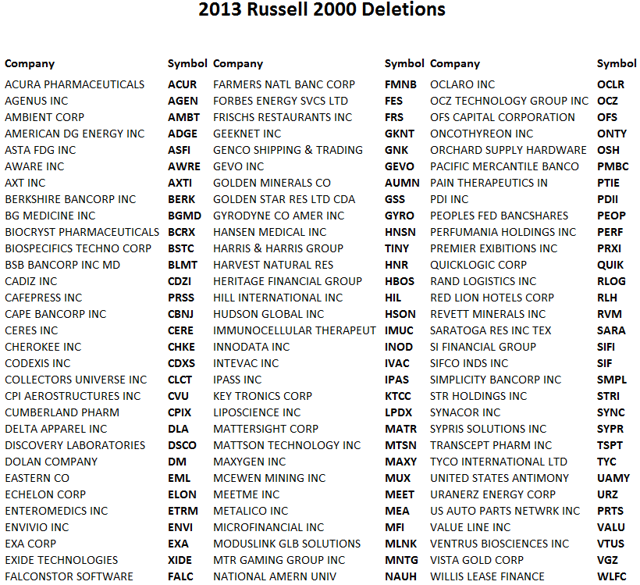 Investors should only use this information as a starting point for due diligence. See the following for more information:
Disclosure: The author is long ARCC, MAIN, FSIC, HTGC, TCPC, NMFC. The author wrote this article themselves, and it expresses their own opinions. The author is not receiving compensation for it (other than from Seeking Alpha). The author has no business relationship with any company whose stock is mentioned in this article.
Editor's Note: This article covers one or more stocks trading at less than $1 per share and/or with less than a $100 million market cap. Please be aware of the risks associated with these stocks.