Heading into the recent 3Q 2014 earnings release, Micron Technology, Inc. (NASDAQ:MU) was trading above $31 per share, over a 120% increase above the $14 share price from 12 months earlier. With a $34 billion market capitalization, the company was also trading at 54x last 12 months' earnings on a pro forma basis. Needless to say, management was under pressure to deliver a stellar earnings report, and the company shot the lights out. Analysts were expecting $0.70 per share, and Micron delivered $0.79 per share, excluding items. The stellar numbers are below: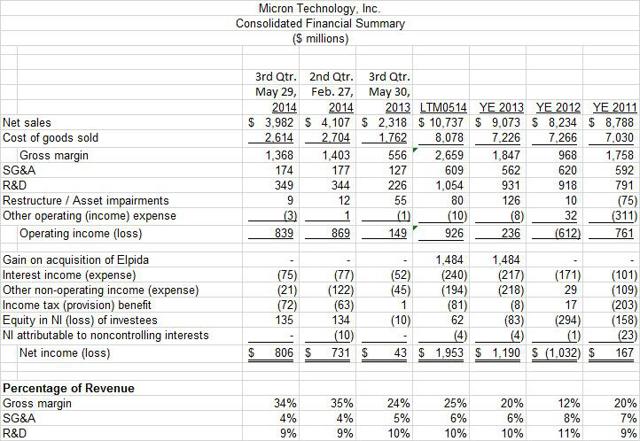 Revenue of $3.98 billion was a whopping 72% increase over 3Q 2013 revenue of $2.32 billion. Meanwhile, operating income of $839 million was a gaudy 463% increase over the $149 million reported the same time last year. However, the stock fell in after-hours trading. Here is my theory about what's going on with the stock.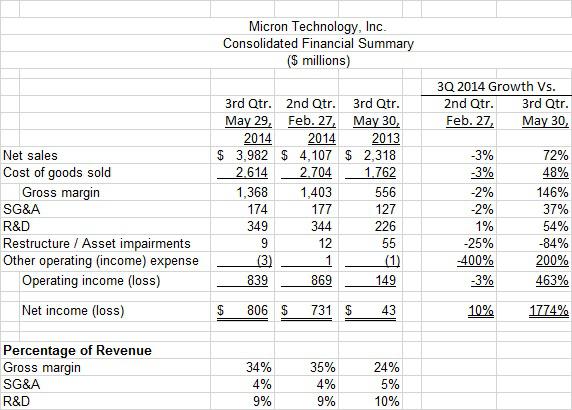 3Q 2014 and 3Q 2013 Not "Apples-to-Apples"
3Q 2014 and 3Q 2013 are not an "apples-to-apples" comparison. 3Q 2014 results include the contribution of revenue and operating income from Micron's acquisitions of Elpida Memory, Inc, and Rexchip Electronics Corporation.
According to Micron's most recent 10-k report, the acquisition of Elpida, a Japanese corporation, was consummated in 4Q 2013. Also in 4Q 2013, Micron acquired a 24% ownership interest in Rexchip, a Taiwanese corporation and manufacturing joint venture formed by Powerchip Technology Corporation.
Elpida and its subsidiaries own about 65% of Rexchip's common stock. Together with the company's ownership of Elpida, Micron controls approximately 89% of Rexchip's common stock.
Therefore, the financial performance of Elpida and Rexchip were not included in Micron's 3Q 2013 financial results.
The comparison of 3Q 2014 and 3Q 2013 is not as meaningful without the "pro forma" 3Q 2013 financial results, or the combined financial results for Micron, Elpida and Rexchip during that quarter.
That said, 3Q 2014 growth doesn't look as impressive once you realize it includes the acquisitions of Elpida and Rexchip, and 3Q 2013 does not.
3Q 2014 Down Versus 2Q 2014
2Q 2014 financials include the financial results of Elpida and Rexchip. In comparison to 2Q 2014, revenue and gross margin declined 3% and 2% respectively.
SG&A and R&D as a percentage of revenue for 3Q 2014 was in line with that of 2Q 2014.
Net income of $806 million increased 10% over the $731 million earned in 2Q 2014.
Cloud Over Micron's True Earnings and Earnings Growth
All of the preceding math raises the following questions: [i] What is Micron's true earnings power? Some investors may focus on last 12 months' earnings or, combine 3Q 2014 and 2Q 2014 financial results and annualize them. [ii] What multiple do you apply to those earnings? [iii] What is the expected earnings growth of the company going forward?
Sure, Micron's earnings today are much more robust than they were a year ago. However, the company may fall victim to the law of large numbers - it's much more difficult to grow a larger base of earnings at a double digit rate vis-a-vis a smaller earnings base. These are the questions investors and traders are currently grappling with, and will ultimately decide on this week. That said, uncertainty to the answers to these questions may have exacerbated downward pressure on the stock in the after market.
Conclusion
Micron's 3Q earnings were impressive. However, results were lower in comparison to 2Q financial results which may have caused the stock to fall in the after-market. I expect furious trading today as investors decide how to value the company going forward. I rate the stock a hold.
Disclosure: The author is long MU. The author wrote this article themselves, and it expresses their own opinions. The author is not receiving compensation for it (other than from Seeking Alpha). The author has no business relationship with any company whose stock is mentioned in this article.
Additional disclosure: I have a straddle on MU