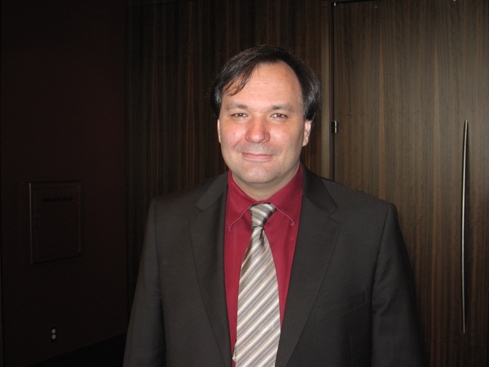 Andres Carbacho-Burgos is an economist at Moody's Economy.com. Previously he was an economics professor at Texas State University.
H.L.: The Federal Reserve last week indicated that it may have to lower interest rates again – quantitative easing -- to shore up our economy. Is the economy notably worsening, and what do you think of the Fed?
A.C-B.: In an absolute sense the economy is not worsening yet. We're not experiencing any job losses or any output losses, and incomes are growing, but just barely. So the economy is not deteriorating. What we are experiencing is a slowdown in employment and income growth to some extent and a relapse in the housing market, at least in terms of sales if not prices.
You can technically say the economy is slowing down. That's why the Fed is keeping the option of pushing down long-term interest rates on bonds, which it would have to do by directly buying up long-term Treasury bonds and bonds from Fannie Mae and Freddie Mac. And it's indicative that the Fed has found its current policy actions insufficient.
H.L.: What do you think of the most recent economic data, including worsening consumer confidence, second-quarter Gross Domestic Product, jobless claims, and manufacturing, and construction levels, and when might the economy become robust again?
A.C-B.: What we're seeing is that the extra push from the fiscal stimulus and secondarily from the homebuyer's tax credit is wearing out, and it has not been replaced by private-sector hiring and private sector activity quite yet. In spite of that, Moody's Analytics is still forecasting fairly good growth in 2011 and better growth in 2012, because we think that there won't be any more serious negative shocks to the U.S. economy, and there won't be any negative serious complications from the European financial and debt situations. Consequently, the uncertainty that many banks and businesses are facing right now will be reduced over the coming year, and we think economic recovery will pick up in 2011.
Our baseline forecast for GDP growth is 3 percent for 2011 and 5 percent for 2012. The high number for 2012 is because once recovery starts it will be relatively simple and quick to hire unemployed workers and put to work unused capacity, leading to a faster rate of growth.
H.L.: How bad is the unemployment situation for the economy?
A.C-B.: The U.S. unemployment rate right now is about 9.6 percent. Over the next year we believe the rate will increase slightly, because as employers start hiring, the labor force will start to grow faster. By the second quarter of 2011 we think the unemployment rate will peak at around 9.7 or 9.8 percent, and only then it will start to go down. That's not indicative of a double-dip recession. You need more than the jobless rate to decide if the economy is in recession. So we're predicting that although the recovery is slowing down, it will pick up by mid-2011.
H.L.: What's ahead for the stock market in October after the boom in September?
A.C-B: We're forecasting a slight degree of growth for the rest of this year, enough for the market to regain its losses since April. However, there are no guarantees to forecasting highly volatile-time series like stock market indexes, so risks in this forecast are substantial.
H.L.: Is the unexpected halt in foreclosures due to gross irregularity in banks' foreclosure filings possibly a good thing for the housing market and the economy?
A. C-B: Overall, through the next year or two it's neither bad nor good. It's just kicking the can down the road. What you'll see is fewer foreclosure sales over the remainder of 2010. The foreclosure sales that would have occurred then will take place in 2011. As a result, the downward price pressure we would have felt in the fourth quarter we'll feel in the first quarter of 2011 and possibly the second quarter as well. That's why we moved the trough of our house price forecast from the first quarter of 2011 to the third quarter, pushing the house price recovery further into the future.
H.L.: Is there a growing threat of deflation – the self-fulfilling prophecy of lower and lower prices leading to more and more unemployment and recession?
A.C-B.: In our baseline outlook, no. I would qualify that by saying that right now inflation is almost at a record low, especially the core measure which excludes food and energy. But because we don't think there will be another financial crisis and because the Fed is still preparing the groundwork for more quantitative easing, we don't believe there will be the contraction in demand needed to have significant deflation over the next year. Consequently, deflation is a risk, but it's not in our baseline forecast.
H.L.: The Republican platform is to cut spending back to 2008 levels but not to touch Social Security, Medicare, and defense, which is almost the entire federal budget. If the Republicans do what they say, what would be the effect of that?
A.C-B.: The Republican "Pledge to America" plans to make the Bush tax cuts permanent while not cutting Social Security, Medicare, and defense. If you're going to constrain your policy that way, literally the only way to balance the budget in the short term is to eliminate the rest of the entire federal government, including laying off Congress and the federal workforce not involved in defense, Medicare, and Social Security.
While the Republican plan might be conceivable if you're looking at a time 20 or 30 years down the line, but to attempt to accomplish that in the next two or three years doesn't strike me as politically realistic.
H.L.: I'm from Connecticut, so I'm wondering how you think the state is doing in its economic struggle?
A.C-B.: Connecticut started on recovery in the first quarter, but it has slowed down. Since April, the private sector has only added around 2,000 jobs. That's less than the state and local governments have cut from their payrolls in the same amount of time. So we definitely have a case of a stalling recovery, and because it was just starting, you have uneven performance among industries. For example, education, healthcare, and retail jobs are expanding, whereas jobs in insurance, securities, and professional services are still contracting.
However, I don't think Connecticut will go into a double-dip recession. What's likely is slow growth through this year and the first half of next year and only after that will you have faster growth. The recovery will be slightly slower than the U.S. rate because of higher business costs in the state and because recently tax burdens for businesses have ramped up as well.
To balance that, Connecticut hasn't had anything like the housing bust in the U.S. market. Also, the state's housing market and average consumer finances are in better shape than in the U.S. as a whole. That's the main reason why there won't be a double-dip recession in Connecticut.
Disclosure: No positions