The four-week win streak came to an end last week last week, though barely. Still, all pullbacks start with a small step, and last week's action may well be the beginning of at least a small correction.
The dip came despite the much-improved economic news. Nearly all the data not only rolled in better than expected, but showed sustained improvements.... income, spending, sentiment (except for the Conference Board's consumer confidence), GDP, and most of the other data nuggets were pointed higher.
So why the pullback? It's all a matter of timeframes. In the long run, the good economic news should indeed translate into more bullishness for stocks. In the near-term (which is our primary focus from one week to the next), fear, greed, momentum, and excess movement drive the market for option trading. That's what we'll dissect below, after a closer look at the economy.
Economic Outlook
It was a plenty busy week last week on the economic front, with a rough start, but a strong finish. Though still improving, the rate of increase in home values - according the Case-Shiller index - slowed to a pace of 3.18% last month, versus the prior increase of 4.21%. Also on Tuesday, the Conference Board said consumer confidence slumped from 53.2 to 48.5 last month.
From Thursday on, however, it was nothing but good news.
Q2's GDP was revised upward, to 1.7%. Initial claims sank to near-multi-year-lows of 453K, while ongoing claims fell to 4457K... also approaching new multi-year lows. The lines in the sand for each are 440K and 4430K, respectively.
On Friday, the news got even more compelling. Incomes as well as spending were both up, and better than anticipated (by 0.5% and 0.4%, respectively). And, the prior week's problematic University of Michigan Sentiment number was revised upward, from 66.6 to 68.2.
How does the continued uptrend in incomes as well as spending last while both confidence measures sink? As we've said before, the confidence opinion polls are 'supposed to be' assessments about the next six months. In reality, they are assessments of the prior month. Moreover, in many ways they can be interpreted as contrarian indicators.... meaning be bullish when they're most bearish, and vice versa.
Indeed, Friday's latter data confirmed that consumers aren't nearly as mired as they claim to be. Construction spending was up a tad, against the backdrop of an expected 1.4% contraction. And, though the final numbers aren't in yet, auto sales have remained strong this year - and in September - despite worries that things are going to get worse before they get better. It's all below.
Economic Calendar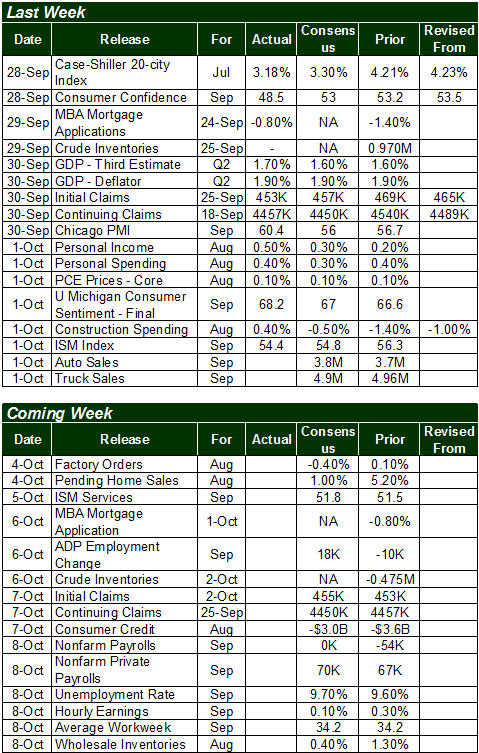 As for the current week, factory orders will get things rolling on Monday. The average estimate of a 0.4% dip is questionable, given all of last week's surprising growth hints.
Pending home sales will round out Monday's data, and again, given all of last week's good news, the expected increase of 1.0% is a little questionable in comparison to the prior month's 5.2% growth. Then again, it's August's number being announced...things may have slowed that far back. Of course, with data that dated, so what? Wednesday's MBA Mortgage Application index for September should give us a better picture of the real estate market's health.
Thursday's initial and continuing unemployment claims are forecasted to be in line with last week's numbers.... perhaps setting up a nice upside surprise, considering the trend on both fronts.
The fireworks, however, will really kick in on Friday. That's when we'll see if the unemployment rate really did tick up to 9.7% last month, as anticipated. We'll also get the net job growth number and a few other employment data nuggets that day; all of them are clues.
S&P 500
Despite Friday's 5 point gain for the S&P 500, it wasn't enough to put the index back into the black for the week. The SPX still lost 2.4 points from the prior Friday's close (-0.2%). The loss, however, isn't necessarily the most troubling part of last week's action.
No, the alarming part was last week's tall Doji bar... a bar consisting of a relatively wide high/low range, and with an open and close that are essentially at the same level; the SPX opens last week at 1148.66, and closed at 1146.24. Dojis are problematic (for the bulls) in that they indicate indecision, and quite often also indicate a reversal. Almost needless to say, after four consecutive winning weeks, a 'reversal' can only be a pullback for options trading.
And on a side note, yes, Friday's advance was made on pretty high volume, but there was more volume behind Thursday's selling.
As we've said repeatedly now, a pullback from here doesn't have to be disastrous. In fact, our bigger-picture indications suggest it won't be. We've actually seen several bullish crosses of key moving average lines, any of which could/should act as support upon any dip.
All told, the likely worst-case scenario from here (for the S&P 500, anyway) is a revisit of the 1110-ish area. That's not only where you'll find the 50-day and 100-day moving average lines, but it's also the mid-point of the Bollinger bands.
Of course, until the former-resistance line at 1130 crumbles, even that minor bearish move is on hold.
S&P 500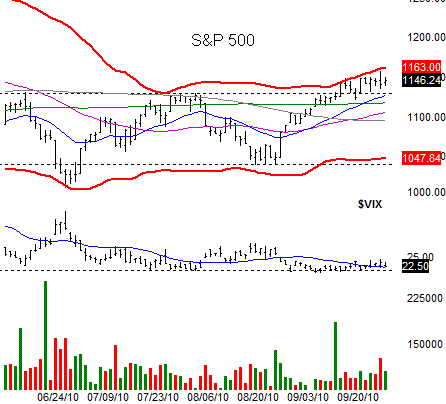 Sector Performance
There's no confusion about last week's big winner.... energy. With the price of oil still on the mend, coupled with the reality that a double-dip recession is the long shot, this year-to-date laggard is now a compelling rebound play.
On the flipside, the laggard for the week isn't a new name - financials have been struggling for weeks now, and there's no end in sight.
Sector Ranking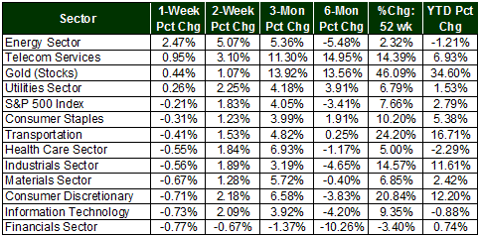 Click to enlarge
(Click to enlarge)
Just to mix things up a little, here's a better visualization of how each sector has fared since the April 23trd top and the subsequent rebound. It's here we can see telecom's strength is the real deal. We can also get a better feel for how much room the energy stocks have to recover...and how well they're doing so.
Sector Comparison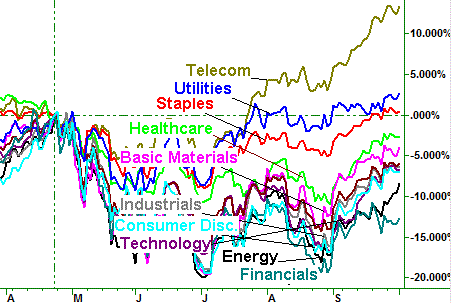 Style Performance
Value won the race over growth stocks last week, and there was a clear bias for stocks on the smaller side of the spectrum. In fact, had it not been for large caps, the market would have actually been in the black last week.
That being said, the longer-term view shows no real winning or losing style group. In other words, there isn't a bias we need to adopt here at this point.
Style Ranking

Click to enlarge
(Click to enlarge)
That lack of style/cap bias is underscored by the percentage-change comparison chart below, starting the clock at the April 23rd peak. We do expect to see some divergence here in the foreseeable future, but for right now, the tide is lifting and dropping all boats equally.
Style Comparison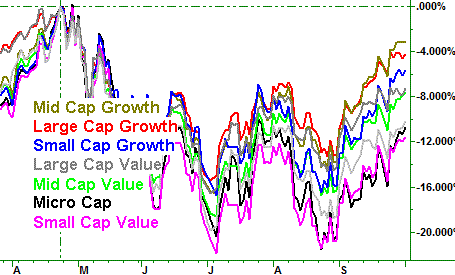 Disclosure: No positions.