The highlight of the evening for fans of the 1980s TV show The A-Team was when Hannibal lit up a cigar and uttered his trademark "I love it when a plan comes together."
This is the feeling I get when I look at Brazilian mega-brewer Companhia de Bebidas das Americas, known by most investors as "AmBev" (traded as an ADR on the NYSE as ABV).
AmBev sits at the crossroads of several themes I've been covering in the Sizemore Investment Letter.
BACKGROUND
AmBev is a subsidiary of Anheuser-Busch InBev, the world's largest brewer, and as a stand-alone entity is the largest brewer in South America and the fifth largest in the world. AmBev operates in 14 countries in the Americas, but it is best known for selling popular Brazilian brands Skol, Brahma and Antarctica. It also sells popular Brazilian soft drink Guaraná Antarctica and is the largest bottler of PepsiCo products outside of the United States.
NEW CONSUMERS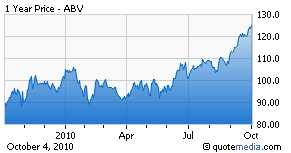 First and foremost, AmBev is a play on the rise of the Emerging Market Consumer. The company is the biggest brewer in Brazil, of course, controlling roughly 70 percent of that market. But AmBev is also the biggest brewer in Argentina through its control of the Quilmes brand and holds the dominant market position in Bolivia, Uruguay, and Paraguay and competitive positions in much of the rest of Latin America.
In an environment in which American companies are struggling to sell to their cash-strapped domestic customers, AmBev has the luxury of selling into a market that is actually growing. Incomes are rising in Latin America, and consequently so is beer and soft drink consumption.
SIN STOCK
Secondly, AmBev is a "sin stock." Historically, companies in vice industries such as alcoholic beverages, tobacco, and gambling and in controversial industries such as munitions and firearms have enjoyed above average returns. This is generally believed to be due to a clientele effect. "Socially responsible" investors and certain large institutional investors such as charitable foundations and endowments are often forbidden from investing in sin stocks, and this lack of buying interest tends to depress the price relative to other sectors.
Thus sin stocks tend to behave like value stocks—much to the benefit of patient investors.
DIVIDEND
Finally, as the turbulence of 2008 and 2009 taught us, it's good to be paid in cold, hard cash. AmBev pays a respectable dividend of 2.2 percent. In a fast growing company like AmBev, the 2.2 percent yield should be almost unnoticeable in our returns as shareholders. Still, it's better than what you earn on your cash in the bank, and the existence of a dividend forces a degree of management discipline that is often absent in non-dividend-paying companies. It is a subtle point, but one that I consider important.
THE PLAY
The stock sits at a crossroads of several of my favorite investment themes. And perhaps most importantly, the stock is in a strong uptrend and remains reasonably priced for a growth stock at a forward P/E of 17.
Action to take: Buy shares of ABV at or below $125, slightly below the current price. The stock looks a little extended at current prices, so I would prefer to wait for a mild correction before adding new funds. Plan to hold for at least one year.
Though I see little company-specific risk in this stock, we must remember that it is an emerging market company with all of the risks that this entails. Brazil is currently an emerging market darling, but international investors can be a fickle lot. In the event of a broad selloff in Brazil or emerging markets in general, I recommend you cut your losses early. I would recommend starting with a stop-loss at $110 and adjusting this stop upward as the stock rises.
Disclosure: No positions