General Dynamics (NYSE:GD) is a worldwide aerospace and defense company headquartered in Falls Church, VA. It has around 96,000 employees. GD operates through four business groups: Aerospace, Combat Systems, Marine Systems, and Information Systems and Technology. The U.S. government is its largest customer.
There are several competitors to GD such as Lockheed Martin (NYSE:LMT), Northrop Grumman (NYSE:NOC), Textron (NYSE:TXT), United Technologies (NYSE:UTX), Honeywell (NYSE:HON), Boeing (NYSE:BA), and others. For simplicity, we will choose to compare GD to Lockheed and Northrop.
Valuation:
GD trades at a trailing twelve month P/E of 17.6 versus the Aerospace and Defense average of 19.52. GD is trading at slightly higher P/E than LMT and much higher than NOC.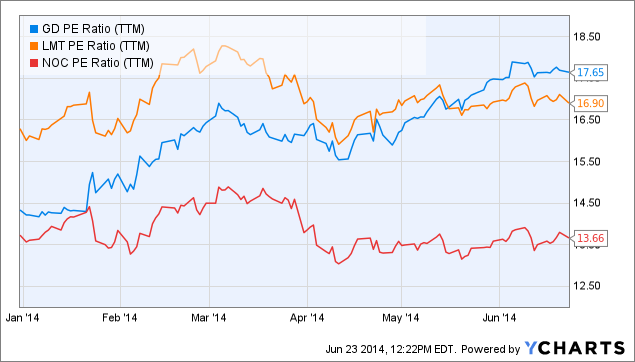 GD PE Ratio (TTM) data by YCharts
The Price/Sales (trailing twelve months) of 1.34 is reasonable and below the industry average of 1.66, but above competitors Lockheed Martin and Northrop Grumman.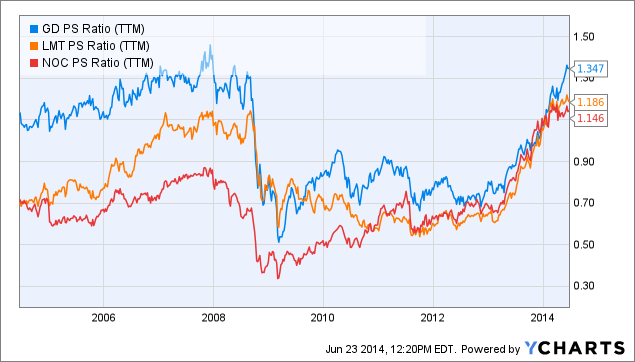 GD PS Ratio (TTM) data by YCharts
The price to book for GD is 2.98 versus 10.60 for the industry average and well below LMT.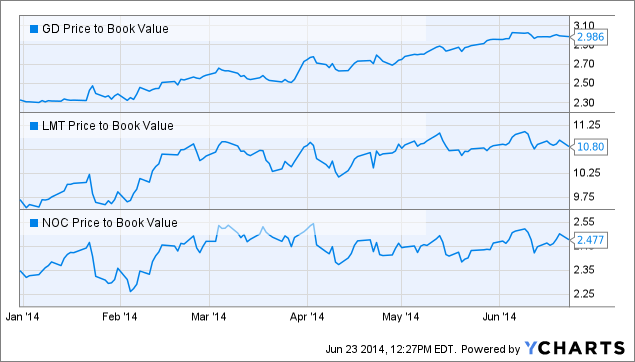 GD Price to Book Value data by YCharts
Based on several valuation measures, GD is valued below the market and below the industry, but higher than its historical norms.
Growth:
GD is estimated to grow its earnings at 6.94% over the next year and 7.83% per year over the next 3-5 years. (source Fidelity.com)
This is below the industry average of 10.96% and 10.39%, respectively, and comparable to NOC. LMT has a projected 3-5 year growth rate of 8.88%.
Sales growth is projected to be 1.28% per year over the next 5 years for GD. LMT is 1.20% and NOC is -6.16%. All three have seen sales growth slowing over the past three years.
Profitability:
GD profit margin (trailing twelve months) is 8.06%, versus 6.95% for LMT and 8.37% for NOC.
The EBITD Margin (trailing twelve months) is 13.88% versus 13.08% for LMT and 15.17% for NOC.
The operating margin (trailing twelve months) is 12.13% for GD, versus 10.87% for LMT and 13.15% for NOC. All three companies have improved their operating margins recently.
This is how Return on Assets and Return on Invested Capital has looked for the three: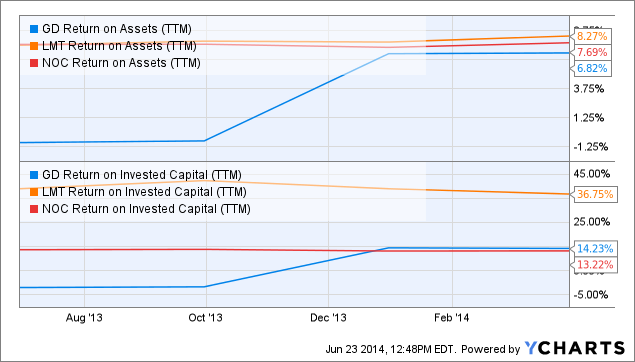 GD Return on Assets (TTM) data by YCharts
GD has trailed LMT on Return on Assets and ROIC, and is comparable to NOC.
Cash & Debt:
Long-Term Debt/Equity: GD: 28.8%, LMT: 210%, NOC: 59.1%
Debt to Assets: GD: 11.2%, LMT: 16.3%, NOC: 22.2%
Debt to Capital: GD: 22.1%, LMT: 56.2%, NOC: 35.9%
Current ratio for all three is above 1.2.
Dividends:
GD has a dividend yield of 2.07% with a 34.8% payout ratio.
LMT has a dividend yield of 3.22% with a 55.5% payout ratio.
NOC has a dividend yield of 2.27% with a 31.3% payout ratio.
All three have grown their dividend by over 10% per year over the past 5 years.
GD has increased its dividend 16 years in a row, while LMT has increased it 11 years in a row, and NOC is 6. (NOC was formed in 1994).
After viewing the careers section of the websites, we found the following:
All three companies are aggressively hiring right now from 2000-3000 jobs, with hundreds of them posted recently. This is a great sign and something we always look at.
Fundamentally, NOC is trading at the best valuation, but GD is not overvalued. All three are estimated to have solid earnings growth over the next 3-5 years in the 7-9% range. But sales growth has been slowing and looks to continue to be slow. Margins are a little better with NOC and GD than LMT, but all are solid and have actually increased recently.
Based on the above, we would give the edge to NOC and GD, but LMT is solid also.
Let's look at the stock charts:
GD and LMT have tracked closely together, while NOC has separated itself over the past year and may revert back near the others.
General Dynamics specifically is in a clearly defined uptrend: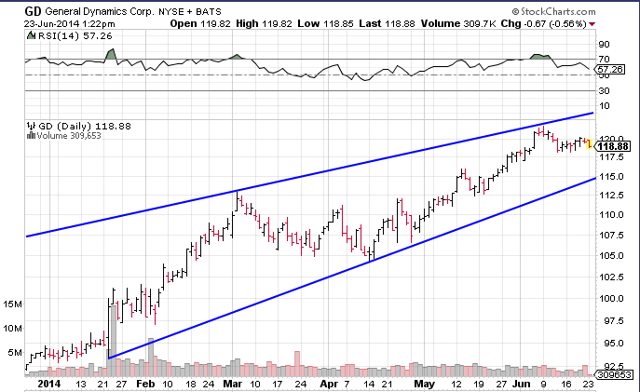 As for an entry point, the $115-$118 price looks relatively attractive for long-term holders.
In conclusion, the aerospace and defense industry as a whole looks to be undervalued relative to the market, but overvalued relative to its own historical figures. This is enough reason to not jump in right away.
However, with a new administration entering office soon, tensions constantly stretched overseas, and new technologies (drones) becoming more important, this dynamic industry will always be needed. In fact, the big defense companies have some room to make up in the drone area. Northrop is the biggest player among the companies mentioned, but LMT, GD and BA are also participating.
General Dynamics pays a solid dividend, has been growing it steadily, has plenty of room left to increase, and has growing cash and low debt. They are aggressively hiring for positions all over the world.
There may be better entry points for the stock price, but it has good relative strength, and is in a clear uptrend. Using a DCF analysis and 7.8% earnings growth rate over the next 5 years, we have a fair value of GD at $126.44.
Additionally, using those same numbers, and assuming a reversion to the mean for P/E of 14 from 16.8, we are projecting a 5-year average annual total return of 6.22% (~4% capital gain, 2.22% dividend).
For patient investors, General Dynamics looks like a reasonable buy in the $118 area.
Disclosure: The author has no positions in any stocks mentioned, and no plans to initiate any positions within the next 72 hours. The author wrote this article themselves, and it expresses their own opinions. The author is not receiving compensation for it (other than from Seeking Alpha). The author has no business relationship with any company whose stock is mentioned in this article.