Did you know that if you invested in retail-focused REIT Realty Income's (NYSE:O) stock in October 1994 with an original investment of $8,000, your current annual dividend income would be $2,190, equivalent to a yield on cost north of 27%?!?! For any dividend growth investment, yield on cost is the current annualized dividends divided by the original investment, or $2,190/$8,000 in this example. The benefits of dividend growth investing have never been more evident, and a prudent, well-defined dividend growth plan targeting the "right" companies over the next 20 years could result in your portfolio generating a 27% yield on cost in a couple decades, too! Though this sounds fantastic (and perhaps, unreal), investors must be aware of the significant risks of any dividend growth strategy. Let's look at three key risks that Realty Income outlines on its website:
"First: To be frank, there is a possibility of losing some or all of the money that you invested, should the public company you invested in realize a drastic decrease in share price, and you sell your shares at a price lower than the original investment price. Second: There is also the possibility that one, or two, or all of the companies you have invested in for income, may run into financial difficulties and find it prudent to cut the amount of the cash dividend paid to you. This would reduce the amount of income you anticipated receiving from your investment. In some extreme situations, the company may elect to cancel the dividend altogether. Third: You may not have enough money to invest to provide you with the income that you need or at the returns that are sufficient to meet your income needs (source)."
Let's expand upon each point individually.
The reality of any investment strategy, including dividend growth investing, is that equity markets are volatile (and don't always go up). Just last week, the S&P 500 (NYSEARCA:SPY) passed 1,900 for the first time in history, an amazing journey from the bottom under 700 that the index set in March 2009 during the depths of the Great Recession. Though strong stock-price performance doesn't necessarily mean that a company or sector or market is overpriced, it does mean that expectations of future performance of the company, sector, or market have been ratcheted higher. According to Factset, for example, the current 12-month forward P/E is now 15.3, above both its 5-year average (13.2) and 10-year average (13.8). That means investors are paying more than 15 times for an average S&P company's forward earnings -- not 15 times trailing earnings, which is typically referenced as the point at which markets are fairly priced, but 15 times this year's expanded forward earnings. On a trailing 12-month basis, the P/E ratio for S&P 500 constituents is now 16.6, also above both its 5-year and 10-year averages.
The most expensive sector as measured by the forward P/E ratio is the "Consumer Staples" sector, which registers a forward P/E of 17.6, significantly above its 5-year and 10-year averages. To nail down which types of companies this covers, let's take a look at the top 10 holdings of the Consumer Staples Select Sector SPDR (NYSEARCA:XLP).
Consumer Staples Select Sector SPDR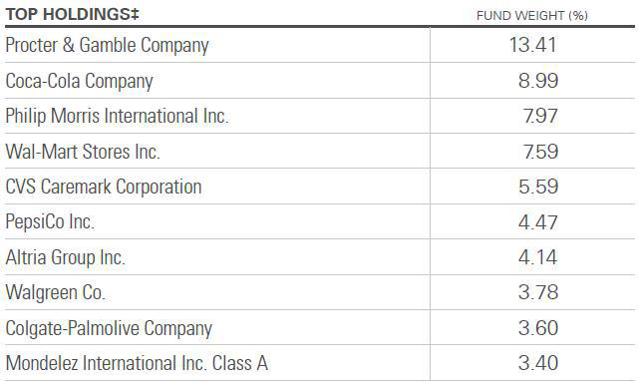 Image Source: State Street
The Consumer Staples Select SPDR, which includes Coca-Cola (NYSE:KO), Philip Morris (NYSE:PM), and Wal-Mart (NYSE:WMT), is a list of some pretty hefty dividend payers. You may own many of these in your own dividend growth portfolio. The dividend growth prospects across much of this list are fantastic, and we point to Procter & Gamble (NYSE:PG) and Altria (NYSE:MO) as two Dividend Growth portfolio holdings and two of our favorite dividend growth ideas. Though there are significant pitfalls in using the forward P/E ratio in valuation (as it only considers next year's earnings and not the long-term mid-cycle performance of the entity), the measure is signaling that the "Consumer Staples" sector is not nearly as attractive from a valuation standpoint as it once was. To say this differently, a convergence to the "Consumer Staples" 10-year average of the forward P/E of 15.9 would imply a ~10% price drop in shares across the sector (on average), or in many cases, two to three years of dividend payments! We're not saying this to scare you, but we think that a ~10% drop in an 'overheated' sector should not be a surprise. In fact, it should almost be expected.
But as it relates to portfolio holdings Procter & Gamble and Altria, we're not overreacting to this market valuation observation, and we expect to take any modest "correction" in stride. We'd describe a 10% fall as a modest correction (not a drastic fall), especially since the broader equity market has nearly tripled off the bottom set in 2009. Some inexperienced investors, however, may find a 10% evaporation of their capital-investment as shocking, and sometimes, these investors will sell following the drop if only to lock in the loss at the worst possible moment. This is partly what Realty Income is talking about when it says there's a possibility of losing some (or all) of the money that you invested.
For a dividend growth investor to be successful, he/she has to not only identify the "right" types of companies (strong fundamentals, solid cash flow, and excellent competitive positions) that will continue raising dividends year after year, but also be patient and not overreact to reasonable market movements. Though this may sound irrelevant to the strictest fundamentalist (and don't jump too quickly to conclusions), the best suggestion we can make to investors to gain perspective of the markets is to look at the charts of their respective companies. For example, please find below a chart of Dividend Growth portfolio holding Altria. Clearly, this dividend growth gem has broken out from its previous highs and hasn't looked back. We trust you are very happy about this move! However, our experience will tell you that profit-taking back to the mid-$38 level should not be a surprise (the black line). In fact, we're expecting Altria's equity price to do just that in coming months before it starts to move higher again. Using the charts as a way to keep behavioral pitfalls in check (e.g. selling at the bottom) is just as important for dividend growth investors as it is for technicians and chart readers.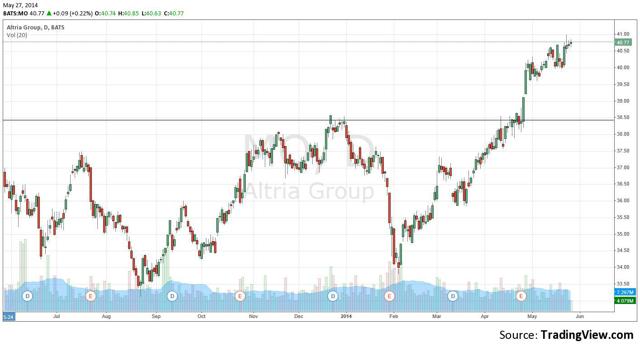 However, just like the equity markets may be overshooting intrinsic value to the upside, as measured by a traditional P/E measure, the markets can overshoot to the downside, too. Dividend growth investors have to understand that the stock market is neither rational nor precise and significant drops in the prices of even the strongest companies is part of the risk that investors take to participate in a dividend growth strategy. For investors that think dividend growth stocks only go up (or only go down a little at times), equity investing may not be their cup of tea.
The second risk that Realty Income reveals has to do with the very real chance that many dividend growth companies may run into financial difficulties down the road and find it prudent to cut the dividend (note the word: financial). This is where the Valuentum Dividend Cushion™ measure comes into play. The Valuentum Dividend Cushion measures just how safe the dividend is in the future on the basis of the company's financials. It considers the firm's net cash on its balance sheet (cash and cash equivalents less debt) and adds that to its forecasted future free cash flows (cash from operations less capital expenditures) and divides that sum by the firm's future expected dividend payments. At its core, it tells investors whether the firm has enough cash to pay out its dividends in the future, while considering its debt load. If a firm has a Valuentum Dividend Cushion above 1, it can cover its dividend, but if it falls below 1, trouble may be on the horizon.
At the very least, using the Valuentum Dividend Cushion can help investors avoid firms that are at risk of cutting their dividends in the future. Using a payout ratio (dividends paid divided by earnings per share) is simply not enough to ascertain whether a company will continue to pay increasing dividends for the next 20 years. There may not be any measure that can predict dividend growth 20 years into the future with complete accuracy, but we think the Valuentum Dividend Cushion is the best available on the market today. Pasted below is a table of the dividend yields and Valuentum Dividend Cushion scores of the top 10 holdings of the Consumer Staples Select SPDR, which we highlighted above.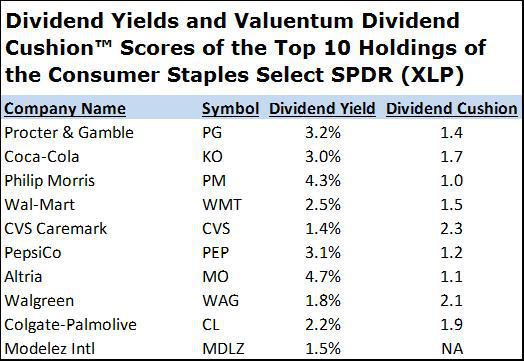 Source: Valuentum Securities
The Valuentum Dividend Cushion score is purely a financially-based ratio that is derived from the items straight off the firm's forecasted balance sheet and cash-flow statement. The way to interpret Altria's Dividend Cushion score, for example, is as follows:
Altria can cover its future growing cash dividend payments with expected free cash flow (cash from operations less capital expenditures) and its net balance sheet (cash less debt) 1.1 times over the time horizon measured (5 years).
To us, looking at the future free cash flows and cash obligations relative to cash dividend payments is the only true, comprehensive way to evaluate the strength and safety of a company's dividend. Next year's payout ratio tells us little about the firm's capacity to keep raising the dividend long into the future - the core component of dividend growth investing.
The third risk that Realty Income states is that investors may not have enough money to provide them with sufficient income to meet their needs. This is the one that gets dividend growth investors in a lot of trouble, as it leads them to the riskiest business structures such as master limited partnerships ((MLPs)). Think Boardwalk Pipeline (NYSE:BWP) as the most recent example. Dividend growth investing is a multi-decade process that has substantial capital risk along the way (through the ups and downs of the economic cycle). When dividend growth investors go after the highest of yielders immediately, this often leads them to companies that are the most unlikely to sustain their payouts long into the future. In these cases, not only does the firm or entity eventually cut its dividend, but shares tumble as dividend growth investors holding them jump ship. Dividend growth investors that stick around are then left with a lower-yielding entity and a significant amount of their hard-earned capital impaired…sometimes permanently.
Some well-known high-yielders that are at significant risk of slashing their payouts in the next several years (before the end of this decade) are Roundy's (NYSE:RNDY), Tal Intl (NYSE:TAL), Frontier Communications (NYSE:FTR), CenturyLink (NYSE:CTL), and R.R. Donnelley (NASDAQ:RRD). These firms not only have Valuentum Dividend Cushion scores below 1, but their scores are materially negative - meaning their respective balance-sheet debt obligations and future capital requirements significantly outweigh their balance-sheet cash and future cash flow from operations during the next five years. It's important to note that the board can do just about anything in the near-term to try to convince investors that dividend growth is still feasible. They may even continue to raise the dividend as fundamentals and cash flows deteriorate.
But to the intelligent dividend growth investor, the financial statements of a company tell more about the firm's dividend growth potential than even the most eloquently-written prose or the strongest of words by management about the safety of its payout. The Valuentum Dividend Cushion puts advanced financial statement analysis at the fingertips of the dividend growth investor in an easily-interpreted fashion (the higher the score above 1, the better).
Wrapping It Up
Dividend growth investors face significant risks, but we think keeping perspective and identifying the strongest of dividend growth gems on the basis of the Valuentum Dividend Cushion score is among the best ways to safeguard against potentially disastrous dividend cuts and identify firms that are slated to grow dividends long into the future. Our best dividend growth ideas (for the next 20 years) are always included in the Dividend Growth portfolio, and the portfolio has yet to have a constituent cut its dividend since inception.
Disclosure: The author has no positions in any stocks mentioned, and no plans to initiate any positions within the next 72 hours. The author wrote this article themselves, and it expresses their own opinions. The author is not receiving compensation for it (other than from Seeking Alpha). The author has no business relationship with any company whose stock is mentioned in this article. Several firms mentioned in this article are included in Valuentum's newsletter portfolios.