Analysis
I am not a huge Alcoa (NYSE:AA) fan as a play during the earnings season because it has so much pressure on it, but I do think this company could have had a very solid quarter. Even better, though, is that I think that company could see some positive growth moving into earnings on a pullback.
There are several reasons that I like AA. The first is that I like the company's possibility of moving higher before earnings. Last year at this time, Alcoa was not looking strong at all and was projected to report negative earnings again. The company, however, surprised everyone with a 100%+ earnings surprise and shot off after earnings. Since then, earnings have tapered off and been pretty much in line the last two quarters. This quarter, though, analysts are looking for a 50% gain year-over-year with an EPS of 0.06. That 100%+ gain, however, will get this company some definite attention moving into earnings.
Another big positive is aluminum prices. After bottoming out at the end of last quarter, aluminum prices have been on a steady incline ever since. The selling range has been $1950-$2300 per 25 tonnes. The average price between Q2 and Q3 really is pretty close. The median price in Q2 and Q3 were both very close to $2100. The selling price was much more narrow in Q3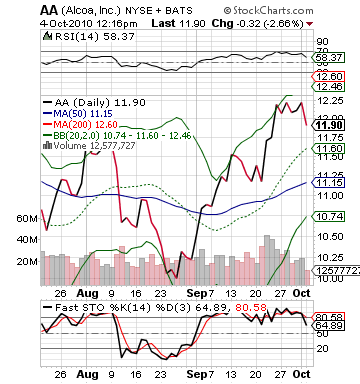 and did not reach the same high as Q2, but it did not sink into the low $1800s. Yet, Alcoa is projected to make less than half in EPS from Q2 to Q3? Additionally, the price range of Q3 2009 was $1550 - $1900. The company cut costs to achieve a 0.04 EPS. The numbers, though, for selling price of aluminum are so much greater now. A 50% increase is such an undervaluation.
In addition, Q3 was another strong quarter for many of the aluminum users. Auto manufacturers are continuing to see increased numbers of sales and increasing production. Just last week, Worthington Industries (NYSE:WOR)(a steel company) noted that it had seen a 54% increase in automotive volumes for its steel. Auto manufacturers' increasing aluminum volumes may be even higher as lighter and more fuel efficient vehicles that use aluminum over steel are in demand. Last quarter was very bullish for Alcoa, even with prices dropping 1%. This quarter, with prices rising and demand still intact, I think AA is looking at a solid quarter.
One of my cautions with the stock, though, is that it is heavily overvalued. On a down day, the stock is dropping like a rock to the song of 2.5%, while the market is only dropping 0.5%. AA is not a beta of 5.0, rather it has been overbought and is selling off on a weak day. The company is close to its low of the day at 11.95. Since earnings are not reported until after market close on Thursday, we have some time with this one. I would like to see it drop another 1.5% before we get into it.
At 11.80, the stock will be about halfway between its 200 and 50 day moving averages. Additionally, the stock will have a solid 6-7% room to grow to its upper band from that level. Currently, the stock is just too overvalued for me to see a lot of upside from its current levels. However, a drop would bring a lot of buyers back into the stock from lower valuations.
We will be watching this one throughout the day. If it doesn't hit the levels we want today, we will reassess the position tomorrow morning.
Entry: We are looking to get involved below 11.80.
Exit: We are looking to exit for a 3-5% gain.
Stop Loss: 5% on bottom.
Disclosure: No positions