Amphastar Pharmaceuticals, Inc. (NASDAQ:AMPH), a manufacturer and marketer of "technically-challenging" injectable and inhalation pharmaceuticals, plans to raise $81.0 million in its upcoming IPO.
The Rancho Cucamonga, California-based firm will offer 7.4 million shares, including 46% insider shares, at an expected price range of $10-$12 per share. If the IPO prices at the midpoint of that range at $11 per share, AMPH will command a market value of $475 million.
Few Underwriters
AMPH filed on May 20, 2014.
Lead Underwriters: BMO Capital Markets Corp; Jefferies LLC; Piper Jaffray & Co.
Underwriters: Needham & Company, LLC
Business and Products Overview: What Exactly Are "Technically-Challenging" injectable and Inhalation Pharmaceuticals?
AMPH is a pharmaceutical firm specializing in the development, manufacture, and sale of injectable and inhalation products that are considered unusually difficult to produce. The firm offers both generic versions of popular drugs and proprietary products.
AMPH currently manufactures and sells 15 products in the U.S.; the firm's development portfolio includes 13 additional generics and seven proprietary candidates.
AMPH's biggest revenue generator is enoxaparin sodium injection, a generic version of Sanofi's (NYSE:SNY) Lovenox. Enoxaparin functions as an anticoagulant and is used to treat numerous conditions, including deep vein thrombosis; the active ingredient in the drug is extremely difficult to synthesize, and AMPH makes both the active ingredient and the completed enoxaparin in-house. The firm believes that its generic enoxaparin is emblematic of its ability to create generic versions of difficult to manufacture pharmaceuticals.
AMPH has pursued various acquisitions to supplement its organic growth. Most recently, the firm acquired Merck & Co.'s (NYSE:MRK) active pharmaceutical ingredient manufacturing business in Éragny-sur-Epte, France, which creates the active ingredients in recombinant human insulin and porcine insulin.
Illustrations of AMPH's products are shown below.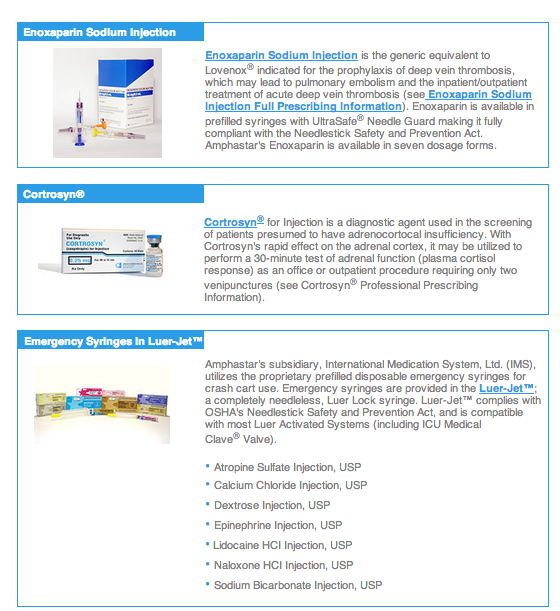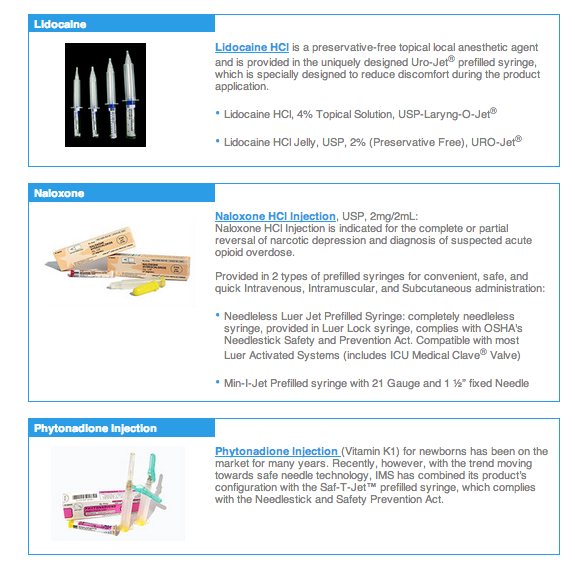 Source: Amphastar Website
Valuation
AMPH offers the following figures in its S-1 balance sheet for the three months ended March 31, 2014:
Revenue: $45,870,000.00
Net Loss: ($1,619,000.00)
Total Assets: $345,109,000.00
Total Liabilities: $93,56,000.00
Stockholders' Equity: $251,542,000.00
For the year ended December 31, 2013, AMPH posted a net revenue of $229.7 million and a net income of $11.9 million.
Generic Products Most Susceptible To Competition
Like all pharmaceutical firms, AMPH faces competition from other firms attempting to create products to treat similar indications. AMPH's generic products are even more susceptible to competition, as many firms may be able to create generic versions of any given drug.
Potential competitors include firms like Teva Pharmaceutical Industries (NYSE:TEVA), Sandoz AG, and Hospira, Inc. (NYSE:HSP). Some competitors may have access to greater financial and technical resources than AMPH.
Management: Academic and Business Highlights
Co-founder Jack Yongfeng Zhang, Ph.D. has served as the CEO of AMPH since the firm's 1996 inception; he also served as the firm's President until June 2013. Dr. Zhang has also served as the firm's Chief Science Officer since 2005.
Dr. Zhang previously co-founded Applied Physics & Chemistry Laboratories, Inc. in May 1989 and served as its President until October 2002.
He holds a Ph.D. in chemistry from the SUNY at Stony Brook and was a Post Doctoral Research Associate at the California Institute of Technology.
Conclusion: AMPH A Buy
We are optimistic on this IPO in the proposed range.
Though AMPH posted a loss in the first quarter of 2014, it has turned a profit in each of the past three years.
The firm's established ability to create effective generics is an encouraging sign, as its large portfolio of product candidates.
AMPH's evident dedication to continuing to expand its facilities, manufacturing capacities, and access to ingredients needed to create new products, along with its experienced management team, leads us to believe that AMPH's IPO merits investors' consideration.
Note: As a large sample of information sources does not yet exist for AMPH, we have taken much of the information for this article from AMPH's S-1 filing.
We invite readers wishing to join the discussion on IPOs to click the +FOLLOW button above the title of this article.
Disclosure: The author has no positions in any stocks mentioned, but may initiate a long position in AMPH over the next 72 hours. The author wrote this article themselves, and it expresses their own opinions. The author is not receiving compensation for it (other than from Seeking Alpha). The author has no business relationship with any company whose stock is mentioned in this article.