After raising $1.2 billion in funding and garnering a massive $17 billion pre-money valuation, Uber may be one of the most attractive companies out there for would be investors. Unfortunately though, Uber shares are out of reach for most as the on demand car-sharing app remains a privately held company. But that isn't stopping traders from finding other ways to make bets on Uber's success.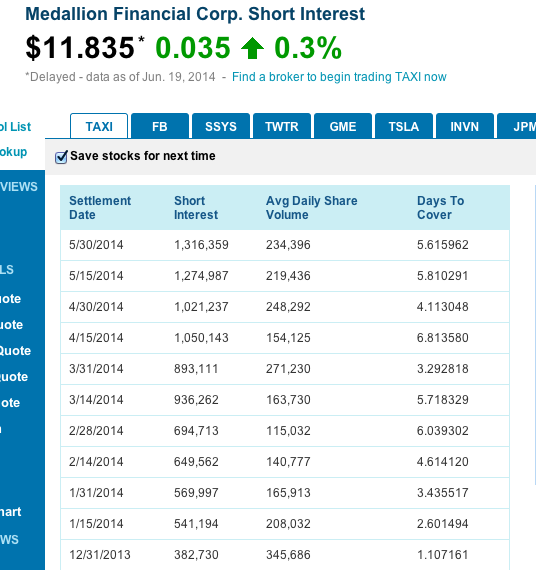 (Image from Nasdaq.com)
One way to bet on Uber is by betting against the taxi industry it aims to dethrone. Medallion Financial Corp. (TAXI) is a company that specializes in financing loans used to purchase taxi medallions, which can cost up to a million bucks a piece in a place like New York City. Uber is trying to make those taxi licenses worthless by creating its own private fleet of drivers and bypassing the medallion system entirely. Since the start of 2014 the short interest of TAXI shares has increased 244% from 382,730 to 1,316,359 shares and the TAXI stock price has fallen 17%. The chart below from Estimize shows that Medallion Financial has had slowly but steadily declining earnings over the past 2 years.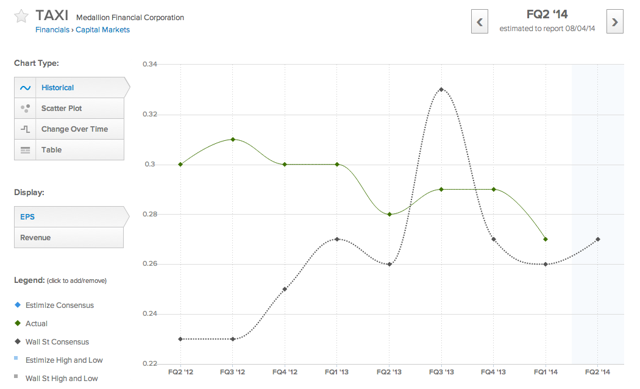 (Click Here to see Estimates and Interactive Features for Medallion Financial)
Uber is one of several apps leading the vanguard of the sharing economy. The sharing economy, also known as collaborative consumption, is the socioeconomic model in which a pool of individuals all benefit from gaining access to physical assets without actually needing to own the underlying assets, which are often prohibitively expensive. Property rights are still clearly defined in collaborative consumption models. A renter only pays an asset holder for temporary use of the desired good, typically at a time when the owner would not be using the asset anyway, resulting in a more efficient allocation of the asset pool.
Up until recently, matching a potential passenger with a driver looking to make a few bucks was nearly impossible logistically on a large scale. Smartphone apps like Uber and Airbnb have made the process simple by acting as mobile accessible hubs for the efficient allocation of these resource pools.
Medallion Financial Corp. may be the most obvious victim of Uber's rise, but there are other potential losers later down the road as well. If Uber can make good on its goal to become a worldwide phenomenon, the rental car business may suffer as well, as supply increases and Uber becomes more convenient and less expensive. In most cities that Uber operates in, Uber is already cheaper than city-regulated taxis and is quickly becoming competitive with car rental costs.
Uber's rise from here seems inevitable. Drivers report making more money and have the freedom to choose their own hours. Riders enjoy Uber for its convenience and reliability. Trying to get a cab in the wrong place or at the wrong time can be a nightmare, but if you are willing to pay the typically small fee, an Uber driver will happily come pick you up at a prearranged time. Using Uber also saves tourists the headaches of driving in a city with unfamiliar road laws and struggling to find affordable parking.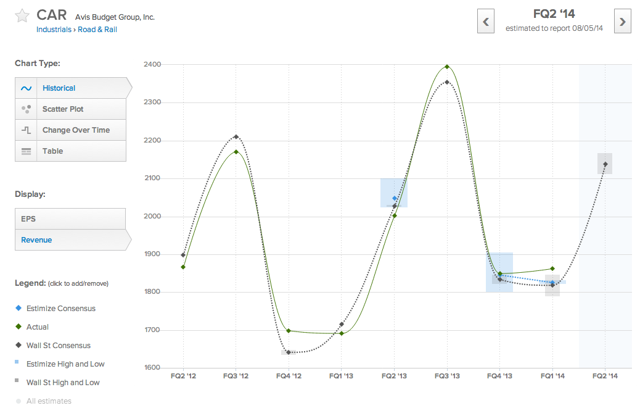 (Click Here to see Estimates and Interactive Features for Avis)
Avis Budget Group (NASDAQ:CAR) is the second largest publicly traded rental car company in the United States and the one which acquired car sharing company Zipcar in March 2014 for around $500 million. Zipcar is similar to Uber in the sense that it enables car-sharing, the difference being that Zipcar owns its own fleet of cars, while Uber does not. And that means much lower costs, and lower risk for Uber.
Uber drivers must provide their own car to become a driver, which is why Uber has a much cheaper cost structure compared to either Medallion Financial or the Zipcar subsidiary of Avis. Cars depreciate and need to be replaced over time, but none of those costs touch Uber's books. Uber just takes a small commission for each ride for matching drivers with paying customers.
Avis's revenue doesn't seem to be in bad shape by any stretch of the imagination yet; over the past 4 quarters the company has reported modest gains in year over year revenue between 7% and 10%. The concern here is that while revenue is growing at a healthy rate, the EPS chart from Estimize.com looks relatively stagnant, indicating costs are rising nearly proportionally to the rate of revenue growth.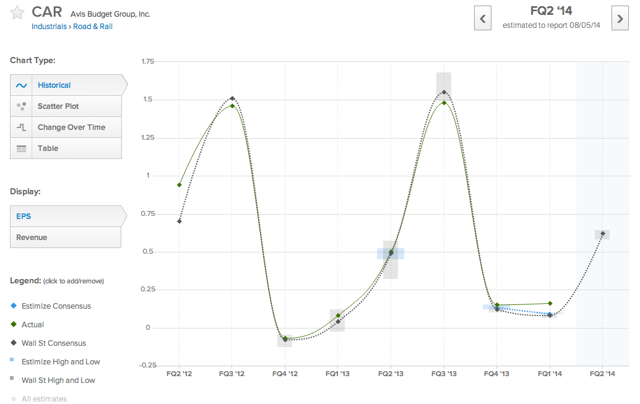 (Click Here to see Estimates and Interactive Features for Avis)
In case you're wondering, the largest publicly traded car rental company in the US is Hertz (NYSE:HTZ), and Enterprise is the largest car rental chain in the country, but it is privately held. Hertz appears to be a doing a great job of growing its revenue by over 20% in 3 of the past 4 quarters, but in March the company reported a dip in the sales growth rate to 10% and a significant drop in earnings.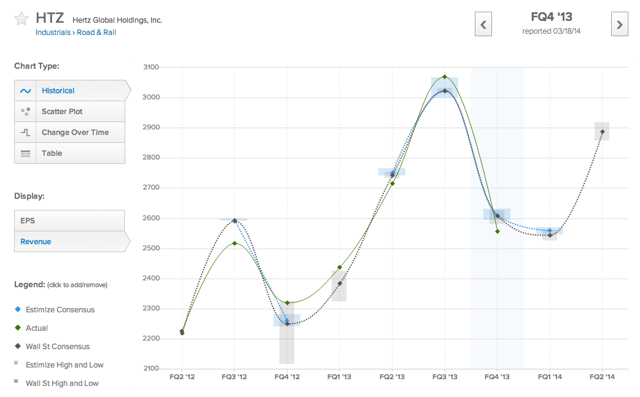 (Click Here to see Estimates and Interactive Features for Hertz)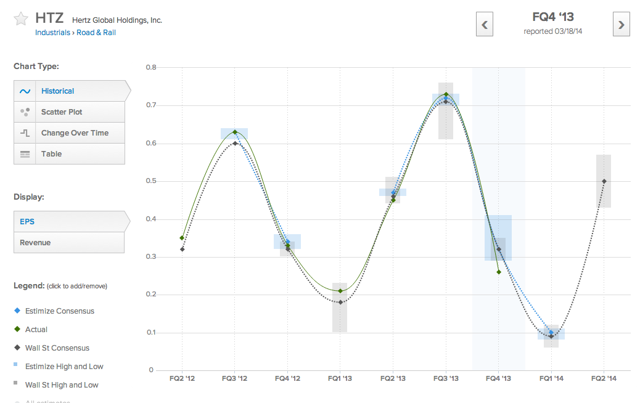 (Click Here to see Estimates and Interactive Features for Hertz)
Uber is not a public company and after it announced raising $1.2 billion from private investors on June 6th, it's unlikely that the company is planning on having an IPO anytime soon. Since Uber is private, it doesn't need to make its financial information publicly available, so we don't know exactly how fast it's growing. What we do know is that traders are starting to place their bets, and it looks like they think Uber will win and traditional yellow taxi cab companies will be the losers.