By Mike McDermott
It's the beginning of the fourth quarter and here we sit – with the S&P 500 pushed right up against the 1150 mark, the momentum players running out of gas, commodity traders stepping up to the plate, and convincing arguments being made from both the bull and the bear camp.
This game of trading is always full of uncertainty – where players must act on imperfect information and use probabilities, scenario building (and re-building), and aggressive risk control to gain an edge. Today's environment fits perfectly as the herd mentality appears pleased with the prospects of more quantitative easing, while skeptics question whether "QE2″ is already priced in.
As we head into the week ahead, there are plenty of questions yet to be answered, and some clear themes that we are following until proven wrong;
Cult and momentum stocks may be losing support.
Fertilizer candidates appear to be offering an attractive entry point.
Energy names are (at least for now) following the QE2 crowd.
Regional Banks look poised for another leg lower.
Solar stocks may be backing off just enough to justify new longs.
And on top of all that, we have Q3 earnings season just around the corner. It's bound to be a full week ahead, so let's jump into the setups for this week…
Cult Stocks Lose Attraction
Last week we talked about the extended nature of a number of cult stocks and the potential for lost momentum and sliding prices. As the price action began moving lower, our volatility-adjusted stop orders kicked in and we took on some short exposure.
Salesforce.com Inc. (NYSE:CRM) topped out at about 100 times current earnings (roughly 80 times forward earnings) before last week's break of a key support area near $115. The stock appeared overvalued at 500 times earnings, 70 times earnings, and still at 90 times earnings which proves the importance of a price confirmation before shorting runaway momentum stocks.
Our stop is fairly tight based on the recent volatility of the stock and will likely be moved to breakeven once CRM breaks the 50 EMA (directly below Friday's low).
If the momentum really is gone, CRM could be a good short for some time to come with additional opportunities to add to the position (while tightening stops) along the way.
Click charts below to enlage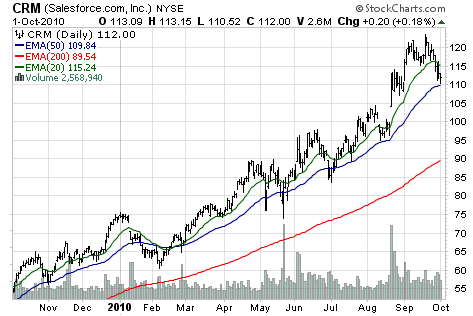 Baidu, Inc. (NASDAQ:BIDU) is another heavily owned momentum name that stalled out over the past week. The bullish camp argues that with China's large population shift towards a more urban lifestyle, impressive growth will continue for years. However, the bears can make a very good argument that the growth is already priced in – with any surprises likely to cause a significant decline.
I'm using a weekly chart to illustrate last week's weakness – notice how the stock's advance accelerated in the last two weeks and then stalled out. Last week's close at the low on relatively heavy weekly volume raises concerns – especially considering the stock is trading at about 70 times expected earnings for this year.
A trade just down to the August low would offer an attractive percentage gain, and if BIDU were to retrace more of its stellar gain from 2010, bearish traders could book a profitable payday.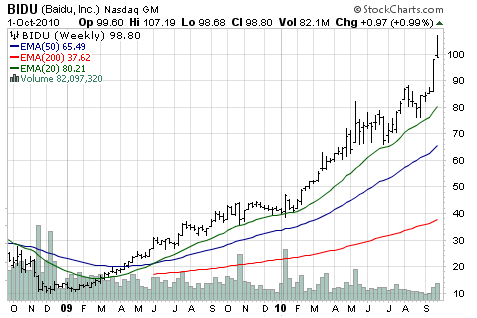 Other momentum stocks worth considering for this week include Apple Inc. (NASDAQ:AAPL) – which is in danger of negating its breakout to new highs in September, Netflix Inc. (NASDAQ:NFLX) – which reversed sharply on Thursday after hitting a new high… and followed through lower on Friday and Amazon.com Inc. (NASDAQ:AMZN) – relatively expensive and leveraged to the perennially weak consumer.
Fertilizer Continuation?
After booking our strong profits in Potash Corp. (NYSE:POT) we have largely steered clear of our targets in the fertilizer industry – simply because there weren't many appropriate entry points with acceptable risk.
But a couple of the names now appear to be consolidating which gives us a chance to step in and buy once the stocks continue their advance – with tight stops placed below the consolidation area. Note: We are avoiding POT at this point because of the uncertainty surrounding the hostile takeover – but would consider the other healthy names in the industry.
Agrium Inc. (NYSE:AGU) has run 50% from its summer low, but should continue to be attractive as one of the world's top producers of fertilizer products. A strong balance sheet allows management to pursue accretive acquisitions and since the company is vertically integrated, shareholders have less to worry about in the supply or distribution chain.
I'm waiting to see how long it takes AGU to resume its positive trend, and how deep the consolidation will be. It's natural for the stock to take a breather after breaking through the March high, and based on the strong fundamentals and the positive tone in this industry, the next leg higher could be substantial.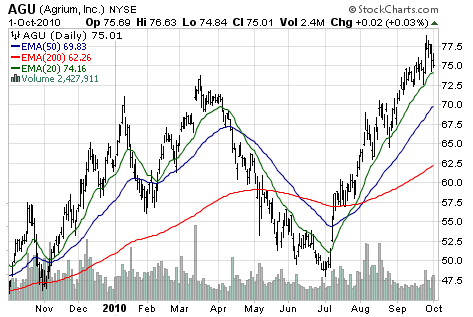 Mosaic Company (NYSE:MOS) hasn't quite broken its March high yet, and would look more attractive if it pulled back a bit farther and tested the 50 EMA. But with the company expected to earn $4.00 per share next year (and estimates consistently being adjusted higher), the stock could be a very attractive value in this area.
Institutional investors appear to be more willing to allocate additional capital to resource-based investments, keying off the emerging market demand – and also in an attempt to diversify out of assets that would be punished by a devaluation of multiple paper currencies.
We will likely be setting up buy stop orders to enter MOS once it regains positive traction – and the stop orders will be adjusted daily based both on the price level of the stock as well as the industry trends and volatility measures.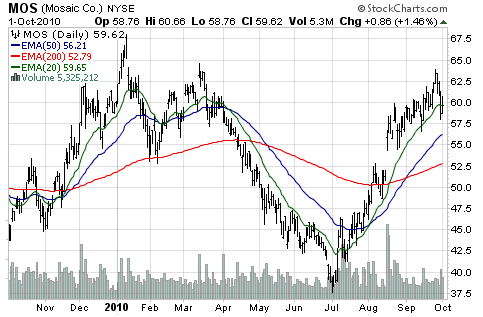 Energy E&P
Last week I mentioned that we had an interest in the energy sector as the area represents a potential "RISK ON" target for institutional managers to allocate capital. Of course oil and natural gas are more economically sensitive than other resource stocks, but if you believe that "QE2″ will effectively spur growth – then energy companies are a great place to own hard assets while still participating in the economic rebound.
(I didn't say the argument had to make sense…. If that's the way the elephants are trading, then we can have an opportunity following the price action while still protecting against the danger when the music stops.)
In addition to the broad S&P Select Energy (NYSEARCA:XLE), we've got our eye on a few of the oil constituents which could be poised for a good risk-adjusted move higher.
Occidental Petroleum Corp. (NYSE:OXY) had a great week moving sharply higher on strong volume. The company has posted growth in both revenue and earnings for the last three quarters, and has a well-diversified portfolio of oil and natural gas properties. Last week's move puts the stock solidly above all major moving averages and the strong volume indicates institutional sponsorship.
Depending on where we can set a reasonable stop point, this stock might be an attractive purchase – especially considering the healthy balance sheet, attractive dividend yield, and robust growth expectations.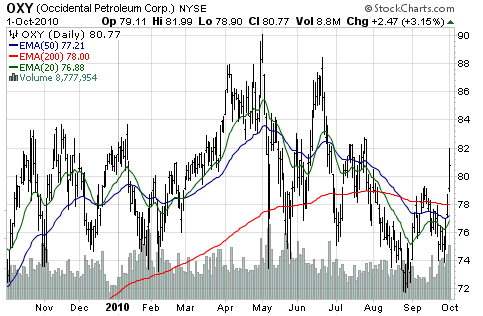 Chevron Corp. (NYSE:CVX), Schlumberger, Ltd. (NYSE:SLB) and Halliburton Company (NYSE:HAL) also look attractive as the stocks are gaining momentum and the fundamental data points to better revenue and earnings in the coming quarters.
Regional Banks Face Another Crisis?
Back to the bearish side, we continue to believe that the residential real estate market faces a strong probability of a double dip – which is bad news not only for the homebuilders – (not to mention homeowners) – but also for many of the regional banks with heavy exposure to both residential and commercial real estate loans.
The large money center banks have a relative advantage as they have been able to use both federal capital as well as private market capital to beef back up their balance sheets. Coupled with the "too big to fail" understanding which still caries weight in the financial industry, these banking titans are relatively safe for now.
But the smaller regional banks are likely in trouble – as evidenced by the growing number of problem banks who are in danger of failing.
I would like to do more research on individual names within this sector, but for now we are focusing on the SPDR KBW Regional Bank (NYSEARCA:KRE) ETF. The trend is decidedly negative and even with the broad market's advance in September, this ETF could barely put together a consolidation.
Our sell stop order could be triggered quickly this week, initiating a short position which will initially have a tight stop. Once we have some profits built into the position, we may very well follow with a wide stop as this high-conviction trade could turn into a longer-term core position to which we could add horizontal exposure by trading individual banks within the industry.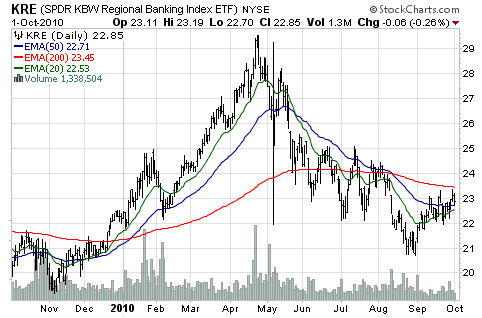 Solar Strength
A number of key solar names were sharply higher last week as traders reacted to a few compelling themes:
LDK's $8.9 billion dollar funding from China Development Bank has the industry hopeful that additional funding and liquidity will be available in the quarters to come.
A sustained rally in the euro makes exports from Chinese manufacturing companies to European buyers more attractive.
Many of the stocks are extended significantly beyond an appropriate buy point, but a pullback in the next few days could offer an attractive entry point.
JA Solar Holdings (NASDAQ:JASO) is one of the many solar companies that is seeing a rebound in both revenue and earnings, and analysts have been increasing their expectations for the next two years.
With a stable balance sheet and a PE multiple that is still in the single digits, JASO could continue to rally for some time to come. I'm not interested in chasing the stock at these levels, but a pullback to near $7.50 or $8.00 along with a period of consolidation would have me much more interested in picking up a small position and then adding more exposure as the trend reasserts itself.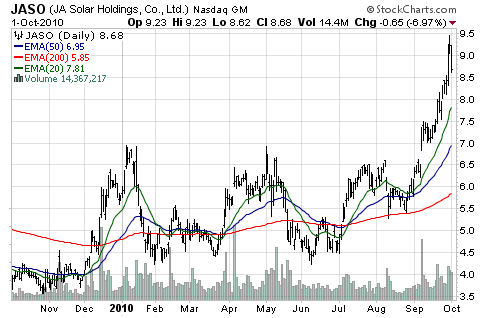 It's going to be an interesting week as managers position for the last quarter of trading and ahead of Q3 earnings reports. We've got our finger on the trigger with a number of attractive opportunities in our sights.
Keep that risk control in place as preservation of capital is just as important as the returns we will generate over time.
Disclosure: No positions