Ambrx Inc. (NASDAQ:AMBX), a clinical-stage biotechnology firm seeking to develop bio-conjugate protein therapeutics for the treatment of various diseases, plans to raise $70.2 million in its upcoming IPO.
The La Jolla, California-based firm will offer 5.4 million shares at an expected price range of $12-$14 per share. If the IPO can find the midpoint of that range at $13 per share, AMBX will command a market value of $246 million.
Filing, Underwriting
AMBX filed on May 2, 2014.
Lead Underwriters: Stifel Nicolaus & Company, Incorporated; Wells Fargo Securities, LLC
Underwriters: Canaccord Genuity Inc.; Needham & Company, LLC; Roth Capital Partners, Inc.
The Business of Bio-Conjugates
AMBX is a clinical-stage biotech firm, engaged in the discovery and development of optimized protein therapeutics, called bio-conjugates.
The firm uses its proprietary technology platforms to attach pharmaceutically active molecules to specific sites within proteins, allowing AMBX to create biologics with precision comparable to the creation of small molecule drugs.
AMBX hopes to use this newfound specificity to discover new drugs and to create improved visions of existent therapeutics.
AMBX is in the process of developing several candidates through its internal pipeline. ARX201 is a weekly human growth hormone that has completed a Phase 2b clinical trial, while ARX328 is a long-acting leptin for weight management and the treatment of lipodystrophy; the firm plans to submit Investigational New Drug applications for both in 2014. AMBX's ARX788 drug candidate is an antibody drug conjugate (ADC) designed to treat cancers that express human growth factor 2. The firm plans to initiate clinical trials for ARX788 in Australia in the first half of 2015.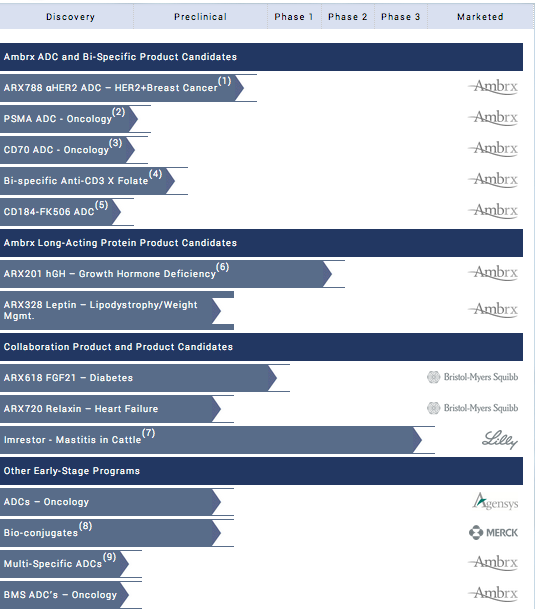 (Source)
Very Strong Partners
AMBX also is involved in numerous collaborative projects with larger pharmaceutical firms. Its collaborators include Merck & Co. (NYSE:MRK), Bristol-Myers Squibb Company (NYSE:BMY), Ely Lilly and Company (NYSE:LLY), Zhejiang Medicine Co., Agensys, Inc., and Zhejiang Hisun Pharmaceutical Co. The firm's most advanced collaborative project, ARX618, a treatment for type 2 diabetes, is expected to begin Phase II clinical trials this year.
Valuation
AMBX offers the following figures in its S-1 balance sheet for the three months ended March 31, 2014:
Revenue: $5,032,000.00
Net Loss: ($5,381,000.00)
Total Assets: $70,018,000.00
Total Liabilities: $43,395,000.00
Stockholders' Equity: ($75,880,000.00)
AMBX's low revenues and losses are typical of a pre-commercial biotech firm and should not be interpreted as indicators of the firm's potential for future success; the firm will not likely be able to turn a profit until one or more of its product candidates have been commercialized.
Competitors Crowding AMBX's Niche
Though AMBX believes itself to have something of a technological advantage in producing the bio-conjugates that it hangs its hat on, per its S-1 filing, there are other companies in the business of performing site-specific protein modifications, such as Allozyne, Inc. and Sutro Biopharma, Inc.
Large, established biotech and biopharmaceutical firms may also attempt to develop treatments for the same indications that AMBX is targeting; some of these firms may have access to greater financial resources than AMBX.
Noteworthy Management
President and CEO Lawson Macartney, Ph.D., B.V.M.S. has served in his current roles and as a director since February 2013.
He previously served as Senior Vice President of the Emerging Business Unit at Shire AG. He also worked in various roles at GlaxoSmithKline, including Senior Vice President of Global Product Strategy and Project/Portfolio Management, Senior Vice President, Cardiovascular and Metabolic Medicine Development Center, and Vice President, Global Head of Cardiovascular, Metabolic and Urology Therapeutic Areas.
Dr. Macartney holds a Ph.D. from Glasgow University in Scotland, where he was a Royal Society Research Fellow, and a B.V.M.S. from Glasgow University Veterinary School. He is a Fellow of the Royal College of Pathologists.
Conclusion: AMBX a Buy
We are optimistic on this IPO in the proposed range.
Though AMBX's products are still a great distance from regulatory approval and commercialization, the firm has to some extent mitigated the financial risk of developing new drugs through its collaborations with much larger firms.
AMBX has already banked over $200 million in funding through its collaborative projects and stands to receive milestone payments as the projects progress and royalties if and when they go to sale.
The firm's internal pipeline is developing drugs that could be extremely valuable if approved-cancer treatments and weight control treatments both have the potential to become cash cows.
AMBX's potent tech edge, along with very strong partners, makes this an even more attractive buy for prospective investors.
Note: As a large sample of information sources does not yet exist for AMBX, we have taken much of the information for this article from AMBX's S-1 filing.
We invite readers wishing to join the discussion on IPOs to click the +FOLLOW button above the title of this article.
Disclosure: The author has no positions in any stocks mentioned, but may initiate a long position in AMBX over the next 72 hours. The author wrote this article themselves, and it expresses their own opinions. The author is not receiving compensation for it (other than from Seeking Alpha). The author has no business relationship with any company whose stock is mentioned in this article.