The Federal Reserve is certainly muddying the waters as it relates to their outlook for interest rates moving forward, as we move into the period after their meeting and the various regional bank presidents do their media rounds and relay their personal beliefs. It has always been our belief that one should invest according to the what we hear from the FOMC meetings and simply take note of the hawkish and dovish statements which come out after the fact.
With that said it seems to us that the MLPs and other high distribution/dividend yielding securities could have further to run. Part of our thesis hinges on the continued trend of investors seeking yield, but the real driver we think shall be M&A; something we have already seen begin.
Chart of the Day:
With rates having fallen from 3% to 2.60% in the past 6 months, investors have been forced to reevaluate their take on the high yielders and MLP sector. With that, we have seen quite a few names rebound strongly and are actually outperforming the market with their equity performance only over the last quarter. When their distributions are factored into the equation, the total return is even more impressive.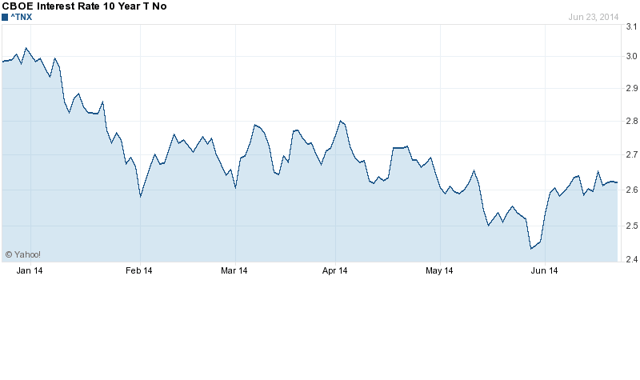 Click to enlarge
Source: Yahoo Finance
Commodity prices are as follows (at time of submission):
Gold: $1,319.00/ounce, up by $0.60/ounce
Silver: $20.995/ounce, up by $0.079/ounce
Oil: $106.38/barrel, up by $0.21/barrel
RBOB Gas: $3.1261/gallon, up by $0.0185/gallon
Natural Gas: $4.502/MMbtu, up by $0.056/MMbtu
Copper: $3.15/pound, up by $0.0005/pound
Platinum: $1,471.60/ounce, up by $15.00/ounce
What We Are Seeing
Outside of the few deals which have been announced recently, we have not seen anything that has provided a big pop to any of the names which we follow, but we have seen a steady rise. A good number of these names had fallen out of favor with investors due to negative press, think Linn Energy, LLC (LINE) and Linn Co., LLC (LNCO), as well as those which dropped the ball and could not deliver on past promises such as EV Energy Partners, LP (NASDAQ:EVEP).
The high yields that these names were offering, all at roughly 10% not too long ago, seem to have provided a floor which allowed for support to build at those lower levels. Now that energy prices are on the rise, investors have bought in to the idea that the entities will be able to cover their distributions without further capital raises which has calmed many who were very worried after a few negative articles in major publications. The other fear that investors had, that many of these names' asset base was not as high quality as previously thought, seems to have been dispelled which should pave the way for further deals now that the veil of fear has been raised.
There are names which have performed better, but even these three have done well this year when looking at their total return. Entry points are also quite important, but even with the strong gains this past quarter we are of the opinion that there is further upside moving forward.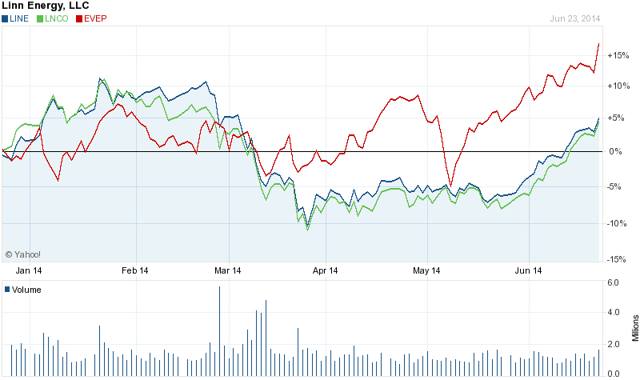 Click to enlarge
Source: Yahoo Finance
As we look for value in this market, we have found ourselves gravitating towards these names more often than not. The pipeline companies also look good, as do the companies which manage some of these MLPs. Kinder Morgan (NYSE:KMI), which we mentioned recently, has been quite strong and we would not be surprised to possibly see some deals involving them and the larger oil companies looking to slim down, such as Royal Dutch Shell (NYSE:RDS.A) (it is important to note that we are not saying between them and Shell, as that company has already announced plans for its own MLP, but companies in similar situations).
Outlook
With the names that we own in this sector personally, we have set up the dividends/distributions to reinvest rather than collecting the payment. It was painful at first as we began this process a little early, but now we are seeing the benefits of that decision. If investors are of the mindset that oil prices will remain elevated, as we do, and that there will be a continued need to build out infrastructure to help transport production from new areas then some of these names are worth a look. We would caution readers not to seek out the highest paying MLP names out there exclusively, but instead focus on buying a basket of these names with a good portion invested with management teams with track records which allow one to sleep at night.
Disclosure: The author is long EVEP. The author wrote this article themselves, and it expresses their own opinions. The author is not receiving compensation for it (other than from Seeking Alpha). The author has no business relationship with any company whose stock is mentioned in this article.
Additional disclosure: LINE & KMI have previously been recommended.