Target (NYSE:TGT) shares have suffered over the past year as the company has run into a series of issues, most notably a data breach involving 40 million credit and debit cards in December. In May, TGT CEO Gregg Steinhafel resigned amid continued fallout from the data breach. Another issue that has weighed on TGT shares of late has been its struggling Canadian operation, which recently posted a loss of $211 million for the most recent quarter, and has lost more than $1.6 billion overall since entering Canada just over a year ago. As shown by the chart below, TGT shares have reacted to the problems that the company has faced over the past year. However, I believe TGT's lower stock price has created a buying opportunity.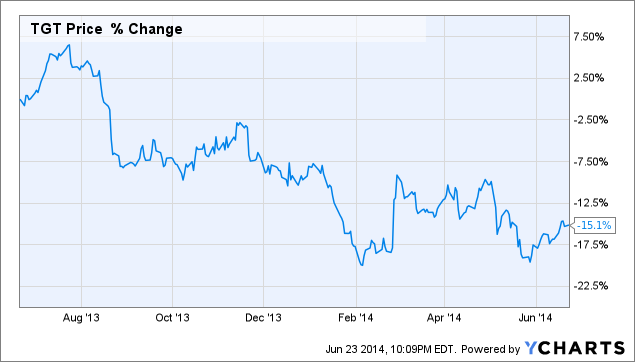 TGT data by YCharts
Valuation
TGT shares are currently trading near the middle of their historical valuation range. While this might come as a surprise given the significant issues the company has faced over the past year, TGT's valuation must be put into perspective by considering the valuation of the broader market. As the stock market has continued to advance to all-time highs, some well-known stocks are now trading at extremely high valuations relative to their historic norms, and almost all stocks are trading above the mid-point of their historical valuation range. Due to this, TGT's current valuation is more compelling than it would be in a weaker market, due to the fact that value investors have fewer alternatives.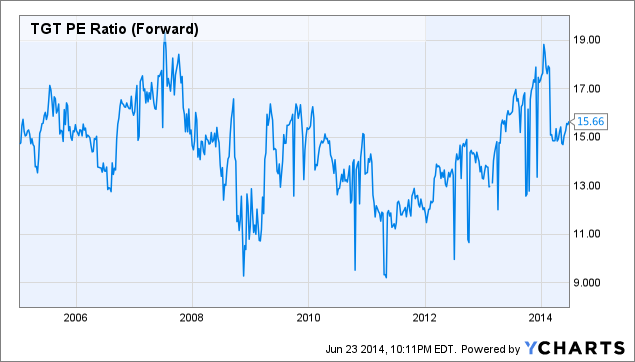 TGT PE Ratio (Forward) data by YCharts
Dividend Yield
In a somewhat surprising move, TGT recently announced a 21% increase to its dividend. The combination of a falling share price and an increasing dividend payout has increased TGT's yield to over 3.5% for the first time in more than a decade. Traditionally, as shown by the chart below, TGT has not been considered an income stock, because the dividend yield was not high enough. However, with a more than 3.5% yield, TGT is not an interesting investment for income investors. Furthermore, the extremely low interest rate environment makes TGT's 3.5% yield more attractive than would be the case in a normal interest rate environment.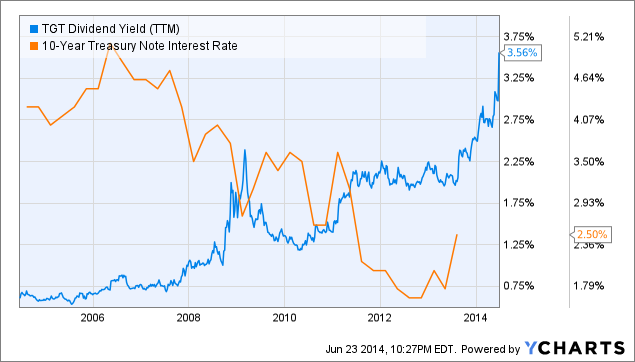 TGT Dividend Yield (TTM) data by YCharts
Conclusion
Over the past few years, there have been a number of high-profile problems that have hit well-known companies, such as BP's Deepwater Horizon spill, Boeing's faulty wiring that led to a fire on a 777 in London, and Toyota's 2011 sticky gas pedal crisis. Like TGT's data breach, these issues had an impact on company stock prices when headlines hit. However, none of these issues proved to be a long-term problem for any of the companies mentioned, and all share prices recovered. Similarly, I believe TGT is likely to recover from the data breach. TGT's reasonable valuation and high dividend yield make the stock a strong buy.
Disclosure: The author has no positions in any stocks mentioned, and no plans to initiate any positions within the next 72 hours. The author wrote this article themselves, and it expresses their own opinions. The author is not receiving compensation for it (other than from Seeking Alpha). The author has no business relationship with any company whose stock is mentioned in this article.