Note: The following in an excerpt from our weekly newsletter ETF Spotlight, which can be downloaded here.
Last week saw the end of an exceptionally strong September as well as the end of the quarter, when "window dressing" is often an issue ("window dressing" is when fund managers buy recent "winners" at the end of the quarter so that they will appear in the fund's quarterly report). This temporary and artificial demand may lead to weaker performance once the new quarter begins.
To find such potentially overbought ETFs, we ranked each ETF we cover by its Relative Strength Indicator (RSI), a simple indicator of price momentum. RSI can range between 0-100. Generally, readings approaching 70 or above imply a security is overbought (readings of less than 30 imply an oversold condition).
Our ranking of ETFs by the highest RSI is dominated by many smaller and more volatile emerging market country funds, most of which have ALTAR Scores--our rating of an ETF's overall investment merit--that are well below that of the broader iShares MSCI Emerging Markets fund (NYSEARCA:EEM). As a result these funds may be both overbought and overvalued.
The most overbought fund according to RSI is the iShares MSCI All Peru Capped fund (NYSEARCA:EPU) which is the subject of this week's Fund Focus (in the full newsletter, download here). Shares are up 33% year-to-date and are trading at 1.1% premium to Net Asset Value.
Figure : Overbought ETFs
ETFs with the highest Relative Strength Indicators (RSI, 30 day)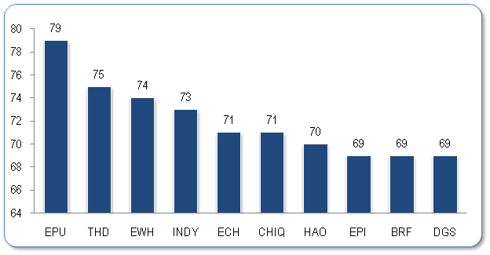 Source: Bloomberg
Table: Ticker, Fund Name & ALTAR Score of ETFs in above chart.
| | | |
| --- | --- | --- |
| Ticker | Name | ALTAR Score™ |
| EPU | iShares MSCI All Peru Capped | 5.5% |
| THD | iShares MSCI Thailand | 6.9% |
| EWH | iShares MSCI Hong Kong | 5.9% |
| INDY | iShares S&P India Nifty 50 | 7.4% |
| ECH | iShares MSCI Chile Investable | 3.3% |
| CHIQ | GlobalX China Consumer | 2.8% |
| HAO | Claymore China Small Cap ETF | 5.0% |
| EPI | WisdomTree India Earnings | 9.1% |
| BRF | Market Vector Brazil Small Cap | 6.1% |
| DGS | WisdomTree Emg. Mkts. Small Cap Dividend | 11.6% |
Source: ETF Research Center
Disclosure: No positions