Looking For Next BIDU
The most successful China stocks in the past 5 years are: BIDU, CTRP, and EDU.
Here is the chart of these three stocks compared to S&P 500 index:
click to enlarge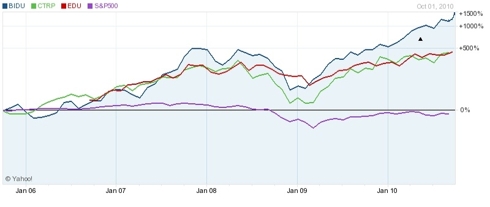 SP500 stays flat in the past 5 years while BIDU returned 1500% followed by EDU and CTRP, each of which returned almost 500%.
Although BIDU, CTRP, and EDU continue to be great Chinese companies, it is very hard for these stocks to create similar returns for investors in the next 5 years. So, my question is, who could be the next BIDU or CTRP or EDU?
After a quiet first 9 months of 2010, several new China IPOs hit the market this past summer. Among these new kids on the block, ChinaCache (NASDAQ:CCIH) and Country Style Cooking (NYSE:CCSC) attracted more investors than others, each of which returned 100%, or more than 60% from IPO prices, respectively. However, as a value investor, I am more interested in a small medical device company: China Kanghui (KH).
Andy Li wrote an excellent article on KH a couple of weeks ago. I will not repeat his investment thesis. In this article, I will analyze from a different angle why I like Kanghui the most.
One of the most important criterias for a stock's worth long term is: Noncyclical.
Different than cyclical industries, the orthopedics device industry is determined by three noncyclical factors:
Population: the larger the population, the greater the demand.
Aging: the older the whole population, the greater the demand.
Urbanization: the faster the urbanization, the greater the demand.
All of the above are happening in China. None of the above is short-term cyclical. Short-term here means 10-30 years.
Kanghui is one of the top three orthopedic implant manufacturers. The other two are Weigao (8199.hk) and Chuangsheng (0325.hk). Weigao went public in 2004 with an IPO price of HKD 0.56 and closed at HKD 22 on Sept 30, 2010, almost 4000% return in 6 years. Trauson went public this summer. Its long term performance is yet to be seen.
First, let's see whether KH has any sustainable competitive advantages.
Quality: KH is one of a few Chinese medical device companies that got OEM contracts from global medical device companies. This demonstrates the quality of KH's products. Different than other normal products, orthopedic implant products have very high requirements for quality. If you have serious quality problems, distributors would never want to sell your products because they have to be responsible for the potential problems.
Lock in Consumers: Orthopedic implants are not consumer products. I can drink a Coke today and switch to Pepsi tomorrow. Orthopedic products, however, are implanted into your body. As long as there are no quality problems, consumers will choose the same products. No one wants to have a new hole in their body to taste a new brand. Also, to learn how to use another brand takes lots of time and practice. So if consumers and doctors choose the brand, they will be with the brand forever, unless it is of very poor quality.
Barrier to entry: The distribution channel is a huge barrier in the medical device industry. For medical device manufacturers, the distribution channel they have built has even stronger power than drug companies because doctors can write prescriptions easily but cannot learn how to operate the new medical devices within one day. When you build a strong relationship with top hospitals nationwide, it is almost impossible for other small medical device manufacturers to enter.
Below is the comparison table for all the public listed Chinese medical device companies. KH now has the lowest valuation compared to its peers.
| | | | |
| --- | --- | --- | --- |
| Company | Exchange | P/E | PB |
| Weigao Holding | Hong kong | 65 | 14 |
| Trauson | Hong Kong | 20 | 2.6 |
| Mindray (NYSE:MR) | NYSE | 21 | 3.8 |
| Kanghui | NYSE | 15.6 | 2.5 |
My target price for KH in the short term is $18-20 and $30-$32 in 2 years. If you could buy this stock at $14, it would be a huge bargain price.
Disclosure: Long KH