Introduction
Splunk (NASDAQ:SPLK) shares are down 24% YTD, and for several good reasons. The big data software provider had an incredible 2013, when its stock price ran from $30 to $70 per share, but there is no doubt its valuation was, and still is very stretched.
Most of the bullish analyst notes on Splunk (the main factor in driving shares higher) focus on the opportunity in the big data market. After gauging how many billions will be made in 'big data' 5 years down the road, they assign Splunk a chunk of that market.
This flawed, but all too common analysis has led to Splunk sporting a market capitalization of ~$6.2B. As far as I can tell, this is about as bubble like as it gets. My main reasons, in no particular order, are below.
Revenue Growth is Declining Fast
In theory, the explanation for Splunk's valuation is lots of growth for many years to come. That may indeed be possible, but Splunk's revenue growth has been declining rapidly for the past 4 years.
| | | | | | |
| --- | --- | --- | --- | --- | --- |
| Year | FY 12 | FY 13 | FY 14 | FY 15 | FY 16 |
| Growth | 82.6% | 64.5% | 52.1% | 36.0%* | 32.9%* |
*projected
As Splunk matures, its growth rate is declining, as one would expect. If Splunk is unable to maintain growth above 30%, many of the high expectations placed on the company will be put in jeopardy.
Operating Income & Operating Margins Declining Dramatically
Long-term Splunk investors better hope the recent trend in the company's gross & operating margins will reverse very soon.
Splunk's operating income was ($50.10M) in Q1 of FY15 (ending April 2014). That's an operating margin of -58.3%, which is even worse than the abysmal -27.4% reported in Q1 last year. This chart from Google Finance, accurately sums up the situation.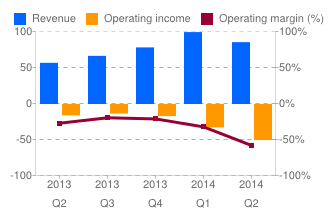 In short, the company is spending more than it's making. Operating expenses are growing significantly faster than revenue, a trend adversely affecting profitability.
Dilution, Dilution & More Dilution are Destroying Shareholder Value
Splunk's diluted shares outstanding were only 80M at the end of FY13, and increased to 105M by the end of FY14. A jump of more than 30%.
Today (as of Q1 FY 15), Splunk's share count is 117.3M. This means in just 5 quarters, a shareholder who owned 1% of Splunk at the beginning of 2013, now owns just 0.68%.
This consistent increase has been a consequence of premium employee stock option plans, and Splunk needing to raise more capital to fund growth via the equity markets.
What's even more noteworthy, and misleading, is the fact that Splunk loves to tout its cash flow every quarter (generally positive as the company receives upfront payments for multi-quarter contracts). This gives the appearance of growth, when in reality, after factoring in dilution, free cash flow per share is declining.
Valuation - Where's the Profitability??
What I find hardest to comprehend is why investors are willing to wait so patiently, at such a high price, with no profits in sight.
Below is a financial model I made with revenue projections significantly above Wall Street's. The model also assumes that revenue growth will begin outpacing OPEX growth starting next year. Meaning Splunk will have to start turning things around very, very quickly from a profitability standpoint.
Another key assumption to note is the 87% gross margin. This is well above the sub 84% gross margin Splunk reported in Q1 FY 15.
Lastly, I assumed a dramatic reduction in the pace of dilution, which has been consistently increasing the company's share count at 10-15% per year. Instead I used a much more modest <5% growth in the company's dilution share count.

Even with these generous assumptions, Splunk doesn't reach profitability on an operating basis until FY 2021, 7 years from now.
Conclusion
To make its current valuation a good investment, Splunk needs to turn dramatically profitable in the coming years. But, even with torrid revenue growth projections well above Wall Street's estimates, shares look overvalued by a significant degree.
Management will be forced to slow down its dramatically increasing operating expenses, or Splunk has no chance to report a profit.
Disclosure: The author has no positions in any stocks mentioned, and no plans to initiate any positions within the next 72 hours. The author wrote this article themselves, and it expresses their own opinions. The author is not receiving compensation for it (other than from Seeking Alpha). The author has no business relationship with any company whose stock is mentioned in this article.