As Valuentum members know, we're not big fans of the insurance industry. Still, for some companies, and one in particular, paying $0.80 for $1 is always worth considering, especially if the company is exhibiting strong pricing momentum characteristics. In this article, let's talk about the poor structural characteristics of the insurance industry and dive into the prospects of AIG (NYSE:AIG), which we consider to be a Valuentum stock (or an underpriced company that continues to go up in price).
Evaluating the Insurance Industry
The insurance industry is highly competitive, with rivals numbering in the thousands--including stock companies, specialty insurance organizations, life insurers, mutual companies, other underwriting firms, and banks. Though risk-acceptance criteria, product pricing, and service are some ways insurers can try to differentiate, we view the insurance industry as largely commoditized.
For one, most insurance products can easily be replicated by both existing peers and new entrants (at potentially value-destructive pricing), and sufficient financial strength (capital) is the only temporary barrier to entry. Any outsize economic profit opportunities will be competed away over the long haul, as capital will inevitably chase such an opportunity. Diversification across product lines and geography offer some large insurers stability, but such a strategy also exposes them to a larger variety of more complex risks.
Generally speaking, insurers are inextricably tied to the vicissitudes of the global stock and debt markets, as underwriting profitability (as measured by the combined ratio) can fluctuate wildly through the course of the economic cycle--and particularly during adverse or catastrophic events that result in large losses. In our view, the key portion of an insurer's income is generated from its investment portfolio, but these returns are largely out of the firm's control.
Under difficult economic conditions, for example, the assets held in an insurer's investment portfolio can experience rapid declines in value and performance--not only threatening the capital position of the company but also hurting consumer confidence in the sustainability of the insurer (subsequently slowing demand for its financial and insurance products)- a "not-so-glorious" cycle. An insurer is also heavily dependent on its credit ratings that are issued by the major rating agencies, and any downgrade may force it to post additional collateral payments (especially if complex derivative instruments are held on its books), potentially hurting existing and future business.
Why We Like AIG
With all of this said, we point to AIG as the highest-rated insurer on the Valuentum Buying Index at this time, with the company registering a 9 (equivalent to a "we'd consider buying" rating). Highly-rated firms on the index have strong valuation considerations and strong technical/momentum considerations. Said differently, high-VBI rated stocks are liked by a large variety of investors, and therefore, have strong valuation and pricing support.
On a fundamental level, AIG is now far-removed from its troubled past, and our fair value estimate of the insurer is nearly $70 per share. The company's shares are trading at roughly $55 at the time of this writing, and we're expecting pricing upside. AIG's board seems to agree with our view, and it recently authorized the repurchase of an additional $2 billion of shares June 5, funded in part by the completion of its sale of ILFC. Since the end of the first quarter of 2014, AIG has repurchased more than $400 million of shares, and we're very much in favor of any share buybacks completed below our fair value estimate of the firm.
Though the insurance industry is not without challenges (as outlined above), AIG is our favorite idea in the space at this time. The company's book value per share stood at $71.77 at the end of the first quarter, advancing 6% on a year-over-year basis. This equates to a price-to-book ratio of 0.77.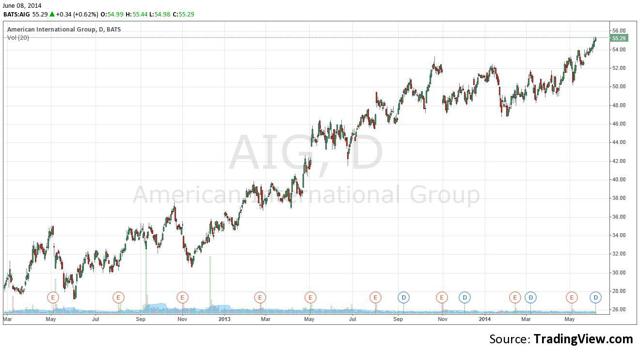 Disclosure: The author has no positions in any stocks mentioned, and no plans to initiate any positions within the next 72 hours. The author wrote this article themselves, and it expresses their own opinions. The author is not receiving compensation for it (other than from Seeking Alpha). The author has no business relationship with any company whose stock is mentioned in this article.