In my previous Netflix (NASDAQ:NFLX) article, I received quite a bit of colorful feedback. While I do appreciate reader engagement, typically I'm looking for comments that point out real material errors in the analysis, or a set of questions that are really hard to answer.
In this specific article, I'm going to answer questions from an anonymous reader, with the username omongiade. I plan to publish more content with reader feedback from now on, and I hope we as an investment community continue to engage in thoughtful dialogue in the comment section.
Do you see potential saturation in Netflix's business model over the next three to five years?
No, I'm not really worried about market saturation, as the company has many meaningful aggregate data points that work extremely well for the company.
For example, Internet users have exploded in number, and if anything Netflix's total addressable market will expand in the next five years.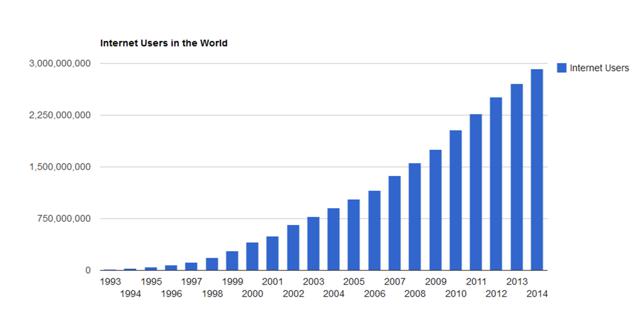 Source: Internet live stats
When I look at the statistics, user growth trends are slowing, as penetration of the Internet continues. Currently, CAGR for Internet users is 8%. Assuming user growth declines to mid-single-digits by the end of 2020, the total number of Internet users will total to 4.1 billion.
Over the next six years, Netflix's global addressable market may expand by an additional 1.2 billion people, which indicates that Netflix is nowhere near an inflection point. If you're wondering what an inflection point is, it's the point along a function, in which the convexity changes, indicating that over the intermediate term, the graph will eventually decline if it was increasing, or increase assuming the graph was decreasing. In this specific case, I have no reason to believe that Netflix's business will peak, and then decline, at least not over the next five to ten years.
Furthermore, I believe that the demand for video-on-demand services will continue to trend higher, as more and more people want to watch content on their own terms and on whatever device is available to them. It's unlikely that the current paid-content model from Comcast (NASDAQ:CMCSA) (CMCSK) and Century Link (NYSE:CTL) is sustainable, and if anything, I expect these older business models to become further antiquated, as Netflix continues to scale its business through content aggregation, and subscriber additions.
Do you foresee any potential upstaging of the current subscription model, for example a move to free content plus advertising vs. subscription with no advertising?
No, I'm highly doubtful that Netflix will go to a more inferior business model in terms of monetization. At present, the eCPM (earnings per thousand impressions) for video content is $24.60. I've heard some varying figures all over the place, but I'm going to assume the estimates made by Credit Suisse are accurate.
Per thousand impression metrics sound impressive, as they're becoming comparable to the pricing of prime-time television placement. However, let's say for example, the average Netflix subscriber watches 2-3 episodes of whatever TV show per day, for 365 days in a calendar year. On a single user, that may total to 1095 potential impressions. On those impressions, Netflix will earn $26.93 based on the going rate for video ads. When video advertising is compared to the subscription model, ads generate less revenue per user. Of course, Netflix could do what Hulu does, and offer a no-ad tier, but I don't think Netflix will cannibalize the business in that specific direction.
Furthermore, for an ad-model to work like Netflix's current paid-subscription model, the company would need to generate $96 per user, per year. That means Netflix would have to figure out a way to display 3,900 ads to the average user per year... If that's the case, the average Netflix user may be bombarded with ads every five minutes, which is ridiculously annoying, and if anything Netflix's current monetization strategy seems to scale just fine.
If Netflix switched to a content plus advertising model, the company would have limited control over pricing. In that case scenario, Netflix will have difficulty with driving top-line growth, as ad-pricing is contingent upon what different web properties are willing to charge for display/video ads. The ad-market is large, and it's hard to price yourself lower or higher than your competitors. In other words, ad-buyers know exactly what they're paying for, and can quickly identify an ad-exchange that's charging less for the same number of impressions. This exposes Netflix to market risk, which is why Netflix focuses on subscription revenue rather than ad-revenue.
What do you think will be a sustainable market mix (local/international) to achieve 10-20% net profit margins?
I modeled a 20% net profit margin because I expect back-end server costs to decline significantly over the next five to ten years. Currently, Netflix relies heavily on Amazon Web Services (NASDAQ:AMZN) for its back-end infrastructure, so falling data center costs are already reflected in the company's current gross margin.
Also, competition in the infrastructure cloud (IAAS) is intensifying between Google (NASDAQ:GOOG) (NASDAQ:GOOGL), Microsoft (NASDAQ:MSFT), and Amazon, which is resulting in a massive price war. The three firms have really impressive economic resources, and can operate at economies of scale that could just boggle the mind; furthermore, the three companies can operate at a loss, or even at razor thin margins. Therefore, I think the broader trend in falling data center costs through efficiency gains, economies of scale, and improving CPU speeds (along with better power efficiency) will result in improving gross margins for data intensive services like Facebook (NASDAQ:FB), Netflix, Hulu, and Instagram.
I think that the long-run cost curve for content is most optimized at $20-$30 billion. At this point, Netflix can afford live sport programming, movies, and television shows in very reasonable quantities. Sure, Netflix can incrementally increase the size of its content library to further establish its dominance in video-on-demand, but I think that this is where Netflix will adjust its business model for profit maximization.
I believe $20-$30 billion in content costs is reasonable because DirecTV (DTV) reports that it has spent $14 billion on content programming costs (inclusive of TV shows, and live sporting events), whereas Comcast reported $19.6 billion in programming and production costs in fiscal year 2013. I believe, that content costs will increase in the future, which is why I factor in an added $10 billion for Netflix to reach TV programming parity.
I assume that Netflix will reach $35 billion in revenue over the next five to ten years. This is where a growing subscriber base, and price increases, outpaces rising content/server costs. This is where profitability is able to reach 10-20%, as the business has reached enough scale to reduce variable costs in favor of profit maximization.
Competition will grow in the market space and the fastest way to grow internationally will be to acquire affiliates. What is your take on this?
Netflix will exhibit high growth rates, even if growth is done organically. Internationally, there aren't a whole lot of high budget film studios, which indicates that foreign film licensing shouldn't cost that much. In fact, I see tons of foreign films in the current Netflix library already, which means that Netflix's real ace-up-the sleeve comes from its Hollywood box office collection.
As a middle-man, Netflix establishes a massive secondary market for movies that debut at the box office. Now, I'm sure, you're well aware that a movie budget can easily climb into the $200 million to $1 billion range. Therefore, there's no reason to assume that Netflix can create in-house blockbuster flicks in any reasonable amounts. However, Netflix can license A LOT of content from major film studios with the $4 billion+ it's projected to spend in fiscal year 2014. Admittedly, Netflix has a mix of content that's created in-house, but they've been massive hits, so the ROI on in-house production has been high.
U.S. box office hits are a reasonable draw even to an international subscriber base. Also, many high-budget films break-even because of international movie distribution, rather than domestic, therefore it's hard to ignore Netflix's international subscriber base, and the amount of value it has to U.S. film studios.
I believe Netflix's current deals with Walt-Disney (NYSE:DIS), and other major film studios like Warner Brothers, positions Netflix to gain international subscribers.
Netflix has more subscribers than XFINITY and Amazon Prime. Netflix has been rolling out its services much quicker internationally, and has enough in-house content, plus blockbuster movies in its collection to appeal in foreign markets. It's hard to imagine pure domestic players like Comcast, or DirecTV becoming serious competition to a pure web-based platform. Furthermore, every bit of incremental revenue flows back into marketing and content. It's a superior business model because Netflix doesn't get bogged down by CAPEX spend for network build-out.
Also, Netflix can have varying levels of pricing, depending on the market. For example, in emerging markets, it's possible for Netflix to price at lower-prices, and in developed market, Netflix can price higher. The differential in pricing makes it impossible for domestic competitors to compete, and it also allows Netflix to rapidly expand its current subscriber base, and at a price that other content distribution mechanisms cannot match.
Also, in many emerging markets, the tablet is replacing the PC, so logically, Netflix is already better positioned than standard TV channels.
Conclusion
I think Netflix operates one of the best businesses in the world. Sure it trades at high P/E multiples, but it's backed by outlandish growth potential. In all actuality, the 150 million subscribers I have modeled in my previous article was too conservative as the global addressable market will exceed 4 billion by 2020.
Also, I think Netflix's business starts to become extremely profitable once it reaches $30-$40 billion in annual revenue. That's where Netflix can afford a massive content collection without impacting margins too significantly.
While competition is likely to intensify, I think that users will eventually buy a bundle of video-on-demand applications. In this case, a user may spend $80/month, but will have access to a library of content from three or four video applications. My guess is that Netflix and Amazon will be a part of that video application bundle.
Also, I believe that Netflix will continue to grow its international subscriber base, as Hollywood box office flicks have a lot of appeal in foreign markets. These films are really hard to replicate as U.S. film budgets are just breathtakingly ridiculous. Not to mention, creative talent doesn't fall out of the sky, it takes years for these film producers to perfect their craft, and by then they fetch a massive market premium. Throw in the names of A-list celebrities like Brad Pitt and Tom Cruise, and well… you can crunch the numbers, only Netflix and a couple other video-on-demand services can distribute expensive Hollywood content in emerging markets.
Disclosure: The author has no positions in any stocks mentioned, and no plans to initiate any positions within the next 72 hours. The author wrote this article themselves, and it expresses their own opinions. The author is not receiving compensation for it (other than from Seeking Alpha). The author has no business relationship with any company whose stock is mentioned in this article.