By New Deal Democrat
New home sales: mortgage now or be forever priced out?
New single family home sales reported this morning were a blowout. There's no doubt about that. Just take a look at the raw regional numbers from the Census Bureau.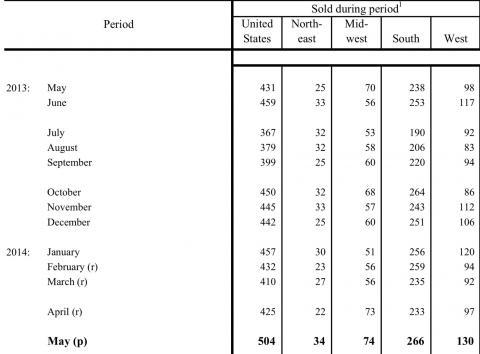 On both a monthly and a YoY basis, there were *extremely* sharp increases in 3 out of 4 regions.
So what happened to the housing slowdown?
Actually I think it is still here, although with mortgage rates lower YoY I expect it to abate (not completely) by the end of the year.
Two months ago, new home sales for March were reported as the worst new home sales report in two years; plunging -14% from February, down to 384,000. Flash forward to today, and March has been revised upward by 26,000, or nearly +7%, to 410,000.
The simple fact is that new home sales are quite volatile month to month. So are housing starts. The least volatile of the three similar indicators is housing permits. Here's a graph of permits for single family homes (blue), new home sales (red), and housing starts for single family homes (green) normed to 100 as of January 2013: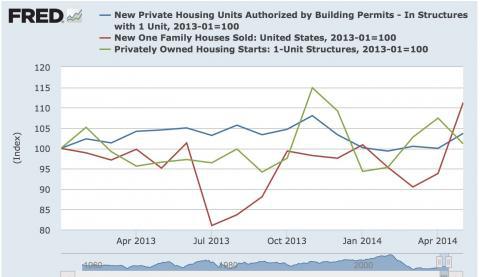 It's easy to see how comparatively volatile both starts and new home sales are. While permits for single family homes increased significantly in May, it wasn't nearly so much of an increase as sales. So a substantial revision of this month's number wouldn't be a surprise at all.
Secondly, in May,mortgage rates were at their lowest levels since June of last year, and down almost half a percent since the beginning of the year: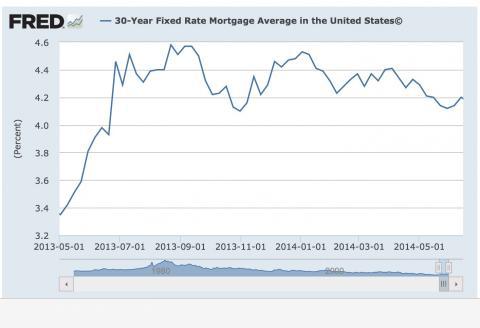 Note that the last time we had a downward spike like this was last October and November, which coincided with the highest level of housing starts and permits in this expansion.
More and more this year reminds me of the 1967-68 period, when home buyers locked in the best mortgage rates they believed would be available for a long time (they were right), and coincided with the entry of the massive Baby Boom into the market. Now it's the "echo boom" Millennials. Then the housing market levitated for an extra year, before taking a particularly hard fall in 1969-70.
Mortgage rates have backed up a bit, but I suspect we'll have another reasonably good number for single family permits in next month's report. I suspect new home sales will be closer to trend. As always, we'll see.