In my previous article on gold (NYSEARCA:GLD) and silver (NYSEARCA:SLV), I said that the precious metals face short-term pressure as there is no evidence of inflation and as safe haven buying was absent. The situation has changed since, and Iraq has become a new source of geopolitical risk, while the FED continues to be dovish. One more important fact was that the U.S. inflation rate finally penetrated the 2% mark, and came in above expectations. All of this translated into heavy demand for precious metals. Seasonality might be another factor that might contribute to the potential rally in precious metals.
Inflation picking up?
U.S. consumer price index in May was 2.1%. It was the first time since October 2012 that the CPI came in above 2%. As I said in my previous article, the inflation rate and the inflation outlook have a strong effect on precious metals, and inflation has been muted for the most part throughout the world. Although gold and silver went down once the CPI data was released, the decline was modest and was bought into in the next couple of days. The initial reaction was bad because CPI is now above the 2% target, which the FED is monitoring, and could cause an interest rate hike earlier than it was previously anticipated. However, it is evident that higher inflation would translate into higher prices for precious metals, as can be seen in previous years (see chart below). And FED Chairwoman Janet Yellen indicated that it will keep interest rates low for a long time, which contributed to the rally.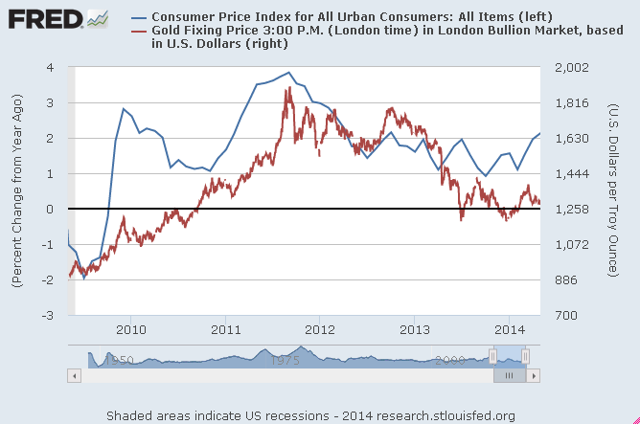 Source: Federal Reserve Bank Of St. Louis
Safe haven buying
Another contributing factor to the precious metals advance was safe haven buying. The tensions in Iraq have boosted demand for gold and silver, and if the situation persists, it will certainly have an effect on further demand for precious metals. The rumors of the potential U.S. involvement in Iraq sent the general market down and precious metals up on Thursday and President Obama announced later in the day that the U.S. will send 300 military advisers to Iraq, and could authorize targeted military action if necessary. In addition to Iraq, there are other issues that could surface or resurface soon (Russia and Ukraine conflict, China-Vietnam and China-Japan territorial conflicts). All of these potential conflicts and escalations are going to be a catalyst for precious metals going forward, and if inflation picks up additionally, the rally could become stronger.
Seasonality - a summer rally for gold?
Another contributing factor to a potential rally in precious metals is seasonality. Summer is the strongest season for gold, as you can see the 30-year seasonality chart below. The second part of the year is usually the best period to be long gold. If the above mentioned factors continue to be positive for precious metals, the seasonality too supports the bull case for gold in the next couple of months.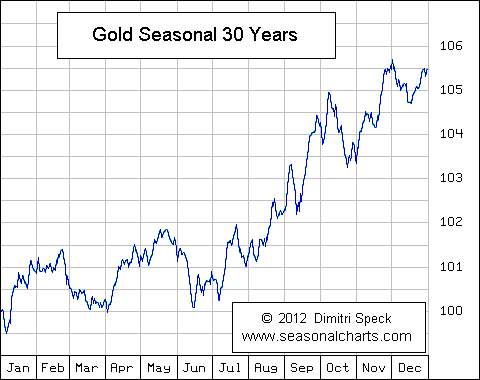 Source: Seasonalcharts.com
Conclusion
The situation has changed significantly for precious metals in the last couple of days. The inflation rate "broke out" to the highest level since October 2012 and might be an important contributing factor for higher gold and silver prices in the next couple of months. The geopolitical issues might also push precious metals higher on safe haven demand. These two factors might be enough to create a sustainable rally in precious metals, and gold's seasonality pattern also indicates that we might be entering a positive period.
Disclosure: The author has no positions in any stocks mentioned, and no plans to initiate any positions within the next 72 hours. The author wrote this article themselves, and it expresses their own opinions. The author is not receiving compensation for it (other than from Seeking Alpha). The author has no business relationship with any company whose stock is mentioned in this article.