by Jack Barnes
As of Friday, gold was trading above $1,300 per ounce for the fourth consecutive day, which means the break out in the price of gold in U.S. dollars is still going strong. Gold prices are setting nominal new highs regularly, but are still actually below their record high if adjusted for inflation.

I love this kind of a sweet spot in a bull market move. You know that it's blue skies in nominal terms, but you also know that you are not yet being too greedy. That is, the upswing is still within the limits of the market's last bullish move.

This would be like buying a stock that is trading significantly below its all-time high price, but with better fundamentals.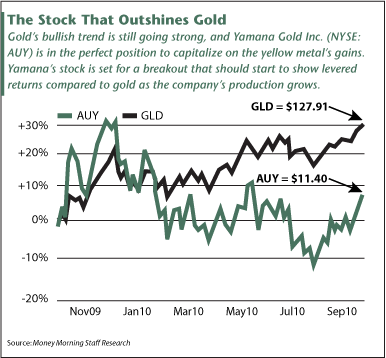 Incidentally, Yamana Gold Inc. (NYSE: AUY) - the smallest of the large cap international gold producers - is the perfect example of just such an opportunity.

Yamana currently has production from six locations across Argentina, Brazil, and Chile, with an additional three projects in development including a new project in Mexico that's set to be put into commercial production.

The company produced gold at an average cost of $180 per ounce in the first half of 2010. This extremely low cost of production has allowed Yamana to reinvest in the company for shareholder asset growth.

Yamana is focused on growing production organically without taking on major debt loads, or large dilutive events. In fact, Yamana is so focused on keeping growth costs under control the company is projecting 100% organic growth this year.

Yamana is currently estimating a production run rate of over 1 million net ounces in 2010, with production growing to 1.5 million ounces per year by the end of 2012. It is producing this kind of growth internally, while only showing a little over $250 million in net debt and no expectation of that climbing.

The company is currently budgeting over $80 million dollars in exploration costs. This budget is spread across both production and development projects in its portfolio, diversifying any risk. In fact, with a portfolio as large as Yamana's, I would expect to see this budget grow in the coming years.

In the hard economic crisis days of 2008-2009, Yamana grew revenue by 25%, adjusted earnings by 23%, and operating cash flow by 21%. It has also been growing the total reserves and resources of the company.

Today, the company has more than 7.3 million ounces of proven reserves, and probable reserves of an additional 10 million ounces.

Just to review what makes Yamana a "Buy" at current market prices...

It's producing gold at an average cost of $180 per ounce.
It projects organic growth of 50% over the next two and a half years.
It has diversified production locations.
It's nearly debt free, compared to its market capitalization.
Its stock is currently trading at 2006 prices.
Yamana's stock is set for a breakout that should start to show levered returns compared to gold as the company's production grows.
Action to Take:
Buy Yamana Gold Inc. The current underperformance in the market should give us a great entry on a long-term holding. Let's buy 50% of our AUY position right now at the market; we'll hold back the rest of our intended purchase in cash, until we see a pullback from these prices. That will give us a chance to lower our cost basis.
However, if you are an aggressive gold investor, I would purchase one half of your total intended position in 2013 LEAP "calls" on AUY with a strike of $12.50. They were recently trading around $2.00. This will give you a long-term, highly leveraged trade on the future price of gold, with no margin risk downside.
Yamana has shown that it can grow its production organically, while keeping its cost per gold equivalent ounce at the lowest end of the large-cap producer spectrum. Yamana is poised to increase its production per year by 50% over the next two and a half years. This will increase the leverage the stock has to the price of gold, during what is expected to be a blue-sky period for the yellow metal.
Original Post
Disclosure: Jack Barnes holds no interest in AUY at the time this article was published.
Disclaimer: Money Morning and Stansberry & Associates Investment Research are separate companies, and entirely distinct. Their only common thread is a shared parent company, Agora Inc. Agora Inc. was named in the suit by the SEC and was exonerated by the court, and thus dropped from the case. Stansberry & Associates was found civilly liable for a matter that dealt with one writer's report on a company. The action was not a criminal matter. The case is still on appeal, and no final decision has been made.