CVS Caremark Corp (NYSE:CVS) and Walgreens (WAG) are the two largest retail pharmacies in the United States; CVS also provides pharmacy services. The two companies dominate the national pharmacy retail industry with more than 16,000 total outlets. Both companies promise rapid growth in the coming years on the back of new programs, expansions, and tailwinds from an aging US population. However, they differ in their approach to growth. In this article I will compare the two companies from an investing point of view and give reasons why CVS Caremark could be the better choice when deciding to invest in a healthcare retailer.
Comparing the Operational Efficiency of CVS and Walgreens
CVS has been able to build up its sales more consistently than Walgreens. CVS's internal operations have been more efficient as well, earning the company better operating margins than Walgreens. I have summarized below the sales and margins of the two companies over the last three years and have also included the data from the latest quarters.

Source: Financials of CVS Caremark and Walgreens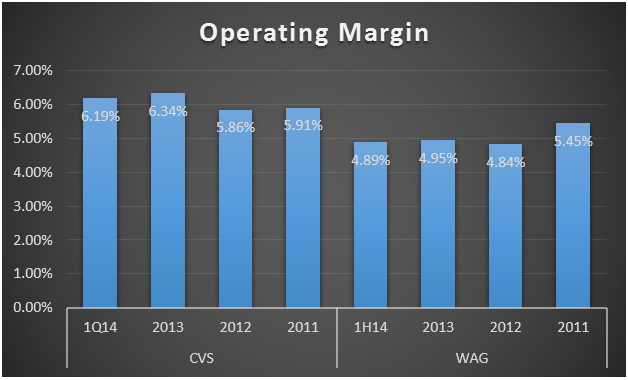 CVS was able to improve its operating margins in the last three years lifting them to over 6% while Walgreens' operating margins dropped to below 5% despite much superior gross margins.
CVS is Enriching its Brand and Enhancing its Service Portfolio
CVS is in the process of developing a range of healthcare services that are valuable to customers thus enabling the company to become much more than just a retail pharmacy. CVS has started Minute Clinics a service that houses a physician within the store for counseling on diagnoses most commonly observed in retail clinics. This is a handy service for customers as no appointment is needed with the in-store physician. It also addresses the growing shortage of primary care physicians in the US, estimated to reach 45,000 by 2020. CVS's 800 Minute Clinics comprises a small portion of the net revenues but the company plans to rapidly expand the service targeting 1,500 locations by 2017.
CVS has expanded on its specialty infusion services by acquiring Coram LLC in January 2014 to cash in on rapid growth in specialty medication. The company expects specialty pharmacy expenditure to increase from $92 billion in 2012 to $235 billion by 2018.
A new service named TeleHealth is being piloted in 28MinuteClinics in Los Angeles, San Diego and Orange County, California. TeleHealth aims to lower the healthcare costs for customers using sophisticated video technology and audio equipment.
In February 2014, CVS announced it would stop selling tobacco products in its outlets by October of 2014, mentioning that it was inconsistent with the company's purpose. Considering that the move will result in an annual loss of $2 billion in revenue to the company one can easily see what CVS is ready to sacrifice in its mission to build a strong national healthcare brand. Initiating the anti-tobacco stance will help to establish CVS as an industry leader and will put pressure on competitors like Walgreens to follow suit.
So, CVS is transforming its pharmacy retail business from merely dispensing prescriptions to also providing a range of services including vaccination, counselling on drug therapies, and enhancing access to care. The company is adding new services to its portfolio and expanding the existing ones. CVS is truly developing into a "pharmacy innovation company", as it claims. Walgreens lags far behind CVS in the areas of innovation and focus on health services.
CVS is Smartly Allocating its Capital
CVS is investing its free cash to transform itself into a leading national provider of medication and related services. It is making acquisitions that are consistent with this aim and expanding its services portfolio. It has extended its foothold to outside of the US in the form of a small acquisition in the lucrative Brazilian market where pharmacy and healthcare are expected to grow doubledigits over the next decade. However, the company remains focused on becoming stronger in its key market, the US.
The strategy of accruing less capital-intensive and more value-adding investments allows CVS to continue rewarding its shareholders in the form of dividends and share repurchases. The company was able to return $5 billion to shareholders in FY13 including $4 billion share repurchases. Another $4 billion repurchases are planned for FY14. The company plans to raise its dividend payout ratio from its current 25% to 35% by 2018.
On the other hand, Walgreens acquired a 45% stake in the British network of retail pharmacy, Alliance Boots in Aug 2012 for $6.7 billion. While the company expects big savings from synergies with Alliance Boots, the move dried up share repurchases in 2013. Walgreens purchased shares worth $1.78 billion in FY11 and $1.15 billion in FY12 compared to none in FY13. As the company prepares resources to buy out the remaining 55% of Alliance Boots investors can expect the pressure on repurchases to continue for some time in the future.
Overall, CVS seems more clear and consistent about what it wants to do with its financial resources and this has resulted in continuous growth for the company and rewards for shareholders.
Concluding Remarks
CVS and Walgreens are expected to show strong double-digit EPS growth in the next few years, but differ in their strategies of achieving growth. CVS is focusing on its current markets, creating new services, and improving its operations to increase sales and profits while Walgreens eyes foreign markets for expansion. Currently, CVS is trading at a P/E of 19.6x and Walgreens at 26x. In my opinion, CVS is more attractive at its present rates due to its more efficient operations, expanding services portfolio, sustainable growth, consistent shareholder reward, and cheaper valuation.
Disclosure: The author has no positions in any stocks mentioned, and no plans to initiate any positions within the next 72 hours.
Business relationship disclosure: The article has been written by APEX Financial Consultants. This article was written by one of our research analysts. APEX Financial Consultants is not receiving compensation for this article (other than from Seeking Alpha). APEX Financial Consultants has no business relationship with any company whose stock is mentioned in this article