While statistics don't lie, they can be presented in a way that is further from the truth. Picking and choosing what statistics you want to pay attention to doesn't necessarily provide you with the best information to make investment decisions. I recently read an article by Mark Hibben stating "Why iPhone 6 Won't Reverse Apple's Market Share Decline." I am inclined to counter his argument because his analysis doesn't look at the big picture of Apple's (NASDAQ:AAPL) growth compared to its positions in the overall smartphone market.
Android's hyper growth
Mark argues that iPhone market share will continue to slip as the Google (NASDAQ:GOOG) Android platform continues to outgrow Apple's iPhone. That's true, until you dig deeper into what's causing it.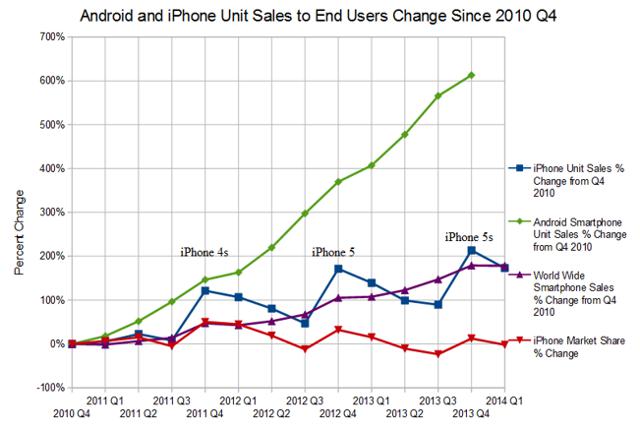 Source: Mark Hibben's article
If you look at the breakdown by smartphone vendors, you'll see that Apple is defending its industry position very well overall. Android mostly took the marketshare of Nokia (NYSE:NOK) and BlackBerry Ltd. (NASDAQ:BBRY), the latter of which used to dominate the early smartphone market. Apple is not losing its grip on the smartphone market; Android is just eating everyone else's marketshare besides Apple. Apple's loyalty retention rate is also vastly superior to any other platform.
The problem with marketshare data is that some analysts only compared iOS and Android. That will make it seem like Apple lost most of their market share to Android over the years but it's simply not true. Android's growth didn't seem to affect Apple's growth at all. In fact, with the overall market still rapidly expanding, there's no reason to think it's a zero sum game besides being in matured market like the U.S. Most of Android's growth is in new markets, not matured ones.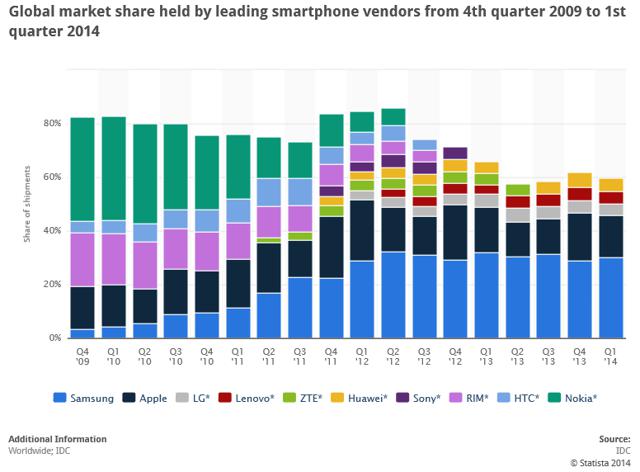 It's also important to note that most of Android platform's growth is in the mid- and low-end markets. No one will cross shop a $650 iPhone 5S with a $250 Android phone. They're in the same market but definitely not the same segment. That's like saying someone shopping for Mercedes E class might cross shop for a Honda Civic; it simply won't happen.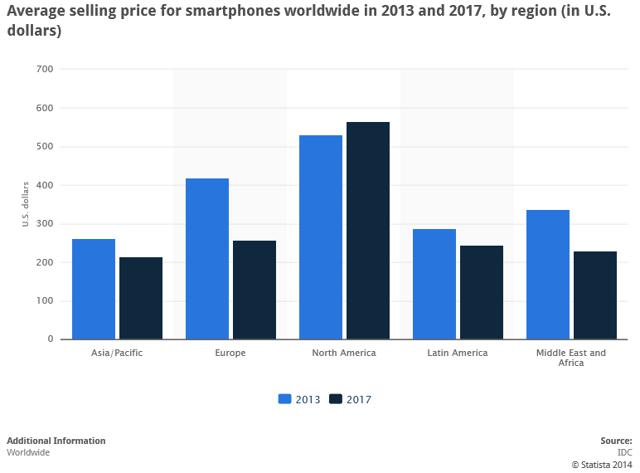 It's a known fact that the North American market buys mainly high-end phones, especially the iPhone. Apple only sells high end phones: Apple doesn't lower its iPhone prices until it comes out with a newer generation iPhone. That being said, you can see that the only region expected to see ASP increasing in the future is the North American market, where it has the highest concentration of iPhones. Apple currently has over 40% market share in the U.S. market, making up most of the North American market.
It is not a coincidence that the only market to increase its smartphone ASP is the North American market. It is mainly because many expect Apple to raise its prices of the upcoming iPhone 6 and beyond. Apple owns over 41% of the market but all of their phones are high-end. That means most of the high-end market is dominated by Apple. Any reasonable analyst would conclude that Apple is doing very well despite Android's rapid growth in overall numbers.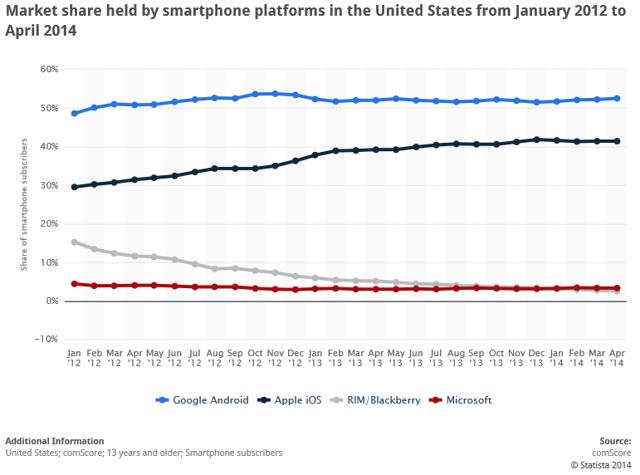 The declining growth
Mark went on to argue that the iPhone's YoY unit sales are steadily declining. But don't be fooled by the sales numbers that have ballooned over years of compounding growth. While the YoY and QoQ numbers may be increasing, the overall percentage would naturally decrease. This is just the difference in how nominal growth and percentage growth works. There's a limited population and market so therefore, there's a limit to growth rate as it reaches saturation. Those two reasons alone explain why those % changes are declining. Let's look at actual sales numbers to see if growth is a problem.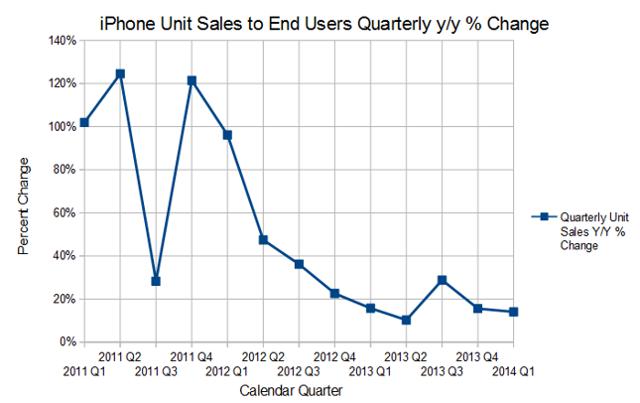 Source: Mark Hibben's article
From 2007 to Q2 2014, Apple iPhone's growth is clearly not a problem. iPhone sales have been steadily increasing with every new generation of iPhones. The only difference is that there tends to be more spikes on new iPhone generations due to the "gotta have it" hype. This need to have the newest iPhone right away has only magnified globally since Apple is very well known brand throughout the world now.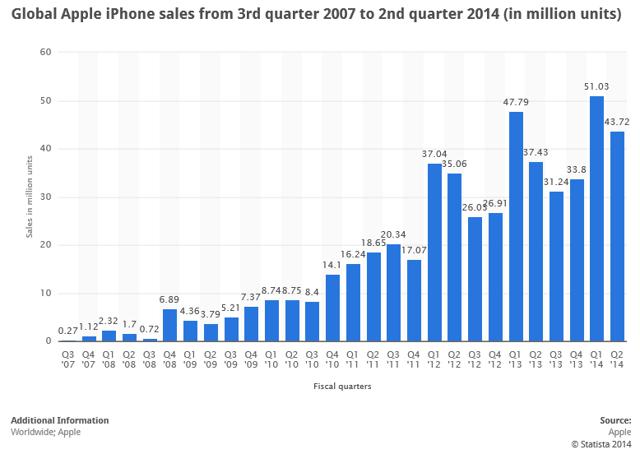 iPhone 6 will break sales records
Mark's final argument is that there's uncertainty about Apple's future iPhone. According to recent surveys, there's plenty of enthusiasm about the next iPhone 6, even much higher than iPhone 5 & 5S. The iPhone 5 & 5S seem to do quite well even though there wasn't as much excitement surrounding purchasing them immediately. Comparing the chart below and matching it with the sales data above, I conclude that iPhone 6 would break all kinds of sales records later this year.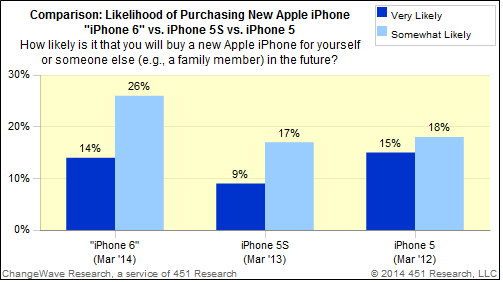 Final thoughts
There's more than one way to assess sales growth. Simply looking at a percentage change without looking at nominal change is foolish. Apple is a blue chip stock and arguably the largest business in the world, depending on what metric you use. Companies of this size normally don't get the same kind of consistent growth that Apple does.
The iPhone 6 will do great if historical trends and surveys are accurate in forecasting future demands. As far as I can tell, ChangeWave Research surveys correlate to actual iPhone sales growth. The iPhone's sales will continue to increase with the iPhone 6. Android can dominate the low end where profit is smaller. In the end, Apple and its shareholders only care about profits.
Disclosure: The author has no positions in any stocks mentioned, but may initiate a long position in AAPL over the next 72 hours. The author wrote this article themselves, and it expresses their own opinions. The author is not receiving compensation for it (other than from Seeking Alpha). The author has no business relationship with any company whose stock is mentioned in this article.
Additional disclosure: I own AAPL call options.