Gold's movement over the last few weeks has remained encouraging, with the metal heading towards the first back-to-back quarterly gain since 2011. We believe that a short-term rally in gold is imminent, which may take gold close to $1500 an ounce.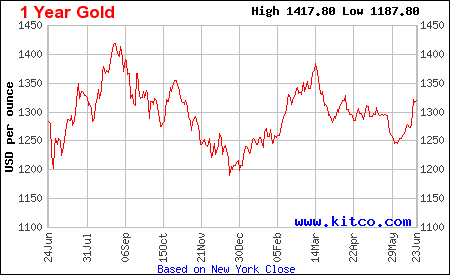 Gold Undergoing a Bear Phase
Given that the U.S. is entering into a monetary tightening cycle with the Fed rolling back stimulus as the economy continues to strengthen, we strongly believe that the long-term outlook for gold is negative. Although it is almost impossible to keep the inflationary pressure in check over a longer period of time and gold's bull phase will certainly come back again at some time in the future, for the next few years gold is expected to move in a trading range. The Dow to Gold ratio that is currently hovering around 13 has enough room to expand in the coming months and years, given the upbeat global macro outlook. We expect that interest rates will also begin to rise at some point in the near future, which is also bearish for gold.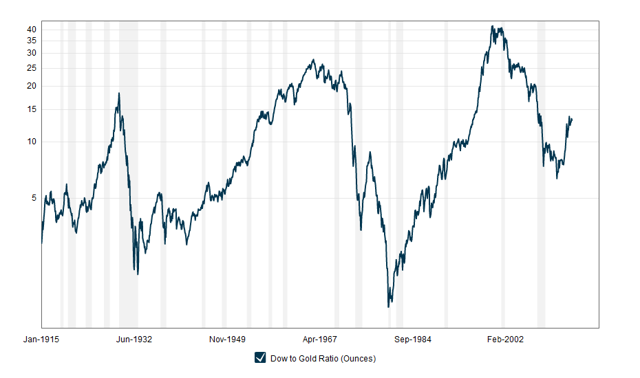 Source: Macrotrends
Bullish Short-Term Outlook
In the short term, however, we believe that gold might see a dead cat bounce close to $1500. We believe that the expected rally in gold will be supported by the following three factors:
Although China overtook India as the largest gold consumer last year, Bloomberg reported a few days ago that the new government in India is expected to cut the 10% import tax in July and relax the existing 20:80 rule favoring Indian gold importers, which will boost the country's demand for the yellow metal.
The continuing violence in Iraq and tension in Ukraine will support higher gold prices along with many other commodities such as crude oil and copper.
The U.S. inflation rate is inching towards eighteen-month high, which will act as a catalyst to boost gold prices.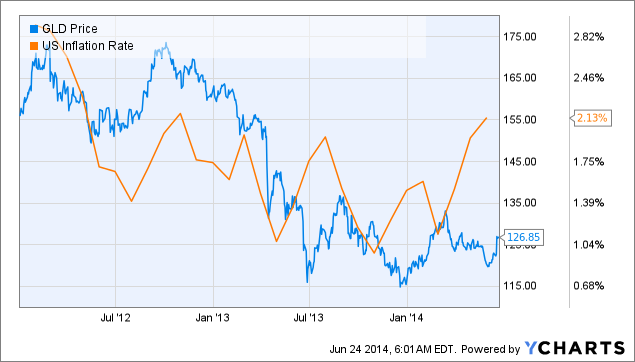 Can the Rally Sustain?
For the rally to sustain, gold needs to trade above $1500 consistently. However, the chance is almost zero. In April last year, gold crashed due to heavy selling by exchange-traded funds, with more than $1 billion alone flowed out of the world's largest gold ETF, the SPDR Gold Trust (NYSEARCA:GLD) in one day, reported The Wall Street Journal. We believe that ETF selling is not over yet, and the funds will sell again if a good price point materializes.
Moreover, according to the World Gold Council, central banks are buying gold at a slower rate, which won't be able to support higher prices for the metal, either. Goldman Sachs believes that gold will end the current year at $1050. However, we don't believe that gold will breach $1200 at the downside this year, although that is a possibility in future. According to Goldman Sachs:
It would require a significant sustained slowdown in U.S. growth for us to revisit our expectation for lower gold prices over the next two years. While further escalation in tensions could support gold prices, we expect a sequential acceleration in both U.S. and Chinese activity, and hence for gold prices to decline.
Final Thoughts
Rising demand for gold in China and India is expected to provide a floor to the metal's price. However, we don't think that rising Asian demand alone can result in a gold bull market anew. The metal will see a sustained and perhaps boring consolidation going forward.
Business relationship disclosure: The article has been written by a BB Research commodity analyst. BB Research is not receiving compensation for it (other than from Seeking Alpha). BB Research has no business relationship with any company whose stock is mentioned in this article.
Disclosure: The author has no positions in any stocks mentioned, and no plans to initiate any positions within the next 72 hours. The author wrote this article themselves, and it expresses their own opinions. The author is not receiving compensation for it (other than from Seeking Alpha). The author has no business relationship with any company whose stock is mentioned in this article.