In less than a week, the first half of 2014 will be over. Yes, 2015 will be closer to us than 2013, so time surely does fly. When it comes to the second half of the calendar year, the most discussed name will certainly be Apple (NASDAQ:AAPL). The tech giant will be in the spotlight as it releases the next iPhone, iPad, and perhaps an iWatch.
While the next few weeks may be quiet, things are about to really heat up for Apple. Recently, however, Apple shares had been racing to new yearly highs, and it was frustrating those looking to buy Apple shares. Well, Apple has pulled back nearly $5 from its recent high. While that pullback doesn't seem like much, it would have been a pullback of more than $33 had Apple not split. Apple shares have pulled back, and that may be a good thing ahead of Apple's most wonderful time of the year.
Production of the iPhone starting:
If Apple is going to launch new iPhones over the next couple of months, it seems obvious that production has to start soon. Well, it appears that production could start in July. Foxconn appears to be hiring 100K workers to help with the iPhone's production ramp. Pegatron is also rumored to be increasing iPhone hiring. Bloomberg has stated that mass production will begin in July, with a potential launch for both a 4.7 inch phone and 5.5 inch phone in September.
I detailed in a previous Apple article how some rumors claimed an August launch would occur for at least one of the phones, perhaps the smaller screen one. At this point, I think investors would be wise to consider an August launch highly unlikely. We know how Apple has been production constrained in recent years at product launches. In that case, why launch in August where production will be very constrained? September seems more logical, has been the launch period in recent years, and also gives Apple more time to work out a potential price raise with carriers. We expect the new phones to be more expensive to build, and a new form factor phone always dings gross margins upfront. Apple may not be able to get a $100 per phone raise as was rumored at times, but you figure any raise will help to offset the gross margin hit at least a little. Apple just has to be careful to not raise prices too much, because at some point more sales will be lost than will be made up with the higher price. What that breaking point is nobody knows.
The latest iWatch rumors:
When it comes to Apple, everyone has been waiting for the next big thing. It's been a couple of years since the iPad launched, and now everyone believes the iWatch will be next. Reuters has recently reported that iWatch production will start in July and that a launch could come as soon as October. If Apple does launch a smartwatch later this year, it would most likely become one of the holiday season's most wanted items.
The interesting part of the link above is that it says Apple reportedly expects about 50 million shipments in the first year of availability. As a comparison, Apple sold about 148 million iPhones in fiscal 2013, and perhaps 180 million could be sold in fiscal 2014. Especially with a completely new product, you would think demand would outpace supply at first, so a large portion of those sales could come after the quarter in which the device is launched.
Does that 50 million number seem possible? Well, I think that analysts may be a bit more conservative in their thoughts at this point. At $200 a watch, and that price itself is speculative, 50 million sales would equal about $10 billion in revenue. Right now, current analyst estimates call for Apple revenues to increase by about $12.5 billion in fiscal 2015. If Apple were to generate an extra $10 billion alone from a watch, you would think that the rest of the company would generate more than a $2.5 billion revenue increase. It seems logical that fiscal 2015 estimates will change in a big way once we get more clarity on both the iPhone and iWatch.
Is fiscal Q3 a throwaway quarter?
It seems as if we ask this question almost every year. Apple bulls are likely to say yes as we get closer to the iPhone launch. If Apple sales in June, for instance, are a little light, it may just be due to consumers waiting for the next phone. With no major product launches, Q3 is expected to be the lightest quarter of the year for Apple, in terms of both revenues and earnings. Also, if Apple misses on the iPhone because 5C sales tailed off by 100k units in June, will it really matter? In terms of revenues, that's basically a rounding error for Apple. I know some Apple bears that would tell you that Apple is done if this scenario happens, but I wouldn't be worried unless Apple has a much larger miss.
So there are two key points to discuss here. The first is results versus guidance. What if Apple misses by say half a billion on revenues for Q3, but fiscal Q4 guidance is half a billion ahead of estimates? In that case, I would think the street would be a little more sympathetic to Apple's cause. Likewise, a beat with lower than expected guidance should be taken in a more bearish light. Although, with Apple being known for conservative guidance, we'll have to see how things play out.
The other key point is implied investor expectations. Going into the fiscal Q2 report, Apple closed at a split adjusted $74.55. Shares are now more than $15 higher than that. Additionally, after last quarter's huge beat, analysts are looking for $37.82 billion in revenues for Q3. That is at the upper end of Apple's $36 billion to $38 billion guidance range. Apple could report $37.80 billion in revenues, well within its range and towards the upper end, and it would still be a miss. Additionally, with shares near their 52-week high, investors will be most likely expecting a beat. If Apple gets to $95 or even $100 into earnings, those expectations will then be looking for a significant beat.
July - a month to rally?
In the last five years, July has been a great month to hold shares of Apple. In the table below, I've detailed how Apple performed during the month each year. These prices are not split adjusted.

Obviously, past performances are not always indicative of future results. However, you have to wonder if this pattern is due to increased optimism over new products, especially the iPhone. Last July, Apple did not report a spectacular quarter, and guidance was marginal at best. Apple did buy back a decent amount of stock, which made some think a floor was being set. We saw that at $500 back in February, and shares have rallied strongly since.
Also, the chances of Apple rising in July 2014 will be a bit higher if shares enter the month at $90, or perhaps lower, instead of $95. As you can see in the chart below, Apple shares have pulled back off their highs recently. That will allow the company to buy back shares at a lower price, and it gives those looking at the dividend a higher yield. A few points doesn't seem like a pullback, but if Apple hadn't split, you'd be talking about $33 or so.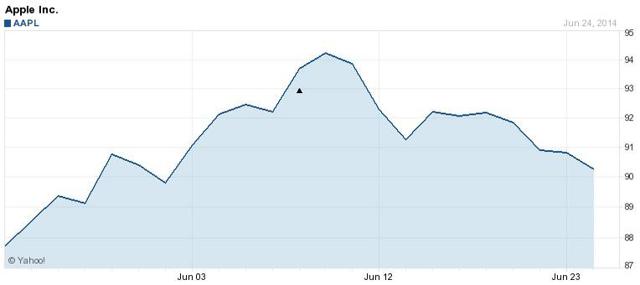 Click to enlarge
(Source: Yahoo! Finance)
Final thoughts:
Now that the first half of 2014 is coming to a close, the most exciting time of Apple's year is approaching. New iPhones should be here in a couple of months, and perhaps an iWatch is coming too. The debate over a throwaway Q3 will rage on, but I think guidance should be more important unless there is a major Q3 surprise. Now that Apple has started to pull back, those looking to get into Apple ahead of these product launches have an opportunity in front of them. July has been a good month for Apple shares in recent years, and if Apple drops below $90 by the end of June, it could set up the seventh month of the year for gains once again.
Disclosure: The author has no positions in any stocks mentioned, and no plans to initiate any positions within the next 72 hours. The author wrote this article themselves, and it expresses their own opinions. The author is not receiving compensation for it (other than from Seeking Alpha). The author has no business relationship with any company whose stock is mentioned in this article.
Additional disclosure: Investors are always reminded that before making any investment, you should do your own proper due diligence on any name directly or indirectly mentioned in this article. Investors should also consider seeking advice from a broker or financial adviser before making any investment decisions. Any material in this article should be considered general information, and not relied on as a formal investment recommendation.