We moved down yesterday. Today we have some bright news on the economic front. The nation's economic stress eased slightly in August thanks to lower foreclosure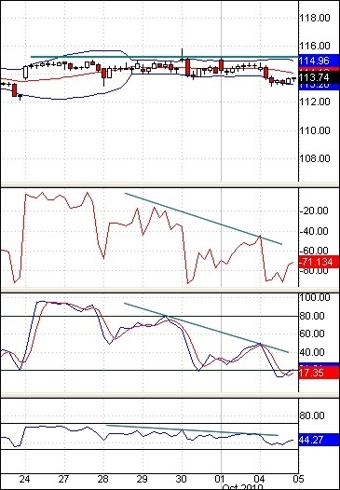 rates in the hardest-hit states, according to The Associated Press' monthly analysis of conditions around the country.
But the improvement was meager, and it added to evidence of sluggish economic growth. Even the dip in foreclosure rates resulted mainly from lenders delaying foreclosure proceedings rather than an improved housing market. Unemployment rates ticked up slightly, and bankruptcy rates remained unchanged.
The yen was reduced in value, so the markets went up over night. Look for our markets to open higher because of it.
We have news before the bell to watch. Activity at service-oriented companies, the nation's predominant job generator, likely kept growing at a sluggish pace in September. So if this goes down, we could have another slow day.
Disclosure: no position