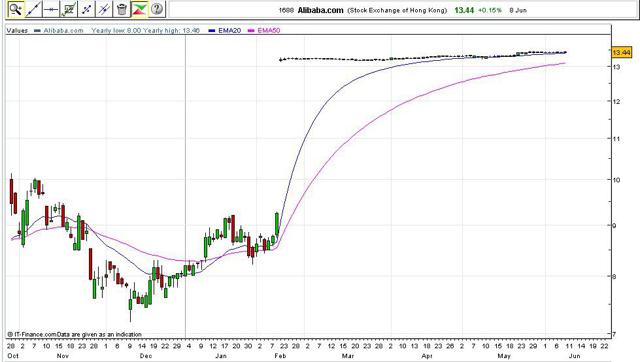 Alibaba (ABABA) (HKG: 1688) is looking to debut in the US market on 8 August 2014. The Chinese company is a global leader headquartered in the outskirts of Hangzhou, Zheijiang. Alibaba Technology Company Limited would like to have the US ticker (NYSE:BABA), which has a double meaning in Chinese - Fortune and 8. The founders of this technology company include Joe Tsai and Jack Ma. The CEO is Jonathan Lu and the Chief Operating Officer is Daniel Zhang. The company also has a 9-member board of directors and 4 of them are independent. These include Michael Evans (formerly of Goldman Sachs), Jerry Yang (co-founder of Yahoo), Chee Hwa Tung (Chief Executive Officer of Hong Kong) and Walter T.M. Kwauk (consultant with Motorola Solutions).
However the expected IPO may be pushed back to September if market conditions are unfavorable. The reason that the Chinese were pushing for August 8, is the date is associated with good fortune - precisely what they seek with the Alibaba IPO. It is estimated that this IPO may indeed be the biggest ever in the history of the US, with a float size of $20 billion. The estimated value of this e-commerce giant is $168 billion. To attract the kind of media attention and investment that it needs, Alibaba will need to reel in some of the biggest players in the US market. This is the only way for them to attract billions of dollars in investment. It is not clear if Alibaba will receive the ticker BABA, but they may be considering others like ALBB.
Alibaba a VIE Company
During the summer months in the US, many fund managers take their vacations, and trading volumes typically quiet down. History suggests that August may indeed be a good time for Alibaba to list, since both Petroleo Brasileiro and Google listed in August. There is a feeling among investors that the variable interest entity used by Alibaba may be a cause for concern. There are many inherent risks with these types of companies, as complicated legal frameworks are put in place linking foreign investors to Chinese companies. US investors are worried that Chinese courts may not uphold contracts entered into with foreign investors. Many big Chinese Internet companies are based in tax-exempt locales such as the Cayman Islands, to avoid restrictions on accessing foreign capital. Reports suggest that revenue streams grown through the Alibaba variable interest entities make up 12% of total sales for the year ending March 2014.
Investors have also been apprised of the risk profile they face by investing in the VIE structure. It is important to review the terms and conditions of such frameworks since specific Internet businesses, including online information services, are bound by Chinese laws. According to the terms of Chinese law, foreign investors are only permitted to own less than 50% of the equity interests in these types of providers. This subject matter has been extensively reviewed by Congress 14 years ago. The Sino/US trading economic relationship seeks to provide a greater degree of transparency and understanding as to the working relationship between these nations. By reducing or eliminating the risks associated with variable interest entities on the Chinese Internet market, it is more likely that the IPO will be a success.
About Alibaba
Alibaba controls an estimated 80% of e-commerce in China. The SEC filing comes 2 months after the company's registration statement. The concern for investors is that there appears to be a lack of disclosure; this sentiment is shared by regulators too. For example, the most important elements of the initial public stock offering include information on which US exchanges the shares will trade on, the volume of the offering and the share price of the offering. Shareholders at Yahoo (NASDAQ:YHOO) were a little shaken when the filing on Monday, 16 June was made public. Yahoo owns a 22.6% stake in the Chinese e-commerce company, but shares dropped almost 6% on the back of concerns that Alibaba profit margins may diminish further. According to reports, fourth-quarter revenues spiked to $1.9 billion - 39% up, while earnings rose to $884 million - 31% up. The concern comes from the fact that marketing costs have reduced profits from 51.3% to 45.3%. Once the IPO goes off, Yahoo will likely sell an estimated 9% of its stake in Alibaba and it will hope to realize up to $15 billion in the process.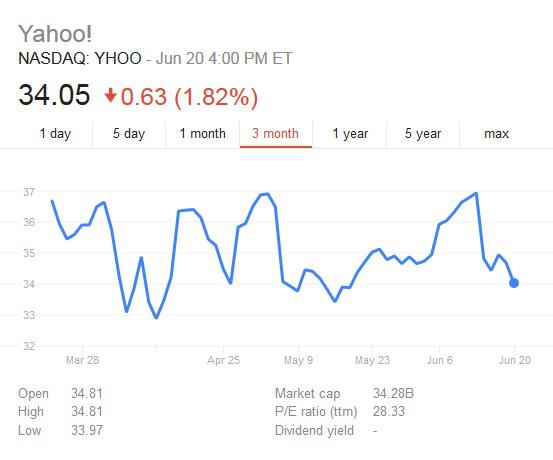 Why the Alibaba IPO is Important
Alibaba is part of a powerful network and the company is still in its infancy stages. The fact that Alibaba is part of such a massive network is a definite advantage to investors. Banc De Binary believes that the Chinese e-commerce industry is in its early stages and there's plenty of growth potential. Since the retail market in China is largely underdeveloped, there is a big chance that Alibaba can gain market share. This will likely yield dramatic market share gains in China. Lots of engagement will be generated with the IPO, among existing users and new users. This will drive higher levels of disposable income for the middle class across China. As increasing urbanisation takes root in China, the younger population will have access to a veritable lifetime of online transactions ahead of them. Since the scope of Internet transactions in China is in its infancy stage, there is massive upside potential, and investors looking to cash in early on the power of the Alibaba network will do well to get in with the IPO. All in all, after full disclosure has been made, there is a definite upside to this lucrative investment opportunity. August 8 may just prove to be as beneficial to the Chinese as it is to investors in the US.
Disclosure: The author has no positions in any stocks mentioned, and no plans to initiate any positions within the next 72 hours. The author wrote this article themselves, and it expresses their own opinions. The author is not receiving compensation for it (other than from Seeking Alpha). The author has no business relationship with any company whose stock is mentioned in this article.