General Mills, Inc. (NYSE:GIS) has paid its shareholders a steady dividend, without missing a year or ever reducing the amount, for 115 years. In addition, it has increased its dividend every consecutive year for over a decade, most recently with an 8% increase announced by the board of directors in March. This is one rock solid dividend stock that can power the returns of your retirement portfolio.
Historical Dividend
General Mills has been showing shareholders the love this past decade with annual dividend increases ranging from high single-digits to mid-teens. As would be expected of solid dividend growth stock, General Mills was able to increase its dividend throughout the recession at just about a double-digit pace for 2008 (10%), 2009 (9%) and 2010 (12%).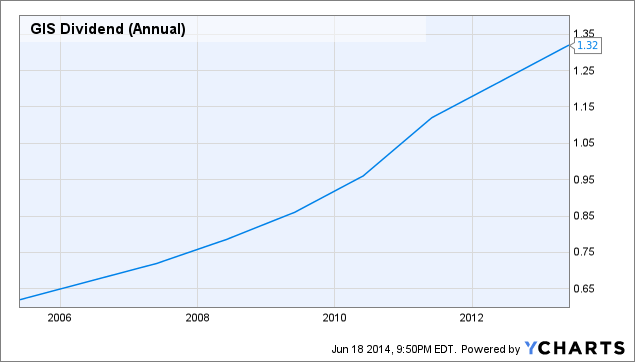 GIS Dividend (Annual) data by YCharts
General Mills' payout ratio was relatively stable over this time period, fluctuating between 40-50%, and settling around 47% for fiscal year 2013. Furthermore, the company's financial leverage was also stable. Together these would indicate that this dividend growth was not predominately funded by expanding payout ratios or increasing debt levels, both of which would be unsustainable sources of growth.
This is further supported by fairly consistent EPS growth over this same time period, and management's guidance for this recent fiscal year. The company should be reporting FY 2014 results later this month, so investors will be able to verify these trends are still in place.
Current Dividend
Looking over this past fiscal year, we see that General Mills actually provided two dividend hikes. The first date of record was in July 2013 ($0.38 from $0.33) and the recent announcement with a date of record in April ($0.41 from $0.38). This brings the annual dividend increase for FY 2014 to 17% ($1.55 from $1.32), which is not bad for a 115-year dividend paying stock!
This means General Mills has provided 11% compounded growth in its dividend over the past 10-years, and even higher over the past 3- and 5-year period. Combine that with a forward dividend yield of 3%, and I'd say this is definitely a candidate for your retirement portfolios.
ROE & Future Growth
In addition to looking at historical growth and payout ratios for the dividend, analyzing General Mills' return on equity performance may also provide some clues as to what future dividend growth may look like.
On average, General Mills has provided an average ROE of 27% over the past five years (2009-2013).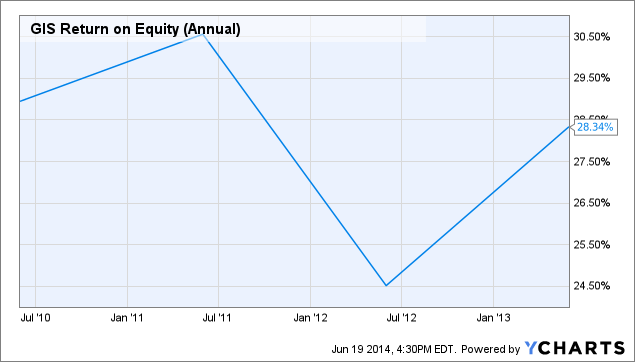 GIS Return on Equity (Annual) data by YCharts
Using the historical ROE and payout ratio trends, we can estimate a sustainable future earnings growth rate for General Mills. In other words, if General Mills' payout ratio stays at roughly 50% and it is earning 27% on its equity, we can project a long-term sustainable growth rate of 13.5% going into the future.
This is slightly higher than the compound growth rate we've seen in General Mills' dividend over the past decade, but still reasonably aligned with the recent growth rate of the company's dividend. Still, I would be more inclined to trust in the long-term trend to be conservative.
Dividend Discount Model
Using the dividend discount model, I determined the value of the company based on its future dividend payments. I used an 8% discount rate, based on the long-term average return of the stock market.
In addition, I made the following assumptions about dividend growth:
| | | |
| --- | --- | --- |
| Fiscal Year | Estimated Growth | Dividend |
| 2015 | 12% | $1.74 |
| 2016 | 12% | $1.94 |
| 2017 | 12% | $2.18 |
| 2018 | 9% | $2.37 |
| 2019 | 9% | $2.59 |
| 2020 | 9% | $2.82 |
| 2021 | 9% | $3.07 |
| 2022 | 7% | $3.29 |
| 2023 | 7% | $3.52 |
| 2024 | 7% | $3.77 |
Finally, I assumed a 4% constant growth rate after FY 2024.
Based on these assumptions, I estimate that General Mills' intrinsic value is $63 per share. At its current price of $55 per share, the stock appears to be undervalued, with a 15% upside in price. Most importantly, the current levels provide investors with a very reasonable entry price for an outstanding dividend growth stock. I definitely think it's one that deserves a closer look from investors.
Disclosure: The author has no positions in any stocks mentioned, and no plans to initiate any positions within the next 72 hours. The author wrote this article themselves, and it expresses their own opinions. The author is not receiving compensation for it (other than from Seeking Alpha). The author has no business relationship with any company whose stock is mentioned in this article.
Additional disclosure: As always, do your homework. Each investor should conduct his or her own due diligence before investing.