Microsoft (NASDAQ:MSFT) shares fell 2 % after Goldman Sachs (NYSE:GS) downgraded the world's largest software companies rating to "neutral," citing worries about a slow recovery in personal computer sales and a growing threat from tablet computers using non-Windows software. Although Goldman analysts have explained the fall amid concerns about the ongoing sustainability of the Windows/Office franchise as well as worries that Apple's iPad and tablets will starting eating into PC sales, analysts feel that the downgrade could just be the trigger the software major needed to pick up its loose ends and put the company back on track for possible value creating opportunities in the long run.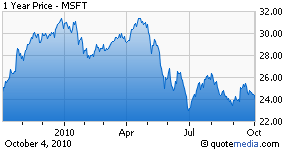 Goldman analysts not only also cut the company's EPS estimates by 4%, 3% and 4% in FY2011, FY2012 and FY2013 but added that Microsoft's recent dividend increase wasn't goodenough saying that the hike would only put the dividend yield at around 2.6%. But with the impending release of Windows Phone 7 and XBOX Kinect, can give the company the perfect opportunity to turn the tables and sustain Investor confidence. Although one needs to wait and watch if the company can actually kick-start a series of measures to bring back lost investor confidence or just let it slip.

The analysts in fact are quite bullish on the potential for the Kinect motion-sensitive controller to broaden the market for the Xbox 360, but they say profitability "remains the biggest challenge" for Microsoft's Entertainment & Devices Division, when factoring in corporate overhead.

Its not the first time that Microsoft is required to do some introspection and the company would be better off to take a leaf out of its setbacks during the mid 1990s related to understanding the transformative power of the internet, when Microsoft quickly recovered reviving expectations for the company's future.
While the past decade was a disappointment for speculative investors who were implicitly counting on exceptional performance, the company continues to generate significant cash flow and had approximately $36.8 billion of cash and cash equivalents as of June 30, 2010 ($4.12 per diluted share). The company generated over $22 billion of free cash flow for fiscal 2010, paid $4.6 billion in dividends, and used $11.3 billion for share repurchases.
One of the possible reasons behind Microsoft's recent stock price weakness is the fear that the iPad will erode sales of traditional laptop computers running Windows. However, it is very likely that new tablets running Windows and Android will be released in the very near future. Although Microsoft has clearly failed to break into highly profitable lines of business beyond the core Windows and Office franchises, the company's Windows and Office still have dominant markets shares and enjoy high margins it is not inconceivable to believe that Microsoft might take a tip from Apple's (NASDAQ:AAPL) playbook to create entirely new business units to supplement the Windows and Office franchises.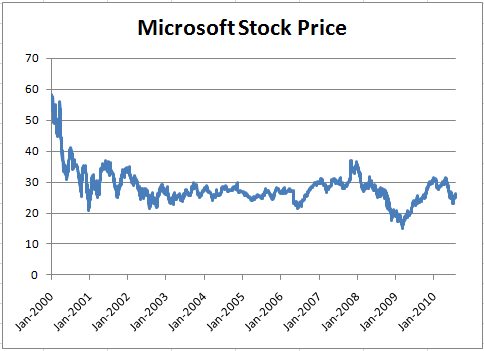 Meanwhile as Google (NASDAQ:GOOG) and other firms have "cloud" strategies that threaten to undercut Microsoft's core business, the one big question for Microsoft shareholders at this juncture is whether the company could be better off by replacing the current CEO, Steve Ballmer. Microsoft had earlier disclosed that CEO Steve Ballmer received a 6 % increase in overall compensation in the 2010 fiscal year, although he received half of his potential bonus, with the board balancing the success of products such as Windows 7 against the company's struggles in mobile phones and tablets.

There is also a perception that Microsoft has been sitting on its past laurel and not innovating as a leading company should but with a very active developer community, the company has introduced strong products for the Internet such as the Silverlight platform in the recent past. Microsoft today is at a crossroads, the Goldman downgrading could very well act as a wake up call for the company to revive its negatives and come back strongly from its existing stagnant levels.


Disclosure: No Positions